White Mountains quarterly, annual net income fall
But book value per share rises for year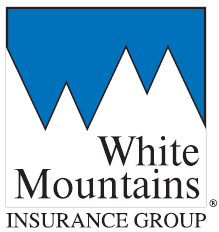 White Mountains Insurance Group had a flat year, according to the financial statement it filed on Friday. That means net income for the Bermuda-based insurance conglomerate, with main offices in Hanover, N.H., was $70 million for the quarter, or $11.68 per share, down from $117.9 million.
That closed the year with a $312.7 million profit, $51.21 a diluted share, just slightly down from $321.8 million.
But you have to remember that White Mountains shares sell for almost $660. Its 2014 revenue was about $2.5 billion, with more than $10 billion in assets.
By its own yardstick – book value per share, ending at $665 at the end of the last year – the year was up 3.6 percent, including annual dividends of $4.
White Mountains now consists of three major segments:
• OneBeacon, a specialty business that covers everything from the marine industry to crops, from technology companies to tuition reimbursement. Its book value decreased 4.4 percent during the fourth quarter, though it's up 2.2 percent for the full year. It increased its loss reserves, mainly because of some "adverse developments" in lawyer liability claims. Net premiums were at $1.2 billion, a 12 percent increase.
• Sirius Group mainly reinsures other insurance companies, and takes a big hit when there is a major catastrophe. There were a few more this year than last year. The company had to pay out $30 million in such losses, including $18 million from flooding in the Jammu and Kashmir regions in India and $8 million from Cyclone Hudhud in eastern India and Nepal. That's more than the $17 million suffered in such losses last year, but it still was a "relatively benign year for catastrophic losses." Gross and net written premiums total $1.1 billion, slightly up from the previous year.
• HG Global/BAM, capitalized by White Mountains in 2012, is a mutual owned by its members. Thus its results (it lost $11 million for the quarter and $41 for the year) aren't included in White Mountains' net income. Last year it insured $7.8 billion in municipal bonds. The company now insures more than half of insured transactions in that market.