White Mountain Community College to offer nursing program in North Country
Hands-on learning and training aim to bring more attention to healthcare needs in northern New Hampshire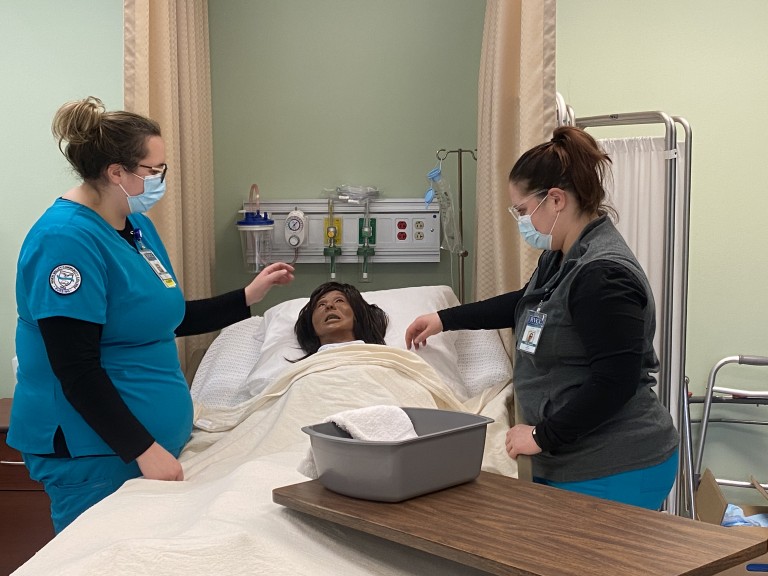 White Mountains Community College (WMCC) recently announced that they now offer a Licensed Practical Nursing (LPN) program, bringing this in-demand training to the North Country.
Based at WMCC's Littleton Academic Center and utilizing a newly renovated nursing skills lab, the LPN program will help meet increased needs for skilled nurses in the region through this one-year certificate program. Career opportunities for LPN graduates include working in long-term care facilities, hospitals, physician/outpatient health centers, visiting nurse and home health care.   
WMCC becomes the third of New Hampshire's community colleges to offer the one-year LPN program, which was created by River Valley Community College (RVCC) in 2019. RVCC and the Community College System of New Hampshire (CCSNH) designed the program so that it could expand to multiple campuses in a program-sharing model that helps to keep administrative costs of the program down. 
"I am so proud of the collaboration between WMCC and RVCC to bring the LPN program to the North Country," said Sarah Baillargeon, registered nurse and coordinator of WMCC's nursing program. "LPNs play such a critical role nursing and caregiving and are even more in demand due to the nationwide shortage. This is such a win-win and will help create a pipeline of skilled medical professionals to care for our community."
The 36-credit LPN certificate program incorporates theory with simulated laboratory activities at the nursing skills lab that has been designed to simulate a hospital room. Students learn patient care through hands-on practice in the lab prior to managing patients at a hospital or long-term care setting.
Students gain clinical experience at two of the top North Country hospitals, Littleton Regional Healthcare (LRH) in Littleton and Androscoggin Valley Hospital (AVH) in Berlin. Upon completion of the one-year LPN program, graduates sit for the National Council Licensure Examination (NCLEX), the nationwide nursing license exam, before entering a healthcare career.
According to NHeconomy.com, healthcare is one of the state's largest industries with a surge in open positions and expected growth of at least 15.7 percent through 2026, signaling a great opportunity for job seekers. The workforce demand was prevalent three years ago when the governor and New Hampshire Legislature appropriated start-up funding for the LPN program at RVCC.
Based on healthcare needs in the state, the program has expanded each year with the RVCC LPN program being offered at Lakes Region Community College in 2021 and WMCC in 2022.
"We are so proud of the interest and success that the LPN program has had throughout New Hampshire," said Eileen Glover, who started the LPN program at RVCC and serves as the college's allied health chair.
"Since we launched this program in 2020, we have enrolled nearly 100 students. Of those who have graduated, there has been a 100% pass rate for the NCLEX, and those individuals have continued on to healthcare positions. It is our goal to continue to expand this program to other parts of the state."
The deadline for applications for the next LPN program cohort at WMCC, which begins next January, is September 30, 2022. Pre-requisites for the LPN program include being an LNA or having a medical background with basic nursing skills.