Where have all the Cabletron jobs gone?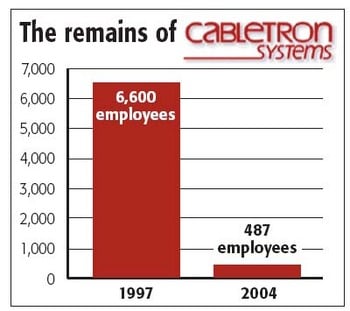 Cabletron Systems co-founder Gov. Craig Benson sits in the State House partly due to the millions he earned from his company and partly due to his reputation as a can-do job creator.
At its peak in 1997, the Rochester high-tech manufacturer was the state's largest private employer, with 6,600 people on its payroll. At the beginning of the new millennium, Benson and his successor, Piyush Patel, decided to split up the company in an effort to increase shareholder value, but that plan backfired as shareholder value declined, and now — only seven years past the company's peak, and before Benson's first term is complete — the remnants of Cabletron continue to shrink.
By the latest count, Cabletron's spin-offs employ — at most — 487 people in the Granite State — a number that apparently will continue to dwindle in the near future.
Enterasys Networks is Cabletron's main successor. It makes the hardware for large company networks, Cabletron's main function. The company has been steadily shrinking, both in revenues, jobs and market share. It recently announced a first-quarter loss of $35.7 million, partly due to the economy and partly because of problems in sales execution.
Enterasys, which has long since moved its headquarters from New Hampshire to Andover, Mass., has already reduced its national work force from 4,500 before the spin-off to its current 1,350. On April 29, Enterasys announced that it will shed another 200 jobs.
At the end of 2003, some 450 employees worked out of Enterasys' facility in Rochester.
Repeated calls to the local and national headquarters for a more current New Hampshire employment number, and whether that figure would be affected by the announced staff reduction, were not returned.
The recent job reduction at Enterasys is part of the latest restructuring effort, explained CEO William O'Brien in an April 27 conference call.
"We will be refocusing our entire business through the lens of secured networks," he said.
Thus far, the restructuring announcement has not excited investors. Enterasys' stock, which was nearly $14 a share at the time of the spin-off (and was as high as $6 in the last 52 weeks), sunk to about the $2-a-share range.
More bad news
Riverstone Networks, Cabletron's other spin-off, also is in bad financial shape. The company, which makes servers for large networks — like telephone companies and Internet service providers — had revenues of about an eighth of the size of Enterasys, but lost $13.8 million during the fourth quarter.
This is considered an improvement on an estimated $29 million loss in the second quarter and about $18 million in the third. But no one yet knows for sure the size of the losses because the company hasn't filed audited financial statements in more than six months.
Riverstone has been the target of a U.S. Securities and Exchange Commission investigation into inflated revenues, has been delisted from the Nasdaq stock exchange and is a target of legal action by its bondholders and Enterasys.
The company is in the midst of restating its entire history of past financial statements, which have thus far taken 25,000 hours of its own time, not to mention 6,000 hours of its auditors', and still has not been able to provide an estimate of when the restatements would be complete.
The "resource allocation has been enormous," said CFO Roger Barnes in an April 29 telecom conference. But Barnes said he was "very hesitant" to give any indication of when the restatement process would be over, only promising to update the investors in June.
Such uncertainty has kept the company's stock price — now being traded over the Internet — hovering at about $1.25 a share. Riverstone really can't afford to spend enormous resources on financial refiguring.
The company's cash reserves — once its strong point — have dwindled to $124 million in net cash. The company employs 340, down 30 from six months ago. New Hampshire, which was home to 50 employees in 2003, now only has 14 Riverstone employees within its borders.
Silver lining
Perhaps the only bright post-Cabletron news has been coming from Aprisma Management Technologies, which originally was supposed to be another Cabletron spin-off but whose initial public offering foundered after Enterasys became the target of an SEC investigation. (Enterasys eventually settled that investigation, but the SEC did find evidence of fraud and is continuing its investigation into individuals connected with the company.)
Enterasys wound up selling the Aprisma unit to Gore Technologies.
While Aprisma has been a privately held company, it has been making a profit every quarter and it is the only Cabletron remnant that is still based in New Hampshire. Getting away from Cabletron was the best thing that could have happened to Aprisma, which used to make the software that was bundled with Cabletron hardware, according to CEO Mike Fabiaschi.
Aside from the lawsuits and the investigations going on at the time of the split-up, software companies generally don't do well when owned by hardware companies, he said, pointing out the reluctance to sell products to the parent company's hardware competitors as well as a slower turnaround time.
"Rather than a drawn-out cycle, we are able to make promises and keep those promises to the customer," he said.
The company has made a profit every quarter since the spin-off, he said. The latest figures show a fourth-quarter 18 percent revenue growth over last year.
Despite that increase, Aprisma was hit by the post-September 11th job crash and has cut the number of employees from that time in half, to about 170. But the company, still headquartered in Portsmouth, has expanded it work force in New Hampshire and now has 100 local employees, 10 more than a year ago. Cabletron's work force was shrinking before the spin-offs, partly due to the economy and partly due to outsourcing its work.
For instance, Cabletron outsourced some of its manufacturing work to Celestica in 1999. At first it was going to shift 500 employees to the Toronto-based company's Seacoast facility — then in Exeter — but later decided to outsource about 40 percent of the work while cutting its own work force.
Celestica eventually moved its operations to Pease, but shut it down last year to consolidate with another facility in Salem. It no longer does any Enterasys-related work, according to a company spokesperson.
In 2000, Cabletron sold off outright its manufacturing operations — which included about 1,000 jobs — to Flextronics International Ltd., but that work force shrunk as well, as orders from Cabletron and its spinoffs declined, and other high-tech manufactures did not pick up enough of the slack.
By April 29 — the time Flextronics announced that it too was closing its facility at Pease — only 300 workers were left. Both calls and e-mails about whether that facility was working on any contracts from Cabletron's spin-offs were not returned. The plant is scheduled to close in June.