When do companies comply with state's WARN Act?
Recent big layoffs show loopholes in compliance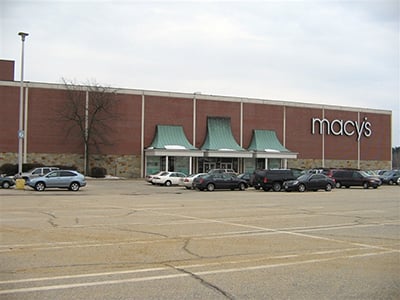 Macy's is closing its Bedford store after the holidays.
In Salem, Enterasys Networks laid off about 100 people in May and ignored the state's attempt to meet with the affected employees.
Merrimack-based GT Advanced Technologies cut 40 percent of its workforce, apparently with no notice.
Yet none, for various reasons, may have to comply with state law – the Worker Adjustment and Retraining Notification, or WARN, Act. The measure was passed during the heart of the last recession, with the intention of giving workers and the state a 60-day notice of a large layoff. None of the three companies mentioned – as of this writing – has reported to the state under the act.
"The whole point of the law is to give workers warning," said Marty Jenkins, an attorney for the state Department of Labor. "When something big is coming, talk to the people who work for you. But there could be a whole lot of reasons under this law that they don't have to give a warning."
Reason one: Only companies with more than 100 full-time equivalents have to follow the law. Macy's might be exempted under this reason, since many of its employees are part-time. (Even though the company thus far hasn't formally complied with the act, it has given workers plenty of notice that their jobs will be ending.) GTAT might also be exempt because it laid off enough people last year, when it did follow the law, that it didn't need to this time around.
Reason two: The numbers of those laid off by a company totals less than 33 percent of the company's total New Hampshire workforce. Enterasys claims this is the reason it doesn't have to comply, Jenkins said.
Reason three: The company is "faltering," and giving notice might have hurt its chances of avoiding the layoffs. GTAT, which is bankrupt and was seeking financing, might have fallen under this exemption, though these layoffs were announced shortly after it actually received the financing.
Rapid Response Team
At this point, no one outside the three companies knows for sure why they chose not to comply with the WARN Act, because none will disclose to the public how many people were employed locally and how many lost their jobs. Numerous workers have also refused to talk, fearing it would jeopardize their severance or future employment opportunities.
The state DOL is still gathering information on Macy's and Enterasys and is looking into GTAT, "but there is no reason to think that any are violating the law," emphasized Jenkins.
The state's Rapid Response Team is ready to help laid-off workers by meeting with them at the company or a nearby site, providing information about their retraining and health care options. It could also help process unemployment claims more quickly, since the state doesn't have to verify that each and every employee was laid off separately. That saves the employer paperwork.
"The meeting takes about an hour. It makes them feel someone's got their back," said Michael Power, director of the State Dislocated Worker Unit. "And it makes the employer look good too."
But without cooperation from the companies, there is little the state can do. Power said he has reached out to Enterasys and Macy's and has not had any response.
The Macy's announcement was more recent, and there is plenty of time for a meeting, but the Enterasys layoffs took place in May. Power estimated that almost 100 workers were involved, but the company would not confirm the number.
A spokesperson for Extreme Networks, the company that owns Salem-based Enterasys, would not say anything beyond its previous public statements on cutting a fifth of its workforce.
Extreme acquired Enterasys for $180 million in November 2013. The combined companies went on to lose $71.6 million in fiscal 2014 and $57.3 million in fiscal 2015, which ended June 30.
The layoffs are expected to cost Extreme between $13 million and $15 million in employee-related termination benefits, but save the firm some $40 million in operating costs.
Repeated emails and calls to Macy's were also not returned by deadline. Workers there say there have been no meetings with the state or even with Macy's officials.
"I have no idea what's going on," said one Macy's worker who asked not to be identified, three weeks after the closure was disclosed. "Basically they wanted to know if you were interested in staying with Macy's and what store you would prefer, but other than that – whether there will be a position there – they haven't told us. Everybody is waiting for someone to speak to us about our various options."
The good news is that the Macy's employees – which are now working for a liquidation company – can get as many hours as they wish, and they may increase as the holidays draw near and some workers find other employment.
'A numbers game'
The federal WARN Act, on which New Hampshire's law was based, was passed during the 2001 economic slowdown. New Hampshire passed its own act in 2009, partly because it enabled state officials to enforce it, and partly to cover more smaller employers – under 75 full-time employees – than the federal law, which covered 100 full-time workers. Two years later, when the recession eased, and Republicans were firmly in control of the State House, the threshold was lifted to 100. Business groups argued that New Hampshire's low threshold made it less competitive in attracting and retaining employers.
All told, companies have complied with the act 48 times, giving notice to a little more than 5,000 workers in total, though only a dozen have complied since 2013, as the economy improved.
Some have given notice even though they didn't have to. Mt Washington College, for instance, which announced in April that it was shutting down in 2016, told the state that it was laying off 185 employees, but most of those were part-time adjuncts. MVM Security & Staffing Services, which also complied, laid off 22 New Hampshire employees in 2011.
The state DOL has only cited one firm – the former BrandPartners in Rochester – for violating the law, and that company argued successfully, at an administrative hearing, that it was exempt since it was faltering.
But it is not clear how many other companies did not warn their workers because of the exemptions.
"It's kind of a numbers game," said GTAT spokesman Jeff Nestel-Patt. "If it is something we must comply with, we will. If we don't, it's not necessarily something we have to follow."
A GTAT attorney told NH Business Review at a bankruptcy hearing that the company wasn't subject to the WARN Act, but he too refused to disclosed the number of employees laid off, only saying that the cuts would save the company $20 million annually.
At the end of 2013, GTAT had 541 full-time equivalents, with 185 in New Hampshire, according to the company's last annual filing with the U.S. Securities and Exchange Commission. While the local numbers aren't known, the company was down to 400 employees in July, according to one bankruptcy filing, and would be down to 200 after the latest layoffs, Nestel-Patt reportedly told the NH Union Leader.
Whether or not the workers are subject to the WARN Act, "they are treated fairly," Nestel-Patt said. "They are given a generous severance package."
Several workers said that they didn't get any notice this time, though they did acknowledge the severance package. GTAT has yet to disclose how much it would be spending on those packages.
Bob Sanders can be reached at bsanders@nhbr.com.