What's the economic impact of a mostly empty vacation home?
Many owners of opulent houses in the Lakes Region aren't exactly itching to rent them out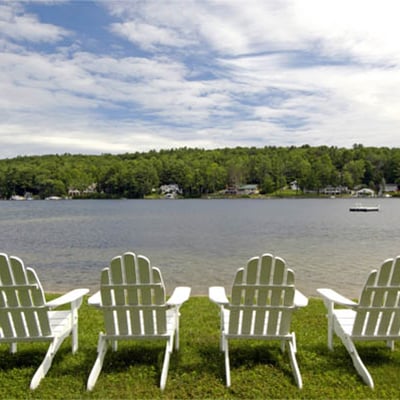 Two decades ago, David Pulsifer was still working as CEO of a publicly traded health care corporation when he plunked down $265,000 to buy a cottage on The Broads at Lake Winnipesaukee.
Back then, he used it as a summer home. He plowed money into it over the next decade, doubled its size to more than 4,600 square feet, put in what he called "extravagances," like a drive-through garage and a central sound system. Now the house, with its cathedral ceilings, overlooks the lake, and every room has a view. Its worth, Pulsifer said, is about $1.5 million.
But even with all that investment, after a while, it just lays there, unused.
"That's what happens," he said, 10 years into his retirement at 66. "The kids get married, get kids of their own. They get busy."
At first, he didn't want to rent his family's home away from home, but after his waterfront-enhanced property taxes quadrupled to $17,000 a year, he finally gave in, and now rents it out for about $4,000 to $4,500 a week through Sheila Holland, a Realtor with Rental Plus in Wolfeboro.He had bought a smaller house on Cape Cod, and only came up to New Hampshire for a few weeks during the summer, said Pulsifer. He also spends much of his time at a home in Florida.
He hasn't had a problem with a tenant, or a regret, since.
"I'm retired, and I can't afford to just to throw money away," Pulsifer said. "I mean, after a while, you realize that it's just a house. And the rent pays the taxes and expenses."
Pulsifer is in the minority. Most of his neighbors, particularly those with even more opulent homes, aren't in the rental business.
There are exceptions, of course.
Holland pointed to a $4 million home that was rented out in the summer of 2007 to the then-president of France, Nicolas Sarkozy, for five figures a week.
"But I don't think the average high-end person wants to rent," said Holland. "It's always been that way."
James Mardis, president of Lakes Region Realty Group in Moultonborough, estimates that only one or two out of a dozen high-end homes ($2 million and up) in his area are rented out, while three-quarters of the mid-size homes ($800,000 to under $2 million) are rented.
Those old "low-end" cottages – now going for about $400,000 – are rented out more often, but there are fewer left anymore. Many have been transformed or replaced by larger homes or condominiums.
Economic impact
You would think that all those large empty homes looming on the lake would not be good for the tourism or the Lakes Region economy.
"It makes sense," said economist Russ Thibeault of Applied Economic Research in Laconia. "The more affluent the user, the least likely to rent it out, so you have less rental activity."
With less rental activity, you have fewer renters spending money at local businesses, right?
Wrong, said Thibeault.
Though he's not exactly a fan of the aesthetics presented by the McMansions that dot the region's lakeshores, economically they bring more plusses than minuses, said Thibeault.
First, such large homes are costly to maintain, especially by absentee owners that don't want to do the work themselves.
Thibeault pointed to one painter he knows who spends his entire summer painting just one 12,000-square-foot home.
"That's the equivalent of five or six regular-size homes," he said. "And that guy takes his family out to eat too."
"There are lots of service jobs that go along with upper-end homes," echoed Mardis, mentioning construction, improvement, conversion and landscaping, which easily offset the loss of rentals.
Second, the homes aren't necessarily empty just because they aren't rented. Even if the owner isn't there, he or she often invites friends and family, and these aren't the usually hard-working, budget-conscious vacationers. These are usually wealthier people, lounging in luxurious digs, rent free, with plastic in their pockets.
"Maybe there is less occupancy, but when you look at total spending, I suspect it is higher. It's fewer people, but they are spending more money," said Mardis.
Of course, that doesn't last forever. Many start off, like Pulsifer, thinking they'll spend most of their summers at their lake home.
But after the kids grow up and go elsewhere, "then you have mom and dad rattling around in a 6,000-square-foot home," said Mark Borrin, who runs Preferred Vacation Rentals in Moultonborough.
And that's when they think about selling the place.
Rental visitors are nice, because that's the pipeline that gets them to the Lakes Region, where some of them will "fall in love with it" and become owners.
While most don't rent, the recession and increased taxes have sparked an increase in rental inventory over the last few years, Borrin said. And when more homes are available, more people come to the Lakes Region.
At his company, business was about same as last year, which was 7 percent higher than the previous year, which was 8 percent higher than the year before that – though it's still lagging at 10 percent below pre-recession highs.
Borrin's only complaint is that that the summer vacation rental season appears to be shrinking.
"It has to do with families, when they are getting back to school," Borrin said. "We used to have a 10-to-12-week summer season."
Some go back early for college orientation or for sports practice.
There is another long-term trend as well: Many of those little cottages have been replaced by condos. That creates a more stable vacation crowd, notes Jeff Thurston, an owner of Thurston's Marina in Laconia.
"They are more substantial members of the community," he said. "They come here every year. They store their boat here, they do their repairs here, rather than at some big-box place back home. They are repetitive."
Rental visitors are nice, because that's the pipeline that gets them to the Lakes Region, where some of them will "fall in love with it" and become owners, he said. But for many, "they might do Weirs Beach one year, and might be in Disney World the next."