What to pay tipped workers becomes focus of minimum wage hike debate
NH House, Senate versions differ on calculating amount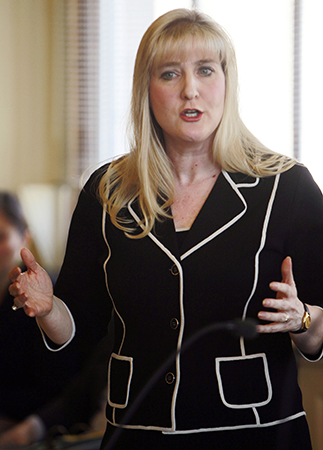 There doesn't seem to be much difference between the House and the Senate versions of Senate Bill 10, which both increase the minimum wage from $10 an hour at the beginning of next year and to $12 at the start of 2022.
But there is a big difference in how they to calculate the tipped wage – a difference that is crucial to the New Hampshire Lodging and Restaurant Association as well as anyone else who employs a tipped worker and, of course, to the tipped workers themselves.
The House also cut out the Senate's attempt to cut some employers a break, allowing them to pay $11 an hour for those that offer sick days and didn't add its own $1-an-hour discount on a temporary training wage.
Currently, tipped workers are paid 45 percent of the current minimum wage, which is the federal minimum of $7.25 an hour. That comes out to $3.27 an hour. The theory is that the tips are more than enough to put them over the minimum wage, a theory that is hotly contested.
While most agree that is definitely true for a busy upscale restaurant, those who advocate a higher tipped wage argue that it is not at all certain for a struggling diner in a rural area.
House Bill 186, another bill that would have increased the minimum to $12 by 2022 also would increase the tipped wage to 50 percent of the minimum. By itself, that would mean a 36-cent hike, to $3.63 an hour. But it would go up to $6 an hour by 2012.
That was what concerned Tom Boucher, owner of Great NH Restaurants, when he testified against SB 10. He had no problem paying his workers $12 an hour, he said, considering he pay them more than that. And he agreed that it the minimum wage has not kept up with inflation, but tips have, since they are usually based on the total bill.
So, he argued, increasing wages for tipped workers would affect his ability to increase the wages of those in kitchen, who don't receive tips. Instead, he suggested, a compromise: the Senate committee detach the tipped wage from the minimum and fix it at a specific rate.
So the Senate Commerce Committee set the tipped minimum to $4 an hour for next year, a bit of a raise, but not as much as they would eventually get under the House bill. The Senate then voted on May 23 to shelve HB 186, sending it back to the committee. Five days after that, the House Labor Committee took the fixed tipped minimum out of SB 10, again tying it to the minimum wage, at 50 percent.
And that was what the House passed back to the Senate on Tuesday, on a 209-139 vote. The differences between the two versions will have to be ironed out in a conference committee, if it is to ever reach Governor Chris Sununu's desk.
Senate President Donna Soucy, D-Manchester, the prime sponsor of SB 10, said the Senate was listening to the concerns of business by "streamlining the tipped wage."
"I'm grateful for the ongoing support from my colleagues in both chambers on this important effort and look forward to continued collaboration and work on the tipped wage component to ensure we put forward the best bill possible," she said in a prepared statement to NH Business Review.
In the end, it may not make much difference if it does. Neither the House vote, nor the Senate's 14-10 vote to pass its version in March, would be enough to overcome a gubernatorial veto. Sununu has said that he is opposed to increasing the minimum wage and is unlikely to sign it into law.
But will he veto it? Unlike Senate Bill 1, the paid family and medical leave insurance bill that he vetoed shortly after it reached his desk, Sununu has not explicitly said he would veto a minimum wage bill. It is possible that Sununu could allow it go into effect without his signature, and focus his veto fights on other issues, such as the budget, which also includes a paid family and medical leave insurance program. It might even be possible that the tipped wage issue might make the difference between the governor vetoing the minimum wage, or allowing it to increase.
Only the governor would be able to answer that. And at deadline, his press office did not respond to an email seeking comment about his intentions.