What to expect from wireless technology in 2019
With the onset of 5G, the benefits and possibilities are endless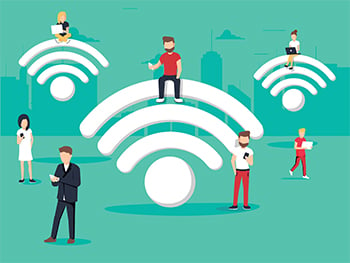 When talking about wireless technology trends for 2019 and beyond, there is one technology that is driving almost everything — 5G. But while 2019 will see the introduction of the first 5G devices, it will likely be more like 2020 or 2021 for most of the country to utilize and benefit from the technology.
But the benefits and the possibilities are endless, and what's most exciting about 5G is that it will enable things that we haven't even thought about yet.
Taking a moment to look back, each of the recent updates to wireless network technology brought significant changes to how we use wireless devices. 2G brought better voice transmission along with text and MMS messages; 3G brought data mainstream and kick-started the era of apps; and 4G brought a significant speed increase. Next, 5G promises automated cars, smart cities and speeds that can replace wired broadband connections.
But the reality is that early 5G phones and networks won't transform the way we use our phones and other devices overnight. An ecosystem needs to be developed, and wireless carriers are rapidly working to build networks to make 5G a reality for their customers.
With all of that in mind, I anticipate three trends that 5G will usher in to the wireless industry in 2019 and beyond:
1. A boost to the economy and innovation: I predict that we will see a jump in startup companies that have creative ideas on how to leverage 5G for the betterment of society. Companies such as Uber, Netflix and Snapchat really took off with the launch and spread of 4G, and those are now multibillion-dollar companies that employ thousands of people. When these new ideas lead to new businesses, jobs will be created, sending positive impacts across the economy.
When 5G capabilities are available, entrepreneurs can test out their ideas, and people will invest in innovations to develop the next applications and services that will be a part of our daily lives.
2. Next generation fixed wireless: I expect that one of the first mainstream applications of 5G will be with fixed wireless, which we have especially seen ring true in rural areas. More people are realizing that their wireless carrier may be their best option for an in-home broadband connection, and that will only continue with 5G. With 5G's ultra-fast speeds and low latency, wireless connections could be powerful enough to replace traditional cable and internet providers.
3. Internet of many things: 5G will allow virtually anything — some experts say up to a trillion devices in the next decade — to connect to cellular networks, enabling a bigger and better Internet of Things. From shoes and heart monitors to home appliances and other medical devices, the sheer amount of connected devices could be endless.
While some of this technology exists now, a Wi-Fi connection is usually required. 5G would allow these devices to always be connected as long as there is a cellular signal, and would allow more objects to connect without slowing down traffic.
Jay Ellison is executive vice president and chief operating officer of U.S. Cellular.