What makes Manchester tick?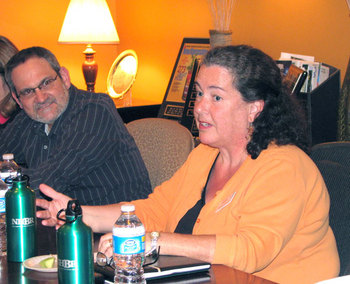 NHBR's editors recently met with businesspeople from around Manchester to get their take on how the area's economy is faring and what their expectations are for the future.The participants were:
• Monica Zulauf, executive director, Manchester YWCA
• Mike Reed, president, Stebbins Commercial Properties
• Dick Anagnost, developer, Anagnost Companies
• Kim Keegan, vice president of student and community development, Manchester Community College
• Ron Covey, president and chief executive, St. Mary's Bank
• Quentin Keefe, president, Regency Mortgage Corp. and owner, Commercial Street Fishery
• Stephanie McLaughlin, principal, Savoir Faire Marketing/Communications
• Mike Skelton, vice president of economic development and advocacy, Greater Manchester Chamber of Commerce
Q. How do you see the Manchester area economy now in light of the past 12 to 24 months?
Ron Covey: I guess the best way I would classify it right now is that it's stabilized. We are starting to see some signs of improvement. But it's week to week, month to month — nothing specifically sticks out as a definite improvement but it has stabilized.
A year ago at this time, we were seeing delinquencies rise, more bankruptcy notices coming in than there are right now. We were seeing potential foreclosures at a higher rate. So that kind of peaked last fall and has since begun to stabilize.
Quentin Keefe: The national index still shows a slowing of the decline in the pricing of houses, so on a national level I think that we still have a ways to go. In terms of New Hampshire, I think we've always found a way to stay above the curve and I think that's true now.
Mike Reed: I've referred to these last few months as market paralysis — nothing is really happening, no one is moving anything really in the marketplace.
Dick Anagnost: I have to concur with them to a strong degree, but I never saw Manchester fall to the level that the nation's economy did to begin with.
I'm looking for signs that things are starting to turn up. We are starting to see some of that. We've even decided to go out and build residential condominiums through the down market and selling them. We've decided to go out and build houses.
Manchester all-in-all has been quite healthy.
Covey: On the residential side, we aren't seeing much at all in terms of houses. I think one of the good news things is that we see and hear about the commercial market and that potentially as having an impact going forward. We don't see that at all in New Hampshire. In fact, the commercial real estate loans that we have and the ones we are watching carefully are performing very, very well, and there isn't a high vacancy rate. I don't think we are anywhere near where everyone else may be on a national level.
Anagnost: I can attest to that, because we have been out looking to buy distressed assets from lenders, and there are little to no commercial distressed areas that we can find in New Hampshire. There are a significant number of them across the border in Massachusetts – the 495 corridor, the 128 corridor. There are huge portfolios that we can buy for hundreds of thousands of feet for very few dollars and we aren't seeing any of that in New Hampshire.
Monica Zulauf: I guess you folks all sound optimistic, and I'm guardedly optimistic. We're a nonprofit and haven't had to do layoffs or furloughs. We start the budget next month and did get stimulus money.
My concern is the deficit of the state and the federal government. I think New Hampshire operates fairly smart as a state and the banks did a good job in New Hampshire and a lot of places make fairly conservative decisions. I did see the car dealers benefit from the Cash for Clunkers Deal. I see the housing market benefiting from the tax incentive for first-time buyers. My concern is when that goes away whether stimulus money is going to be reissued. Can we sustain it if the money goes away, and how do we recover from that? I think we got the first shock and there are more aftershocks coming.
Kim Keegan: We're lucky that we are 14 percent over our enrollment from last year. We are benefiting. Our construction, welding and nursing programs are at full capacity. You mentioned state funding, and we are now level-funded. Most people don't realize that the state only gives us a third of our budget and the rest we have to generate in enrollment. So we are lucky that the economy has really been boosting us.
Zulauf: Our need is up and our revenues are stable. The costs to my staff are going up. The health insurance costs are going up and parking goes up — it's a real struggle to maintain a quality workplace.
Keegan: I think we are lucky that many of the private colleges are boosting their costs right now. When parents can't afford to send their kids to private colleges, they are coming to us. So in many ways we're raising the bar for better students coming to our school – not that they were bad to begin with.
Mike Skelton: I agree with Monica's statement that there are still challenging times ahead. I think there is going to be a lot of pressure and a significant push in taking a look at how we run state government — policies and revenue structures.
The LLC tax was the first wave of that issue coming forth, and the Legislature started to look at how business taxes are being implemented, and that opened up a whole slew of issues that are starting to be looked at now in terms of restructuring and modernizing our tax structure.
Zulauf: It's a $50 million hit to health and human services. For (State Sen.) Kathy Sgambati to support a gambling bill, that would have had to have been a tough choice.
Skelton: Gambling is a difficult issue for a lot of broad organizations, business organizations in particular. I would say one-third of our members are for it, one-third is against it and one-third doesn't really have a position on it. I feel it's very much split among the public.
Reed: My feeling is I'm pro-gaming, but why are we going out of our way to save a dying industry? If you are going to bring in gambling you want it in a strategic place. But it is off the beaten path in Seabrook or the Loudon/Belmont area. You have Manchester — the hotels, the Verizon, that sort of thing — those are all good places if you are looking for successful gambling places.
Rockingham is good because it's close to the border but also has a choice of shopping venues. But if you locate a casino in Berlin, New Hampshire, that's ridiculous.
Zulauf: There is a cost to gambling too. It's such a complicated issue, and I haven't spent a lot of time on it. To support the social services, to support the fallout of having gambling really kills small businesses. People can get a job at a casino and don't work at the local Dunkin' Donuts or deli. I think for places like Atlantic City it hasn't been that successful. Whether New Jersey has benefited as a whole, I don't know, but I don't think Atlantic City has benefited as a community. As a revenue generating source, maybe, but you don't hear families saying, "I want to move to Atlantic City because I want to raise my kids there."
Q. Stephanie, your business is working with other businesses. From your perspective, how do you see the business climate?
Stephanie McLaughlin: Last year, I think there was a lot of hunker-down, everyone was really clenched and head down and really focused inward on making sure their companies themselves were sustainable and were going to survive.
What I started seeing at the end of 2009 and so far in 2010 is a little bit of unclenching. That's when companies come and start to talk to me because they are going to look to communicate to their external audiences.
Some of my clients are increasing their staff. These are not large clients, large numbers, but increases are increases, and for all of us, that's a win.
Skelton: We've seen that as well at the chamber. In the past few months, we have seen a 25 to 50 percent growth in attendance at networking events. For the first time in months we are starting to see chamber membership start to grow on a month-to-month basis. A membership is something for several businesses that is easy to cut in tough times. Now it's used to help them brand, to get out there and meet some new people.
Zulauf: I was thrilled this year at the United Way annual celebration — it was the best attendance they ever had. And in this economy they had exceeded their goal.
McLaughlin: I think there has been a huge change in downtown Manchester since the late 1980s. I'm actually a resident of downtown Manchester. There is a vibrancy here that didn't exist in the late 1980s or early '90s.
When I left Manchester to go away for college it was still a town that was feeling pretty sorry for itself — tumbleweeds going down Elm Street. Today's Elm Street and today's downtown are dramatically different.
Not only the Art Institute downtown and the UNH Manchester students, but also the young professionals. There is a downtown now of restaurants and bars and entertainment places, whether it be the Verizon or a place to see a band or the Palace. I think that's good for Manchester in every way.
Anagnost: The greatest attitude change that took effect in Manchester is when they decided to fix the zoning for the Millyard. You can see the benefit of that. Same thing is occurring in downtown.
They adopted the code changes that we've tried to institute about 10 years now, and that will allow us more flexibility in developing the upper levels of Elm Street. Right now the upper buildings are still sparsely populated.
The more people you have downtown, the more vibrant and successful it becomes. So how do you bring more people downtown? One thing is the code changes. The second is there is no student housing in Manchester. So if you had flexible codes, what's the best use of the upper floors for downtown buildings? You can turn it into student housing fairly easily. And students aren't in as great a need of parking as a family with three kids.
Keefe: I have a friend, and he and his wife were shopping in Boston. They pulled out their credit card to pay, and the person said "Oh Manchester — the restaurant capital of New England." And they were like, "Huh? Wouldn't that be Boston?" And the person said, "No — who wants to come to Boston? You have to find parking and all of that, we all go to Manchester now."
Now that was one person, but I thought it was interesting that the attitude out there is that Manchester has changed.
Anagnost: You are starting to see it in health care. You see the Elliot built in Londonderry and next-door Dana Farber. So rather than fighting to get into Dana Farber or Boston for cancer treatments they can come here.
One of the things we have been promoting with the Elliot At River's Edge is that we are a fine health-care institution and everyone from Boston should travel here for health, not to Boston. We are on equal par in terms of health care with Massachusetts.
Reed: I just have a quick comment about the restaurants. We put in several restaurants in the city, and I can tell you that there are a number of them that are failing as well. People are calling us to sell restaurants now because they are struggling. It's not as good as it seems or appears. I'm just trying to throw a little bit of realism in.
Q. The area has a strong health sector and education, but where are the other jobs?
Reed: To some degree, I think it's hospitality, but government is really growing. If you look at economic reports everything else is going in the other direction — education, hospitality, health care, government, that's about it. Everything else is going the other way.
Skelton: We're a small-business state. The chamber's demographic of membership is 80 percent small business. I think in terms of jobs for New Hampshire we need to do all we can for entrepreneurs or venture capitalists or people looking to start a business so they still feel this is a good place to come. It's going to lead to job growth and new investment.
Covey: We've seen in the last six to nine months an increase in manufacturing and more jobs here. It's companies that talk about reinventing themselves. Several small companies that we have, that have 20 to 30 or 40 to 50 employees and where they might have been dealing in tech sectors or other specific sectors have gone and found out that they can retool and look at other sectors.
Also, we have manufacturers that cater to health-care needs and that's still doing really well.
McLaughlin: I think there's also another reinvention going on, and that's the employees themselves. I know that I'm seeing a lot of professional colleagues who have been laid off or lost their traditional full-time jobs who are now going out on their own and reinventing themselves as a small business or entrepreneur.
Anagnost: There are sectors that are still generating jobs. To put on my "state hat" for a minute, there really hasn't been a lot of job creation going on in the last 24 months. That's the bad news. The good news is the job erosion has diminished. So it's kind of a mixed bag.
Q. What's the status of the Job Corps project?
Anagnost: We're still going forward. The money has been appropriated, and everything has been approved. Currently they are dealing with a project labor agreement. It was kind of 11th hour added and essentially ruled out all New Hampshire contractors from bidding on it because of the parameters surrounding the agreement. Lawyers are wrestling with that, and we can't continue until they work all that out.
On the bright side, I just brokered a deal between the city and Department of Labor to which Manchester is going to extend all the utilities and reconstruct the roads and put in pump stations so all infrastructure is in place and the city is going to be reimbursed for all of it. When it is put out to bid, the contractor is going to be able to hit the ground running and not spend a lot of time on offsite roadways and utilities. They will already be in place, and we can put up the structure much quicker.
Q. If you could refresh our memories on what exactly it's supposed to do.
Anagnost: Job Corps is the most successful job training program ever implemented. It's a $35 million federally funded project, and will be located in Manchester. It's 80 percent residential — 280 beds, like a college campus. It takes youths ages 16-24 and turns them into productive workers. It's done through affiliations with local business and linkages. There is actual on-the-job training. There's going to be a link with the Manchester School Department so we can offer actual diplomas. The average stay is eight months, and it has a 91 percent success rate that either the person comes out with a job that they were trained for or on to higher education or into the military.
Zulauf: I think the program is a real necessity. I regularly have sent kids off to Vermont. The kids just don't succeed — it's just too far away. If you're from New Hampshire you should stay in New Hampshire. Your family is here, they are getting other services which they can get here. I think we should keep the kids.
Hopefully they will feel a connection and that they owe a debt to this part of the state. I think it's a great thing.
Keegan: We have a federal program that takes place on our campus right now — it's a day program with students similar to the population that Dick has been talking about. It's called the New Hampshire JAG program, Jobs for America's Graduates. We're the only community college in the state that has one.
Many of those students are admitted to our programs after they graduate and stay in our communities here. That's why we are so interested in having Job Corps here. It's a great fit for us and a wonderful program.
Covey: I wrote a letter of support when they were originally putting the package together to get the program here in New Hampshire as one of the employers that would be willing to hire these individuals coming out.
Anagnost: When I talk about linkages, the one important thing to remember is that there are connections between businesses and the Job Corps institution, and what businesses are willing to provide in order to get Job Corps here.
The linkages have a dollar value associated with them — what business is willing to contribute in order to have a Job Corps in their neck of the woods.
Until New Hampshire submitted their application, the highest amount of dollar linkages submitted was from Florida, which submitted $5.6 million of value from businesses willing to offer towards the government. New Hampshire was $8.1 million.
New Hampshire businesses bought in to the Job Corps in a very big way in order to provide that financial support.
Q. The city really has changed dramatically over the years. Do you think there was something that actually woke people up? Was it the banks closing or did something else finally click?
Keefe: The people really want this community to thrive and do well. We always seem to be lucky enough to have a certain leader come along. And Ray Wieczorek, he was great as a mayor — he pushed really hard for the Verizon, and I think that's what really turned this city around. It took an unbelievable amount of political courage to put that thing through. We're real lucky that he came along when he did because not every politician would have the courage to do that.
Reed: I also think our government is tight enough and this community is tight enough that we can take these nimble small steps to improve the community. The building codes have established such a horrible uphill battle over the last 10 years.
We would work our rear ends off to bring businesses in to the city, and the government was all pro-economic growth at that point. But you would get them down to the building department and it was almost like they would create hoops that your clients would have to jump through.
So I'm glad that we are finally just taking the bull by the horns and changing things.
Skelton: I think one of the other major changes is Mayor Gatsas has done a really good job in the first few months in office of improving the level of customer service in City Hall. He's really impressing upon city staff that you need to treat the people who walk through the door as customers, not as your enemy or someone you should be in an antagonistic relationship with.
Reed: If you look at the landscape of downtown there will always be these areas like where the chamber just relocated on Hanover Street.
Back in the '80s we were actually more involved after the fire in renovating those two historic buildings. That to this day is very vibrant and rarely have a vacancy. There are niches in the downtown area that are trouble spots. They either have tenants that are there short term, or buildings that never seem to get any attention from the landlord and are basically ignored.
Unfortunately one of those blocks happens to be right around the Verizon arena. We have people coming from all over to go to Verizon and they're looking out the window looking at that blight. That's what I mean that there are areas of downtown that will always seem to do well and there were always be areas that have issues. We can't seem to surmount those issues.
Anagnost: When Elm Street is vibrant, it's not past the second floor. That's what we mean by maximum utilization of what Elm Street could be. We had maximum utilization in the '50s and '60s. Growing up on the street, all those places were booked. Downtown can take off again with that maximum utilization.
Reed: The key to having a vibrant downtown is mixed uses. Retail, professional office, entertainment — the way it used to be. We're at 15 percent vacancy — that represents over 3 million square feet of unused space. That's a lot of space. As Dick said, you're driving down Elm Street and your eye only goes up one floor, maybe two, and you are saying everything looks good. But 1000 Elm Street, I think that has about a 25 percent vacancy. Some of these towers are in need. Once these code changes happen we can build these buildings up.
Q. Just to be clear, you are talking about code changes to allow residential units to be built in what are currently commercial buildings?
Anagnost: That's one of the things. We are talking about relaxing the building codes to allow portions of buildings to be rehabbed at a time.
Reed: It's called the International Existing Building Code. If you are rehabbing an existing building, it treats it like a rehab project. Unlike with the current code when you do a rehab project, the codes treat you like you are building an entire new project from the ground up. Those are just two entirely different situations.
Another thing the building code changes will allow is for Manchester to preserve our historic buildings rather than tear them down. I think we came very close to that with the Pandora Building in the Millyard.
The owners stepped up and are rehabbing it on their own. But we can potentially lose the buildings in the future.
Skelton: I think the final piece that kind of ties this all together — Verizon, River's Edge, the former Rockwell plant, the Millyard, and having what is old is now new — is infrastructure and transportation. If we are able to restore passenger rails down to the airport and downtown Manchester, that will show the center of downtown has really shifted and you would have this amazing opportunity to really tie everything all together.
Reed: We'll be able to move in a lot more bodies from other areas, so we would be widening the geography to bring in other states to Manchester through the rails.
Q. Is a rail link something that you think is going to happen?
Skelton: The window of opportunity is still open, and it's still there. The state is still competing for federal dollars. The Obama administration has made it clear as far as they're concerned, and as long as they are re-elected in 2012, this is an eight-year window for federal dollars to support the actual construction and purchasing the train sets and the capital costs of creating a rail system.
The challenge in New Hampshire is to get everyone on the same page and in agreement.
The chamber has been supporting the New Hampshire Rail Transit Authority, which is the authority that is in charge of pushing this project forth. They are currently a volunteer-led authority. Rail projects are generally extremely complex and require a lot of work and to have that being driven right now by a volunteer authority just won't get it done in the long term with a sustainable passion. We really need to step up and dedicate the resources towards making that happen.
Q. What kind of frequency are we talking about in terms of frequency of the trains?
Skelton: There are a couple of different models that are out there. The Downeaster is a passenger rail, with three to four trips a day, longer commutes. There are also commuter rails, which is a higher frequency, and that's really what the airport needs.
I think what the rail authority and the state are looking at is kind of a hybrid model, where you'll have three to four long-term trips that go from Concord to Boston daily, but you'll also have a higher frequency model that runs between the airport and North Station at a higher frequency per day.
Reed: I have a very brief comment about ownership in terms of the downtown area. We're seeing a lot of condominium conversions in buildings, for example, in the Millyard. I think as time goes on and this community builds it's going to create opportunities for owners and tenants to start owning into the Millyard.
Q. What would that mean for the Millyard?
Reed: A number of things. I think it could mean there would be a huge influx of cash. I think it would also mean that the ownership would vest people into the Millyard for the long term.
Anagnost: It is an emerging trend because tenants have expressed that they would like to buy their own buildings. They don't want the cost of investment but they want the rights of ownership.
Covey: If Mike is right, that could provide a large economic stimulus for Manchester. You'll have the owners going out and borrowing or paying for their facility and the investors that have their money tied up now with all that influx of cash to go back in to go out and reinvest in something else. It could provide its own economic stimulus package for Manchester.
Zulauf: One of the things that we have been talking about is the changing demographics in Manchester. Twenty-five percent of the children in Manchester are below the poverty rate.
We know the impact on the kids that grow up in poverty. They aren't as healthy, they don't do as well in school, and they can't maintain healthy relationships or jobs. We can predict a spike in the crime rate if we don't do some interventions with our young families.
We're getting folks from Third World countries who are not even educated in their native land. We have parents who are illiterate in a language other than English. I've met with the mayor, and he's looking at different ways to address this. But I think it's going to be a really critical issue and it's a different issue than other areas of the state.
Keegan: That has actually happened to us as well. Just because the funding goes away doesn't mean the people go away. Those people come to us looking for those services and as a community college our primary goal is to provide education. But when people come to us to be educated they bring with them other problems that need to be addressed before they can be educated.
Q. How do you see Manchester in the next five or six years?
Covey: I think we've already got it started with Dick's project at River's Edge. They've already identified the gaslight district, which I think has an awful lot of potential — that's south of the Verizon center, where Van Otis's new location is. Then behind that there's the cemetery and down to Canal Street. That whole area down to the Queen City bridge — it's just an incredible development potential in Manchester.
Skelton: I think the chamber's demographic is an indicator of what change is going to happen. Just a few short years ago, 40 percent of our membership was located in the city and 60 percent in the surrounding region. Now within the last two years it has flipped and 60 percent of our membership is in Manchester and 40 percent form other cities.
Keefe: I think that's really key here to bring residential living to downtown Manchester. I think that's going to make a bigger impact on many of these projects, just to make it more of a livable city.
Back in the '80s, everyone wanted to go outside downtown and build malls and now the new thought process is going back to the old way of living. Bring everything back downtown and let people live and work and play and eat all within the confines of downtown area. I really look forward to that, bringing more residents into the city.
Q. Stephanie, you helped start the Manchester Young Professionals Network, and Mike is currently involved as a board member. You would think a lot of your members either are working downtown and obviously coming for entertainment to downtown but also living here.
Skelton: We have a mailing list of approximately over 2,500 — that's the network of people we communicate with on a monthly basis. In terms of an active membership, we had 200 people at our last social event. Some of our events in the past we've had over 300 people. Often times we see different people at the events, so it's not just the same ones in the crowd. It's a very active and vibrant community and the future of the city really.
McLaughlin: It's not something you saw even five years ago, which is why we started it. It was an idea whose time had come because it exploded not only in Manchester but across the state. To Mike's point, it is the future of Manchester. And to get these people engaged in the city and woven in different ways will only make this city stronger as it continues to evolve.
The other demographic that is moving back downtown are the baby boomers, folks who are empty-nesters and downsizing. I think those are folks who will come in also with some good cash because they'll be selling their other houses and kind of downsizing. That's a trend that's happening in lots of cities. And that will be a nice mix if that happens.