We are all counting on infrastructure improvements
They present an economic opportunity, not a challenge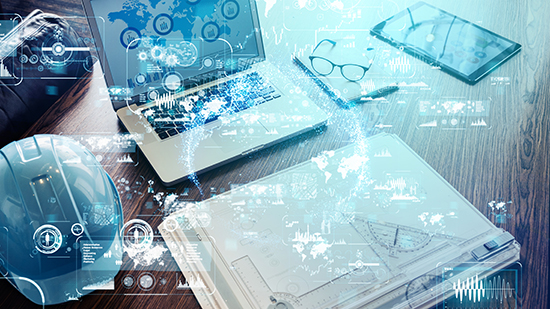 Imagine your commute tomorrow disrupted because the bridge you always cross is deemed unsafe and closed to traffic. Or getting a whopping bill from your mechanic because your car's tires and struts are wrecked by frost heaves. Or your internet connection freezes in the middle of a video chat or when you're about to email that big proposal. Or you miss your flight connection due to air traffic control inefficiencies. Or a sudden power blackout. Or not getting a cell signal when you need it the most.
Now imagine instead of these inconveniences happening once in a while, they happen every day.
That's why maintaining New Hampshire's infrastructure is important to you and to businesses. When travel and commerce are smooth, it's easy to get the false impression that we have nothing to worry about. But the foundations of our transportation, telecommunications, and water systems are (literally) showing cracks.
Here's the problem. When we built our guardrails, overpasses, sewer mains, airports, telephone lines, rail lines, power grid, and pump stations, we knew they'd last a long time – but not forever. The steel and concrete which connects and serves our communities are due for repair or replacement. We can't have a 21st century economy with a 20th century infrastructure.
It's time to see infrastructure improvement as an opportunity, not as a challenge. I serve as volunteer treasurer of the Business and Industry Association. As a partner in a leading accounting firm with clients in virtually every economic sector, I recognize the critical role of infrastructure in fostering a healthy, growing economy.
That includes adequate investment in New Hampshire's road and bridge network. According to a report from the Census Bureau, the mean travel time to work for New Hampshire residents was about 27 minutes. You and your co-workers are covering quite a lot of road each day. Without action, those commutes will become longer, less safe, and add more to the cost of maintaining your car.
Advanced manufacturing drives New Hampshire's economy, and the things we make here need to get there easily. Another Census Bureau report estimates the total value of shipments and receipts for services by Granite State businesses is $20.7 billion. In other words: a lot of stuff. Whether it's transporting freshly-brewed beer from Merrimack, aircraft parts from Milford, or your UPS delivery from Londonderry, inadequate roads slow down the transportation of the goods our businesses deliver.
It's for these reasons BIA opposes diverting constitutionally protected state highway fund revenue for non-highway, non-bridge-related programs. It's also why BIA supports consideration of long-term mass transit alternatives. (Although BIA has not endorsed any particular proposal, we've produced numerous forums over the years to debate the pros and cons of each.)
Getting phone, cable and internet to every corner of the Granite State remains a challenge. BIA supports efforts to expand private sector telecommunications infrastructure throughout the state to improve access, quality and reliability. In 2019, there are still areas of the state where cell service is spotty and the only internet you can access is through a dial-up modem. While that puts a crimp in your ability to catch the Patriots or watch Hulu, it can be crushing to the productivity of businesses located in rural areas.
Our water infrastructure is also a concern. We have far too many pipes, pumps and dams at the end of their design life or exceeding their capacity. In many communities, businesses are the largest customer of water. A loss of water supply can be devastating to their productivity. Also required is access to the safe, reliable discharge of wastewater for the needs of business and protection of the environment. Urban environments and rural settings alike need to control storm water to prevent overflow and avoidable damage to property.
The final question is where are we going to get the money to bring our roads and bridges up to snuff? The state needs financial assistance from Washington to modernize our transportation, telecommunication and water systems. Now is the time to make the effort, because the results of kicking the can farther down the (crumbling) road will be more than just an inconvenience.
Karl Heafield is treasurer of the Business and Industry Association and principal at Baker Newman Noyes.