W.S. Badger files as a New Hampshire B corporation
Skin care products company becomes one of first under new state law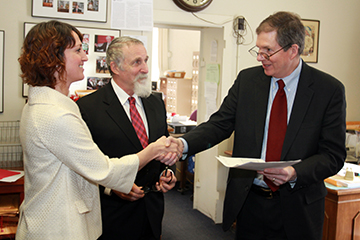 W.S. Badger Company Inc. on Monday became one of the first Granite State firms to register as a benefit corporation, or B corporation, under a new state law.
Under the law, which took effect on Jan. 1, New Hampshire companies can form what's a kind of hybrid form of entity that allows a for-profit corporation with two fiduciary purposes: making money and pursuing a social or environmental goal.
W.S. Badger, a Gilsum company that manufactures and distributes environmentally friendly skin care products, has already been certified as a B corporation by an independent national organization, but until Jan. 1 could not do so in New Hampshire. It was able to do so in a ceremony, Monday, at the secretary of state's office in Concord
The company certainly seems to have everything in order to meet the requirements of the law.
Workplace friendly? The lowest-paid worker makes a fifth of the salary of the CEO. Organic lunches provided every day to employees? Check.
Environmentally friendly products? Seventy-five percent organic materials in its products and 25 percent of its suppliers use renewable energy systems. Check.
Community service? Ten percent of all profits go to charity. Paid time off for community service? Check.
Spelling out the company's policies in the corporate charter is an extra step in affirming its goals.
"It's putting that mission into the company," said Rebecca Hamilton, director of product development. In fact, if the company is ever sold, the corporate charter would be sold with it, and couldn't be changed without a conscious effort.
Badger helped lead the effort to pass the B corporation law last year.
The process of becoming a B corporation is rather simple, since it requires third-party evaluation and the filing of a copy of the company's annual report with the secretary of state.
A company doesn't have to be certified by an independent party, like W.S. Badger, to become a B corporation in New Hampshire. It just has to show what its social goals are and what it is doing to meet them.
Indeed, Badger wasn't the first company to become a B corporation in New Hampshire. That honor belongs to Yang Sushi Inc. of Newmarket, which filed on Jan. 7, according to Deputy Secretary of State David Scanlan. NHBR could not reach the company by deadline. Scanlan said he knows at least one other company that is on the way.
W.S. Badger is certainly the most well-known B corporation thus far. And the company's social mission hasn't hurt its bottom line any. W.S. Badger has 70 employees, adding about 10 people a year during the last few years.
That success is partly because of values, said Hamilton. W.S. Badger's reputation as an environmentally friendly company allows it to charge more for its products. And feeding employees healthy meals might sound like a frill, but it also might be cutting the company's health care expenses more than most wellness programs.
The group meals also build a sense of a community and purpose, said the company's CEO and Founder Bill Whyte. That's why he doesn't mind making a lot less than other CEOs.
"Sure, it limits my income, but I sure enjoy coming to work. And you can't put a price on that," he said.