Voters to decide Merrimack outlet proposal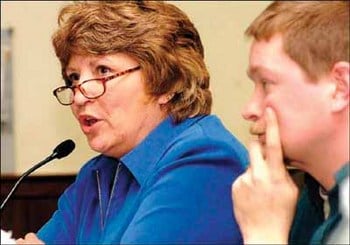 The Merrimack Planning Board has voted 5-2 to send to voters a zoning amendment that would allow the development of a controversial premium outlet center in town.
Roseland, N.J.-based Chelsea Property Group Inc. has proposed building a 650,000-square-foot, 135-store premium outlet center on a 160-acre parcel in the southern part of Merrimack. The project requires changing what is now an industrial zone to one that would allow commercial operations.
The zoning amendment that will go before voters at the April 12 town meeting would allow for the outlet center, but forbid any single building of more than 120,000 square feet and any shop greater than 40,000 square feet. The amendment also requires a configuration of buildings to have a "center courtyard and connecting walkways" and no more than 650,000 square feet of total gross floor area.
The vote came after dozens of residents both for and against the proposed voting change spoke at the Feb. 8 hearing, which lasted over three hours.
Opponents said the potential cost to the town for services such as police and fire protection would be higher than what the town would raise in tax revenue. They also said the commercial development is not in accordance with the town's master plan.
"Word after word it says, 'No, you should not do this,'" resident Matthew Sheppard said of the master plan.
Other residents, however, said the planning board should let voters decide whether the outlet center should be built.
"All I've heard from the opponents is that they don't want this in their back yard," resident Andrew Morris said.
"As a business owner in retail, I believe this is going to be a boon for us," resident Michael Anderson said.
"In my point of view, we did not spend enough time discussing the matter with our attorney present," board member John Segedy – one of the two "no" votes said. "Part of the reason may be that we spent too much time looking at this particular project."
But board member Tom Koenig had confidence in the measure, saying he believes its wording "gives us a tremendous amount of coverage and tremendous amount of flexibility to work with developers."
Residents who oppose the proposal – many of them who live in the south Merrimack neighborhood — said they were disappointed in the board's vote and would continue to fight the proposal.
Nancy Harrington, a member of Concerned Citizens of Merrimack Alliance — a group of citizens who have worked to fight the proposal – told the Nashua Telegraph that the board members "came in with their opinions made, and that's disappointing."
Before the April 12 vote, opponents said they will be looking for financial support to "equalize the playing field" as they wage a public information campaign against Chelsea Property Group Inc. of New Jersey, Harrington said.
Nashua developer Tom Monahan, who owns the site where the center would be built, said proponents will be just as active in support of the project.
"This is just the beginning. We've got a lot of work to do," Monahan told the Telegraph. He added that the job now will be to get out the information to the public, and Monahan said he's confident Chelsea can do that.
Chelsea – which wholly or partly owns 60 shopping centers in 30 states, Japan and Mexico — is a subsidiary of Indianapolis-based Simon Property Group, the nation's largest owner of shopping malls. Its properties include the Pheasant Lane Mall in Nashua, the Mall of New Hampshire in Manchester and the Mall at Rockingham Park in Salem.