Veterinarians receive outpouring of puppy love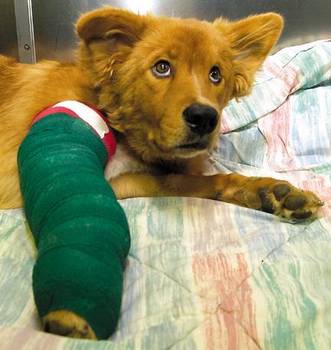 NASHUA – Jack the dog has won many hearts, but all he needs is one good leg.
The mixed breed had some extra rest before veterinarians today try to save his right foreleg from a .45-caliber gunshot wound.
His caregivers also spent a lot of time answering the phone. Around 50 well-wishers inquired about Jack's health and ownership status.
"He's doing well. He's resting comfortably," said Kathy Breault, director of operations at the Animal Medical Center in Nashua.
Jack underwent an examination Wednesday, but veterinarians did not make a final call, delaying for one more day a happy or sad prognosis. Instead, Jack got a new bandage, had some X-Rays taken and received another dose of heavy medication for pain.
The center's staff will run a series of tests on Jack's leg today before determining whether they can rehabilitate the limb. The one-year-old golden retriever-chow otherwise will lose his leg to amputation.
Meanwhile, the center and its companion business Animal Hospital at Ferry Road – where Jack was first treated – received up to 50 calls, Breault said. Many people want to adopt the dog, but the private hospital will not handle that potential process. If Jack's owner does not claim him, the Humane Society will find him an adoptive home, she said.
Jack was found Monday by workers at a construction site. The .45-caliber casing was discovered nearby. He did not have any ownership tags. Hospital employees named the dog "Jack."
Another canine, likely Jack's sibling, spooked when the workers approached, was eventually captured at a nearby business. She also had no tags.
Police do not know exactly when or where Jack was shot. But police officers have many concerns, particularly the use of a handgun on an animal. An owner did not step forward Wednesday, Breault said.
Tests revealed that Jack suffered the hospital's intensive care unit, she said.
Today he will have various tests, including some on the nerve endings in his wounded leg. Those nerve tests will show if there is significant damage, and whether the leg can remain.
"If he does respond, it shows the nerves are not damaged," Breault said.
If that happens, the hospital can place Jack's leg in a metal plate, he can then undergo rehabilitation. But if the leg does not react to tests, it will be amputated immediately, she said.
Judith Surdam, a veterinarian who is treating Jack, said amputation does not mean the end of a dog's world, or even its active lifestyle. Dogs can adjust to three legs, she said.
But Jack now has a cheering section that wants only the best medical verdict, the happiest of endings. Those supporters also emailed a Telegraph reporter, looking for an update or expressing an interest in the dog's future.
One message simply read, "I want to adopt Jack."
Animal Medical Center has opened a fund to cover Jack's medical costs; the hospital initially had said it would solely cover those expenses. Donations may be sent to Friends of Jack, Animal Medical Center, 168 Main Dunstable Road, Nashua, N.H., 03060.