Utilities Watch: Internet tax ban extended 3 years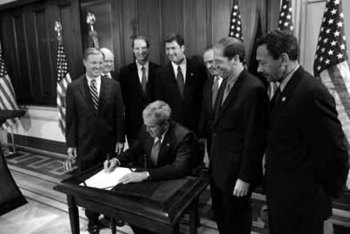 President Bush recently signed a bill banning taxes on Internet access fees for another three years, extending a ban on Internet taxes that expired a year ago.
But the bill contains a grandfather clause that is likely to allow New Hampshire to continue to tax Internet services. The clause allows states that taxed Internet access fees prior to a ban enacted in 1998 and renewed in October 2001 to continue doing so.
New Hampshire, which considers digital subscriber line, or DSL, to be a two-way communication service, taxes DSL under the state communications services tax.
The vote on the federal legislation came more than a year after the expiration of a similar prohibition against taxes on Internet access, from dial-up to DSL, which was approved by Congress in 1998.
The new bill — sponsored by Sen. Ron Wyden, D-Ore., and Sen. George Allen, R-Va., with the help of Sen. John E. Sununu, R-N.H. — bans taxation on all access fees until Dec. 31, 2007, and clarifies the definition of Internet access to include DSL, dial-up, cable modem and wireless service. It also bans double taxation of Internet products by two or more states and bans discriminatory taxes that treat Internet purchases differently from other purchases.
This means that consumer purchases made on the Internet will not be taxed differently just because they were made using the Internet.
The compromise bill allows states and cities to continue collecting taxes on phone services, even if the calls are made over the Internet on Voice over Internet Protocol (VoIP). The Federal Communications Commission recently ruled that VoIP is an Internet service that is not subject to state public utility regulation.
Sununu said that the ban provides small businesses around the country with the certainty they need to expand information networks, and it will spur the development of new products and services that can be purchased through the Internet. Sununu also said he supports a permanent ban on taxation of Internet access fees and that the Internet should not be a source of revenue for states.
It is uncertain how many states currently tax Internet access fees. The Center on Budget and Policy Priorities, a Washington, D.C.-based think tank, says that Hawaii, New Hampshire, New Mexico, North Dakota, South Dakota, Ohio, Texas, Washington and Wisconsin tax Internet access fees in some way.
At the state level, the New Hampshire Legislature established a study committee that has been looking into the issue of the applicability of the 7 percent communications services tax to Internet access and Internet services. Legislation is being drafted and likely to be considered during the 2005 session that would establish a committee to further study the application of the communications services tax to the provision of Internet services.
*****
The Washington Post recently reported that an estimated 200 communities, from San Francisco to St. Cloud, Fla., are considering community-owned networks, sparking a battle with cable and telephone companies over how public, or private, access to the Internet should be. The companies are lobbying to block such plans, fearful that their businesses would be hurt. Their efforts most recently paid off in Pennsylvania, where a new law bans local governments from creating their own networks without first giving the primary local phone company the chance to provide service.
Consumer advocates are opposed to the new Pennsylvania law, saying it amounts to governments needing a permission slip from entrenched monopolies to put a vital economic and educational tool within everyone's reach. Consumer advocates argue that government has a long history of providing essential public services, such as national highways or electricity in rural areas, and community networks should be able to give the large companies some competition.
In Kutztown, Pa., local officials built a fiber-optic network in 2000, following the path of the power lines that also are owned by the town. Today, Internet service at speeds faster than those generally provided by phone and cable companies is available to residents and businesses beginning at $15 a month. The system also provides cable television service.
In some cases, governments have acted to build government-owned networks out of concern that spotty service from commercial providers in rural areas might be inhibiting economic growth. Allegheny County in western Maryland is building a high-speed wireless network that will be available for homes and businesses. Companies such as Verizon Communications Inc., which helped shape the Pennsylvania law, argue that telecommunications firms would have little incentive to build networks if they have to compete with government-subsidized service.
In Pennsylvania, Verizon is under state mandate to deploy high-speed access to customers in all of its territory by 2015.
According to MuniWireless.com, an online newsletter that tracks community-based wireless projects, 14 states have passed some type of legislation limiting what municipalities can do. In Illinois, SBC Communications Inc. and Comcast Corp. teamed up twice to defeat ballot measures that would have allowed three towns to create a fiber-optic network to provide telecommunications and cable television services.
More than 500 residents take advantage of the system.
The New Hampshire Legislature has established a 10-member commission to study the benefit to municipalities of using bonds for construction, development, improvement and acquisition of broadband facilities. The commission is charged with studying the opportunities provided to municipalities for the development, deployment and operation of municipally-funded broadband infrastructure and is to focus on the demands from local residents and businesses, the options for alternative providers and the competitive environment within the municipalities.
It must report before Nov. 1, 2005, on the municipal provision of broadband infrastructure and its effect on the municipality, including economic development, municipal services enhancement and the cost to residents and businesses.
Doug Patch, former chairman of the New Hampshire Public Utilities Commission, is with the Concord law firm of Orr and Reno.