Upward slope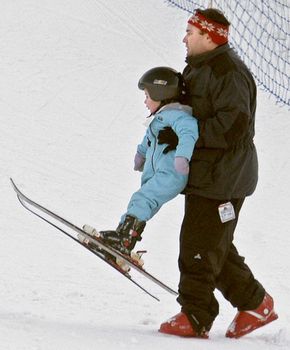 BENNINGTON – Ski fans always get a little impatient waiting for a favorite mountain to reopen for the season, but Steve McClallen of Nashua has more reason than most to be impatient: He's been waiting 13 winters.
"I was so mad when it closed (in 1989) – I thought, how could they ruin a good mountain with finances?" McClallen said while standing in the chairlift line Saturday at Crotched Mountain Ski & Ride Area, which opened Saturday in a rebirth that is unprecedented for New Hampshire skiing. "I've been waiting a long time for this."
The whoops and cheers when the first skiers headed up the mountain shortly before 1 p.m. showed he isn't alone, as did the experience of Erik Fey of New Boston, who formed a private ski club to buy season tickets at a group discount.
"I thought I'd get five people – I ended up with more than 70," he said.
Carson Henry of Lyndeborough just missed his efforts to be on the very first chairlift – but did get on the second.
"I grew up skiing at Temple," he said, referring to the Peterborough ski area that went bankrupt two years ago. "I was looking forward to this."
It isn't just fans of local skiing who are excited to see Crotched Mountain return: Even the nearest competitor is happy.
"We're wishing them the best of luck. It brings more skiers and snowboarders to the region – that's a plus for everybody," said Doug Peel, marketing director at Pat's Peak in Henniker, which until this weekend was the last remaining downhill ski area in Southern New Hampshire.
Crotched Mountain, on Route 47 at the Bennington-Francestown line, closed under a sea of debt after the 1989-90 winter. It was bought two years ago by Missouri-based Peak Resorts, which owns five Midwestern ski areas that are tiny by New Hampshire standards. This is the company's first foray into the Northeast; the company believes the experience it built in the poor-skiing terrain of Ohio and Indiana will help it be successful here.
Peak Resorts has poured an astonishing $9 million into the reopening, drawing admiration from throughout the industry.
"When has something like this happened before in New Hampshire? I would guess never," said Karl Stone, marketing manager for Ski New Hampshire, an industry lobby. "And you probably won't see something of this nature for another 10-20 years in New England. . . . I know of nothing on the map at this point."
The opening is good news in a ski industry that has seen participation decline from a late-1980s zenith but now has hopes that the tide has turned because of better management, better technology and better crowds, thanks to the growth of snowboarding.
"The whole Tenney thing – that was great for the industry," said Peel, referring to a new type of snowmaking that allowed Tenney Mountain in Plymouth to open early this year. "That and (Crotched reopening) – it's something to watch, something to talk about. . . . It's good news for everybody."
On Crotched Mountain, Saturday's emotions ranged from ecstatic to exhausted, depending whether you were a customer enjoying the rebirth or an employee scrambling to make things work.
"It'll be better next week!" a ticket seller said as the computer system proved a bit balky.
The ski area is still very much a work in progress: No signs were posted on the runs Saturday, almost no ski racks were available and the new, 40,000-square-foot lodge had the unlived-in feel of a warehouse. About three-quarters of the mountain was open Saturday.