Updated: NH senators back permanent SBIR authorization
Shaheen to sponsor legislation to extend program beyond 2017 deadline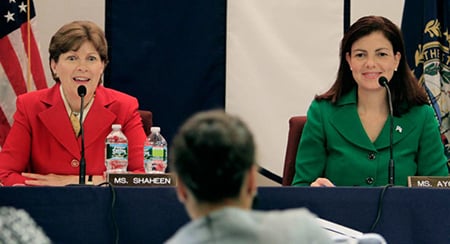 Both of New Hampshire's U.S. senators have voiced strong support for the permanent reauthorization of the Small Business Innovation Research program, with U.S. Sen. Jeanne Shaheen drafting legislation to achieve that goal.
SBIR and the related Small Business Technology Transfer, or STTR, program are currently scheduled to expire on Sept. 30, 2017 after a six-year extension that was won with the support of Shaheen.
Shaheen, ranking Democrat on the Senate Committee on Small Business and Entrepreneurship, said the SBIR and STTR programs, "help entrepreneurs across the country engage in the research and development that keeps America at the forefront of innovation."
According to U.S. Sen. Kelly Ayotte, SBIR "has supported numerous small businesses in New Hampshire and across the nation as they grow our economy and create jobs."
Ayotte was critical of the long practice of voting for short-term extensions of the programs – they were reauthorized 14 times between 2008 and 2011, for instance.
"Like too many other critical programs, SBIR has been kept alive through short term patches. Permanently renewing this program would provide certainty and allow New Hampshire's small tech firms to continue to make valuable contributions to our national security," she said.
To make the case for a permanent reauthorization, Shaheen invited Dr. Robert Kline-Schoder, president of Hanover-based Creare, to testify before the Small Business Committee on Thursday.
Creare, Shaheen noted, "has been working with the programs since their creation."
During the hearing, Kline-Schoder said the programs are "critical" because they allow the federal government "to access the enormous technical talent employed by the nation's small businesses and infuse new technology into critical systems."
He said the frequent temporary reauthorization of the programs "proves tremendously disruptive to vulnerable small businesses and to the federal agencies that count on these small firms to meet critical program needs. The program should be reauthorized for at least ten years, or, even better, made permanent."
According to Ayotte's office, since its creation in 1983, New Hampshire firms have received nearly $523 million through 1,806 total awards