Unpackaged goods
New Stonyfield product takes a giant step toward edible packaging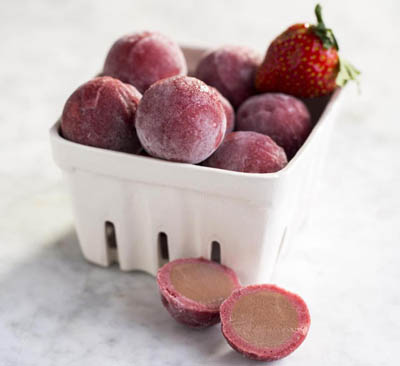 Customers who stroll down the frozen foods aisle at the new Nashua Whole Foods opening this month will find a brand new — and even groundbreaking — dessert: Frozen Yogurt Pearls from Londonderry-based Stonyfield Farm.
It's not often that frozen yogurt can be called "groundbreaking," but in this case, the description fits. That's because the new Stonyfield product, which was launched earlier this year, represents the first step toward a long-term company goal of eventually eliminating packaging for premade foods. With Frozen Yogurt Pearls, the "package" is edible.
"It has been my dream from the first day we started Stonyfield back in 1983 that we would not contribute to landfills," said Gary Hirshberg, chairman and former president and CEO of Stonyfield. So when he first heard that Harvard professor and inventor David Edwards was working on creating edible packaging for foods, Hirshberg reached out to him to collaborate.
Stonyfield has made eco-friendly packaging advances of its own over the years, including switching in 2010 to plant-based plastic to make its yogurt cups.
"That's a very exciting innovation, but when I heard what David was working on … I called him up," Hirshberg said. What Hirshberg really wanted was to eliminate the yogurt cup altogether.
So Hirshberg and Edwards began working together at Edwards' lab in Paris, where Edwards founded the art and design center, Le Laboratoire. The end result was the Frozen Yogurt Pearls.
They're small, single-serving spheres that contain a "heart" of Stonyfield frozen yogurt and are encased in an edible "electrostatic gel skin," said Eric Freedman, vice president of sales, marketing and business development for WikiFoods, the Cambridge, Mass.-based company founded in 2012 to commercialize Edwards' edible packaging innovations.
"It's sort of inspired by the way nature does it," Freedman said. "Think of the way a grape is wrapped in its own skin, or an apple."
That means the protective skin of the WikiPearls (as they're dubbed) can be handled without melting and can even be washed, just as a piece of fruit can be washed. The edible skins are made of food particles, nutritive ions and a polysaccharide, and come in different flavors depending on what food is inside.
The Stonyfield Frozen Yogurt Pearls, for instance, have sweet skins, and come in flavors like banana-chocolate (chocolate frozen yogurt encased in a banana-flavored skin) and strawberry-chocolate (chocolate frozen yogurt with a strawberry-flavored skin).
"We tried lots and lots of different formats," Hirshberg said. "The original concept was truly to avoid packaging all together."
But shoppers will see that for now, the Stonyfield Frozen Yogurt Pearls are actually sold in traditional-looking packages, albeit biodegradable and compostable ones that are made of wood fiber-based cellulose.
"You could literally put it in your backyard and it would disappear," Hirshberg said of the package.
The 'wow' factor
Still, the eventual goal is to eliminate the outer package — even a biodegradable one — altogether. Although it's possible now for the Frozen Yogurt Pearls to be sold in the freezer case in a bulk bin, sans packaging, the way fruit and bakery items are sold, Hirshberg and Freedman both admit that it's a step that shoppers don't seem ready for yet.
"Consumers just thought this was too weird," Hirshberg said. "If you send somebody to the fruit aisle, and you say give me a peach, get me a pear," they don't think anything of skipping the plastic bag. But "there's something about frozen yogurt," he said. "It's a mental leap."
What will prompt consumers to take that mental leap? Perhaps actually seeing the product, which is a bit hard to conceptualize; in fact, people are "stunned," Hirshberg said, when they first hold a WikiPearl in their hands.
"I think they have to eat it and try it," Hirshberg said.
But taste will trump even the coolest innovations in the end. No matter how novel or interesting the packaging, people buy a food or beverage product again and again because it tastes good.
"In the end, if it doesn't wow people when it hits their tongue it's not going to get a second chance," Hirshberg said. "The reality is this is really just a delicious treat."
The Stonyfield Frozen Yogurt Pearls did recently wow some people: In June, they racked up three World Dairy Innovation Awards — Best Ice Cream or Frozen Yogurt, Best Dairy Packaging Innovation and Best Overall Concept — at the Global Dairy Congress in Istanbul.
According to Stonyfield's announcement about the awards, judges called the product "ahead of its time" and "close to the Holy Grail of no packaging."
What really matters, though, is whether Frozen Yogurt Pearls catch on with consumers. So far, so good. After being test-launched in four Boston area Whole Foods Markets, Freedman said the product distribution will be expanded across the Whole Foods North Atlantic and Northeast regions, including the about-to-open location in Nashua. Hirshberg and Freedman said they're also in talks to bring the Frozen Yogurt Pearls to other stores, such as the regional supermarket chain Wegmans, as well as to healthy quick-serve restaurants.
"They've been an unqualified success. People absolutely love them," Hirshberg said.
In the meantime, WikiFoods isn't finished innovating. Stonyfield is just the first of what will likely be many companies to leverage the WikiPearl technology to bring a product to market without packaging.
"We are working on a variety of different WikiPearl applications," Freedman said. Although its first commercialized product is a frozen food, WikiFoods is also working on a platform for refrigerated foods, such as yogurts and cheeses.
"Our model is about partnering with world-class food and beverage companies who are looking for really interesting ways of redefining their products," said Freedman.
Although Freedman declined to go into specifics about which other companies WikiFoods is currently in talks to collaborate with, he did say that product possibilities include juices, soups, coffees, ice creams, water and even products for providing functional nutrition.
"We are prototyping and looking at doing clinical trials," Freedman said.
For now, New Hampshire shoppers can be among the first in the world to sample the WikiPearl technology when the Nashua Whole Foods opens. And perhaps someday soon, folks will start seeing the Stonyfield Frozen Yogurt Pearls in places like grocery store and restaurant self-serve counters, accompanied by a set of tongs and unencumbered by any traditional packaging at all.
"We need some willing, innovative customers," Hirshberg said.