UNHM program addresses science teacher shortage
Effort combines biology studies with education training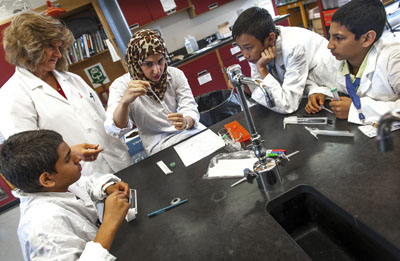 Derek Burkhardt always wanted to be a teacher. He attended to the University of New Hampshire at Manchester to explore his teaching options in the arts, but ultimately decided to become a biology major and seek a career as an environmental consultant.
This summer, Burkhardt is finishing up his bachelor's degree in biology, but he's come back around again on the teaching career.
"I realized I always wanted to be a teacher and just because I didn't want to be an art teacher didn't mean I couldn't be a science teacher," said Burkhardt.
Burkhardt is entering an area of teaching where certified professionals are in short supply. Across the country, and in New Hampshire, science teachers are considered a "critical shortage area," specifically in middle school and some high school science classes.
When a critical shortage area is declared, school districts can hire people without teaching degrees in these positions as long as the person holds a bachelor's degree in the subject area and has passed the Praxis exam required to teach in New Hampshire. When seeking this alternative route to certification, known as Alternative 4, teachers agree to undergo additional training and to be overseen by a mentor.
Patricia Halpin, assistant professor of biology at UNH Manchester, said UNH Manchester offers an education track for biology majors that provides a base in education training, giving students the option of seeking certification through alternative means or to go on to a master's program.
The track requires students to take botany and zoology, science courses that count toward their degree but are considered electives, she said. Students must also take Exploring Teaching, known to many as ED 500. The class also counts as an elective, but is highly valuable because it gives students time in a local classroom shadowing a teacher.
"It helps them see if they really want to do it," said Halpin. "It really gets their feet wet."
'Teaching and learning'
There are other opportunities for UNH Manchester students to get exposure to the teaching profession, Halpin said, such as the ESOL and EXCELL summer program, which provides intensive language training to speakers of other languages ages 12 and older.
UNH Manchester students are often recruited to offer instruction, which gives them teaching experiences in a completely unique environment, said Halpin. For example, in 2013 biology students worked with middle school students in the EXCELL program conducting DNA extraction, synthetic urinalysis, dissection of a preserved kidney and sensory experiments testing their vision, hearing, equilibrium, taste and sense of smell.
Students who decide to take the education track also have the opportunity to enter UNH's accelerated master's program in Manchester or Durham, which counts advanced classes (up to 12 credits) taken during senior year towards the credits needed for a master of education or master of arts in teaching degree. Students are encouraged to apply to the program in their junior year and must have a GPA of 3.2 or higher to be eligible.
The final year is spent "teaching and learning" said Halpin, with students taking a year-long internship as a student teacher at a local school.
As for Burkhardt, he said the majority of his fellow biology majors were studying to go on to a career in medicine, but that recently he's met more students who are considering education as well.
"I think people enter the undergraduate program thinking they're going into the private sector, and as they go they think more about going into education," said Burkhardt. Choosing that education track gives students a range of career options, he added, because they must obtain a broad understanding of the science fields.
Halpin said few schools in the area outside of the UNH system offer degrees that set students on the path of becoming a biology teacher.
"It's our niche in the area and it's really needed," said Halpin.