UNH shells out for 'certified humane' eggs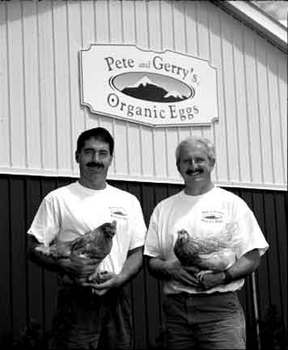 The University of New Hampshire says it is the first university in the nation to serve "certified humane" products, now that it is buying all its shelled eggs produced from hens raised "cage-free."
Shelled eggs are eggs bought in the shell, as opposed to liquid or other form, according to UNH spokeswoman Beth Potier. "Certified humane" means the eggs have been produced by hens eating a nutritious diet without antibiotics or hormones and with adequate shelter and space, Potier said.
Pete and Gerry's Organic Eggs, a certified humane chicken farm in Monroe, will supply UNH with about a quarter-million eggs a year, most of them Nellie's Nest Cage-Free Eggs, according to Potier. UNH started serving cage-free eggs Jan. 17, to the tune of about $6,000 more a year than regular eggs, Potier said.
The university's foray into "humane" food reflects the growing market for healthful, sustainable food, according to UNH Hospitality Services assistant director Rick MacDonald. Cage-free eggs come from hens fed all-natural vegetarian feed and are richer in Omega-3 fats, MacDonald said.
Tom Kelly, director of the UNH Office of Sustainability, said the move reflects the view that "food, agriculture and nutrition are linked as a system."
"That's a fundamental piece of sustainability — what sustains us as human communities and our ecology now and for generations to come," said Kelly. "Another phrase for it is civic agriculture — food, agriculture and nutrition tied to rural economic and community development. The work we're doing at UNH, of which the eggs are one small, important piece, includes a whole range of activities."
The activities, he said, range from programs focused on buying local food to a large UNH composting program that pulps dining hall food waste and resells it as compost.
Adele Douglass, executive director of the Humane Farm Animal Care Program, praised UNH as "the first U.S. university to serve eggs that are certified humane."
But 95 percent of eggs sold in the U.S. still come from chickens confined to wire cages, according to Paul Shapiro, manager of the Factory Farming Campaign of the Humane Society of the United States, which helped UNH start the program.
Meanwhile, Steve Taylor, the state's commissioner of agriculture, said the market for "humane food" in New Hampshire remains relatively small.
"Watch the dairy case at Shaw's or Hannaford's or DeMoulas for an hour — how many people are going for cage-free? Probably one in 20. It's not a huge piece of the market," said Taylor. "But at a higher educational level, more people are into organic and cage-free and sustainable. For producers here, that's the best place to be. It's a niche market."
Pete and Gerry's, said Taylor, "is carving out a niche for themselves by taking care of three consumer interests. Some people are willing to pay double for organic eggs. Some are willing to pay 30 percent more for cage-free. Sustainable is more of the same," said Taylor. "They've been very creative … They say it's growing like hell — yes, it is. But another dimension is it's showing on the radar screen of food marketers, and the big companies are coming in."
In 2003, Pete and Gerry's became the first U.S. egg producer designated "certified humane," said Jesse Laflamme, co-owner of Pete and Gerry's Organic Eggs and Nellie's Nest Cage-Free Eggs.
"The business is growing like crazy," said Laflamme. "We've experienced growth rates over the last 5 years from 25 to 30 percent a year. But it's attracting the attention of large-scale commodity egg producers— the big guys."