UNH seminar kicks off semester-long focus on women in research, innovation
WildCatalyst seminar on Soteria Solutions will take place Feb. 21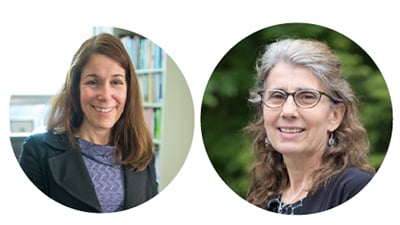 February's Wildcatalyst Seminar will feature the first women-run University of New Hampshire spinoff on Thursday, Feb. 21. The event will take place from 4:30 p.m. to 5:30 p.m. at UNHI Training Room on 21 Madbury Road Durham. The event is free and open to the public.
This year's seminar theme is "Women in Research and Innovation." Hosted monthly during the academic year, the goal of the seminar is to explore the opportunities and challenges of starting, running, and sustaining innovative based business. As the seminar is an open forum design, all innovators, entrepreneurs, service providers, and others who are inspired by innovation are encouraged to come.
February's speakers are Sharyn Potter and Jane Stapleton, co-founders of Soteria Solutions.
Soteria Solutions is an expansion of UNH's Prevention Innovation Research Center (PIRC). The nonprofit offers proven solutions to reduce sexual and interpersonal violence and harassment. In this seminar, both Potter and Stapleton will share their advice and experience from growing a research innovative startup. As women in business, they will also share unique challenges as female founders as well as advice to young female innovators.
Still holding leadership positons with PIRC, both Stapleton and Potter over the year have worked with their team to expand upon the academic and researched work at PIRC with the launch of Soteria this past year. The launch of Soteria has helped face their biggest challenges of continuously trying to solve building safe, respectful environments within workplaces and schools.
Stapleton and Potter both have substantial backgrounds in the field of women's studies. Stapleton has taught women's studies courses at the University of New Hampshire. Through her practicing she focuses on training that creates lasting change by building safe and respectful workplaces and learning environments. Through her research, Potter is a global leader in development and evaluation of sexual violence bystander prevention and response strategies for university, military and community settings.
Following the seminar there will be a networking event from 5:30 p.m. to 6:30 p.m. with free refreshments to encourage business collaboration and community engagement. To register, click here.