UNH reap rewards of sports marketing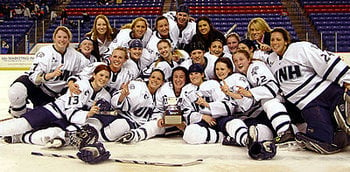 Even though University of New Hampshire men's hockey team didn't fare as well as their fans would have hoped in this year's post-season play, Associate Athletic Director Dot Sheehan is confident about one thing: Their jerseys are No. 1.
"We sell more than Michigan," said Sheehan, whose duties include overseeing the licensing and distribution of caps, jerseys, sweatshirts, coffee mugs and other items bearing the UNH "brand." "We sell more replica hockey jerseys than any other school in the nation. That's quite a compliment to UNH."
It's also a tribute to the national prominence of the school's hockey team, which has made the "Frozen Four" four times and played in the national championship game twice in the last six years.
"Probably 70 percent of all we do with UNH is hockey-related," said Dan Packhurst of SportsDesign.com, the company that runs the UNH Wildcats Web site.
But Packhurst, who runs another Web site for the Hockey East conference, said UNH tops sales there as well. "We're doing a lot of Maine stuff today," he said after the Black Bears won the Hockey East tournament. "But historically, New Hampshire is the best seller we have on there."
It is probably no coincidence that sales of all UNH-brand merchandise have tripled since the school launched a new logo and marketing strategy in August 2004, about two years after the project began.
"We had the licensing company (Collegiate Licensing of Atlanta) come to us and say we didn't have a consistent look," said Sheehan. "The football uniforms were red, white and navy blue, women's basketball was light blue, navy and white. They said we should think about refashioning our logo to create a new image and build a brand."
The school had already given its athletics department licensing authority for anything bearing the university's name or logo. So when it came time to remake the school's image, Sheehan and her colleagues assembled a committee of about 30 people, "from all across the university, from parking to the president's office to coaches to retail people downtown. We had a good cross-section of people."
A New York marketing firm, SME Design Inc., was hired, and its first task was to come up with the right colors to complement the school's traditional navy and white.
"What we said to them was we wanted the design to be a little faster," said Sheehan. "The first thing they brought us was a light blue to go with the navy and white." Since that is the color scheme of arch-rival Maine, it was "a very short meeting," Sheehan recalled. "Some of the coaches walked right out of the room."
The next suggestion was a yellow that would have given UNH a look similar to another Hockey East rival, the University of Rhode Island. That didn't go over too well either. But the committee finally settled on silver as the complementary color, with black added to some of the designs. The full-length logo features a silver wildcat over a white "New Hampshire" against a blue background. The cat itself bears a distinctive look to set it apart from other wildcat icons.
"We redid the mascot," said Sheehan. "We wanted to appeal to kids with a more Disney-like look. If you look at Villanova, Kentucky or Kansas State, they have a more ferocious look than we do, with the teeth dripping blood."
The UNH wildcat is not exactly warm and friendly, though, as it appears with teeth bared, glaring over its shoulder at an imagined opponent.
"To a lot of people that meant strength," Sheehan said. "People felt it looks at somebody as if to say, 'OK, we've defeated you and now we're moving on.'"
110 licensees
All told, the design, creation and approval of the new logo was project that stretched out over two years, but Sheehan will tell you it was worth it. There's a lot of money involved in coming up with the right image.
"When (the University of) North Carolina changed their logo a couple of years ago, they saw a $7 million infusion into their licensing program," she said. At the considerably smaller UNH, merchandise sales have also risen dramatically from its $500,000-a-year level before the new look was adopted.
"For us, the licensing program is healthier than it's ever been. We are doing about $1.5 million in sales with that logo."
Shirts, hats and other items bearing that logo are sold in Bob's Stores, Sam's Club, JC Penney's, Olympia Sports and by other national retail chains, as well as in stores on and around the university's Durham campus. The merchandise also is sold nationally over the Wildcats' Web site, unhwildcats.com.
"It's a bear to monitor," Sheehan said, "but I guess we're pretty lucky. We have 110 licensees. Syracuse has over 2,000."
Working with the licensing company to protect the copyright from pirating, both on and off campus, is part of her job. "There are people out there all the time, trying to put your logo on a piece of equipment without paying royalties."
One unauthorized use last year featured the university's insignia on a pornographic Web site.
"Collegiate Licensing moved on that and got it shut down," she said.
Foot in the door
Sheehan brought a sports-marketing background with her when she returned to her alma mater seven years ago. She graduated from the university with an English major in 1971 and taught at the former New Hampshire College (now Southern New Hampshire University) before becoming marketing director for a real estate company. She later became corporate communications director of Erin Food Services in Manchester.
Then she met former Boston Celtics player Robert Parish at a basketball camp her son attended and was soon pursuing a new career.
"A T-shirt company was looking for someone to endorse one of their lines, and Parish asked me to represent him in those kind of deals," she said. Before long, Sheehan Sports Marketing was negotiating product endorsements and personal appearance fees for a number of Boston area stars, including former Rick Fox and Eric Montross, Drew Bledsoe and Mo Vaughan. She also did promotional work for athletes outside the area, including Michael Jordan and Karl Malone. She also got a large foot in the door for Nate Newton of the Dallas Cowboys with Champion Sports in a year when the Cowboys were in the Super Bowl.
"Champion wanted somebody wearing black shoes at least size 16," said Sheehan. Newton, a mammoth lineman, more than fit the bill. Newton's size 17 shoe was seen "larger than life" in Champion ads.
Today Sheehan still does some sports consulting on her own, though her duties at UNH keep her days rather full. As associate athletic director, she oversees tickets, promotions and media relations and is general manager of the UNH Sports Radio Network. She also is adviser to the cheerleading team.
"Some days licensing is a small part of what I do," she said.
The hours get long from August through April at a university athletic department, and personal lives get put on hold. "It's a good thing my kids are grown up," Sheehan said of her two UNH grads.
Her son is getting married in Washington, D.C. in mid-May, and Sheehan is in charge of the rehearsal dinner. Planning for that had to wait until after the Frozen Four in Manchester.
"I said, 'Call me in a couple of weeks,'" she said. "I'll be able to deal with it then."