UNH prof's research could lead to better roads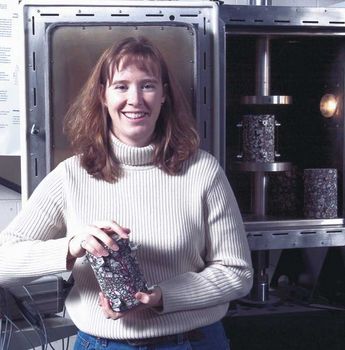 A University of New Hampshire engineering professor has won a National Science Foundation research grant that could one day result in more durable roads and less highway construction.
Jo Daniel, assistant professor of civil engineering in the College of Engineering and Physical Sciences, was recently awarded a $400,000 NSF CAREER Award to study "viscoelastic" materials, such as asphalt. Like a rubber band, these materials return to their original shape after being stretched, but like honey, they move slowly.
Daniel hopes to find a way to relate the results of different tests used to determine the strength of asphalt.
"We'll get a more fundamental understanding of the behavior of asphalt as well," said Daniel. "That could help design longer-lasting roads and give a better idea of how long materials last, so maintenance can be timed to avoid major reconstruction."
Researchers currently use a number of tests to determine the strength of viscoelastic materials. Each test uses a different sample shape, from cylindrical to rectangular, and a different method of applying load, from simple crushing tests to complicated triaxial loading that simulates real world conditions. All produce useful results, but there is no way to tie them together.
This year Daniel was the only New Hampshire researcher to receive a CAREER grant — one of NSF's most prestigious awards for new faculty members. She joins four other College of Engineering and Physical Sciences faculty currently working on NSF Career grants — Karsten Pohl, assistant professor of physics; Elizabeth Varki, associate professor of computer science; Liming Ge, professor of math; and Robert Griffin, assistant professor of earth sciences.
Winners of CAREER awards are selected on the basis of creative, career-development plans that effectively integrate research and education.