Unconventional real estate firm grows in six months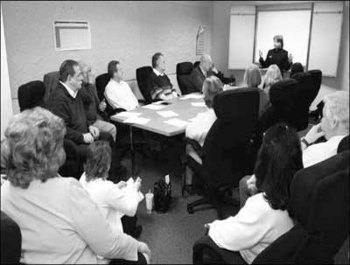 Alisa Johnson went to work for Keller Williams Realty for the daily training. For Charlene Lemieux, it was the benefits. The profit-sharing program lured Valerie White.
Fulton Gaylord left his job at ReMax, where he worked for nearly a decade, to open the local Keller Williams franchise June 1.
Keller Williams is different from other real estate firms because of its "agent-centric" business model, which allows its salespeople to make more money and take part in profit-sharing, said Gaylord, the broker/owner.
"We want agents to look at this as having their own business, and that's what we teach them," Gaylord said. "It's their company. It's not business as usual. It's a different business model."
Just a little more than six months old, Keller Williams moved its offices from the 20 Trafalgar Square glass towers to One Trafalgar Square in Nashua, above Citizens Bank, where it is undergoing an expansion to double the size of its office space.
The Nashua Keller Williams franchise has grown from a half-dozen people to 35 agents in six months, and Gaylord expects to have 100 agents within a year.
"There's not one company in this area that's grown to 35 agents in that amount of time," he said. "Keller Williams controls markets because we control the number of agents. We control the number of agents because we have more to offer."
Roughly 30 percent of the Nashua office's 35 Keller Williams agents are new to the real estate industry, Gaylord said. Overall, the agents have an average of 6.2 years of experience.
Since agents also are stakeholders in the company, they make decisions on company policy and are encouraged to look at the books, Gaylord said. They even formulate the budget.
The fifth-largest real estate agency in the country, Keller Williams was founded in 1983 and started franchising in 1991, according to its Web site, kw.com. It now has more than 400 offices and more than 37,000 active agents. In 2003, the company reported gross sales of $50 billion and $799 million in revenue.
"Everyone says, 'Keller who?'" Gaylord said, "but here we are, growing and growing and growing."
More money
While most real estate agents split their commissions with the company owner, Keller Williams has one straight 70/30 commission program. Keller Williams agents get to keep 100 percent of their commission after they pay a $25,000 annual fee to cover costs in an anniversary year.
"No other company offers 100 percent," Gaylord said. "Then if I have profit-sharing, then I'm going to 100 percent plus. You can't beat it."
Four agents at the Nashua Keller Williams are already getting 100 percent commissions, Gaylord said.
Gaylord said 40 percent of the agents at the Nashua Keller Williams office currently participate in profit-sharing. In order to participate, the agent must have somebody name him or her as the reason they came into the business.
According to their contribution to the company's bottom line, recruits earn a percentage in profit-sharing.
The profit-sharing benefit goes seven levels deep, meaning that the person who brought on another agent continues to receive checks as the person they brought in brings in others. The new recruit is trained by the team leader, not the Keller Williams salesperson who referred him or her.
"We don't want agents to go out and recruit," Gaylord said. "We want them to work towards production towards the company dollar and productivity and profitability, because that's what we share in."
Last year, Keller Williams agents shared $13.8 million as part of the profit-sharing program.
"That's money that didn't go to owners," Gaylord said. "That's money that went to agents."
So the more profit the company has, the more money in the salesperson's pocket. The local firm turned a profit during its first month of operation in the city, Gaylord said.
"That's unheard of," he said. "I know companies that have been in business for 2-1/2 years and are just now starting to show a profit."
Nationwide, Keller Williams agents have shared in $59 million in profit to date, including $2 million in May 2004, the most recent figures available on the company Web site.
Profit-sharing is carried through retirement and is a willable asset — something that appealed to Valerie White of Nashua.
"I have five kids, I want it for my children," White said. "There's no other place that has a retirement program in place for real estate agents."
Making the switch
When Gaylord heard about Keller Williams, he visited a number of offices in Massachusetts and Texas and called around to many of the other franchises. After viewing National Association of Realtors statistics, he saw that the average ReMax office in America had 17.5 agents, while Keller Williams has 100 per office, he said.
"I thought to myself, when you go down one highway and see a restaurant with 100 cars in the parking lot and another restaurant with one … That's what really changed it for me."
But leaving a company like ReMax wasn't an easy decision.
"I'll never talk bad about ReMax. ReMax was my life for years. I just think I've found something better."
Gaylord also liked that Keller Williams is a learning-based company, offering classes every day.
"We believe we need to raise the standards of all Realtors right now," he said.
Three out of four Realtors leave the business after four years, Gaylord said. Keller Williams puts the agent first, he said.
"We believe it's God, family and business. Don't compromise your values and belief systems," Gaylord said. "Don't compromise your family time, that's the most important of all. And your business should take you to where you want to go."
– KAREN SPILLER/THE TELEGRAPH