U.S. median home value surpasses $200,000 mark
Record stems from 7.4 percent annual growth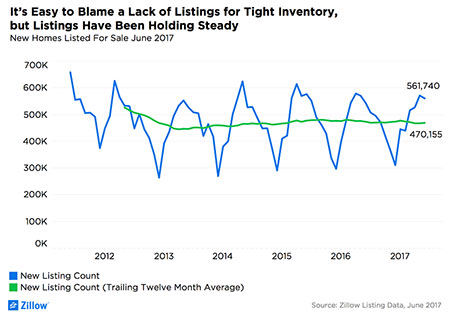 For the first-time in recorded history, the median home value in the U.S. has risen to over $200,000, according to Zillow's June Real Estate Market Report. The national median home value in June was $200,400, up 7.4 percent from the year prior.
Tight inventory is partially the cause for increase — there are 11 percent fewer homes on the market than a year ago, the greatest drop in inventory since July 2013 — but is being coupled with high buyer demand.
Many markets are experiencing double-digit growth in home values, according to the real estate database firm. Home values in Seattle, Dallas and Las Vegas are rising fastest, all reporting year-over-year gains in the double-digits. In Seattle, home values are up 13 percent year-over-year to a median home value of $447,100. Home values in Dallas and Las Vegas are up 10.5 and 10 percent, respectively.
And San Jose, Columbus, Ohio and San Diego reported the greatest drop in inventory since this time last year. Home shoppers in San Jose will have nearly 40 percent fewer homes to choose from than a year ago, and there are 33 percent fewer in Columbus and San Diego.
Likewise, the home inventory in the Manchester, NH market dropped 33.9 percent, from 1,462 homes on the market down to 967 and saw a 6.6 percent rise year-over-year in the median home value.
"The national housing market remains red hot and shows no signs of slowing, even as some local markets like the Bay Area have noticeably cooled," said Zillow Chief Economist Dr. Svenja Gudell in a press release. "But even in areas where the housing market has slowed, home values are at or very near peak levels, selection is limited, demand is high and competition is fierce. Given these high costs and high competition, the most important thing you can do is get your finances in order so you know what you can comfortably afford, and find an agent who has experience with bidding wars and will help you stand out in a competitive market, especially if you're buying for the first time.
Median rent across the nation has been holding steady at about a 1 percent annual gain for the past six months — the median rent across the country is now $1,422 per month. Seattle, Los Angeles and Sacramento, Calif. reported the greatest annual rent increases among the 35 largest U.S. metros. In Seattle, rents are up 5 percent to a Zillow Rent Index of $2,142 per month. Median rent in Sacramento is up 4.5 percent, and in Los Angeles, median rent has risen 4 percent.
Median rent is falling in 12 of the 35 largest U.S. metros, falling the most in Pittsburgh (down 4 percent) and Houston (down 3 percent). Miami, San Jose and San Francisco are also among the metros where rent is cheaper this year than last.
In Manchester, the median rent rose 3.1 percent year-over-year to $1,811 per month.
In June, mortgage rates on Zillow ended at 3.76 percent, the lowest month-ending rate since October 2016 and the most stable they have been in ten months, according to the firm.