Two USNH chancellors depart
Poulton, Farrell helped shape the office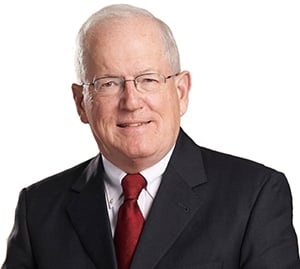 During the last couple of months, two significant educators died. They both served as chancellor of the University System of New Hampshire, under different circumstances.
The University System did not have a full-time paid chancellor until 1975. The system, the result of the 1963 transfer of the state "normal" schools to the University of New Hampshire board of trustees, never evolved into a system until the retirement of John W. McConnell as UNH president in 1971. Thereafter, the presidents of Keene State College and Plymouth State College lobbied the Legislature to create a new structure with a new individual "coordinating" the activities of the three institutions. In 1974, the position of chancellor was created, and the office of the system moved to Lee from Durham.
Initially, Philip Dunlap, chair of the UNH board of trustees filled the role of chancellor, a rather undefined position that was established under the interesting description of not being the "boss" of the college presidents but their coordinator and helper. There were several other administrators to coordinate matters on all campuses.
In 1975, after the name of the system had changed to "University System of New Hampshire" (after a debate on whether it was going to be the University of New Hampshire System, or some other title), the board hired Bruce Poulton, then vice president of the University of Maine. Poulton, a Yonkers, N.Y., native, educated at Rutgers University, where he received a Ph.D. in endocrinology, assumed a largely undefined position.
Poulton's early tenure in Lee was marked by his going around and asking people what their job was. While this seemed somewhat comical at the time, with perspective, Poulton was right, trying to define a rather amorphous job and getting input from many.
Poulton's style was large and sometimes bombastic, fitting his stature as a large man and presence. Poulton received mixed reviews at the time, although those reflecting on his tenure when he died on June 19 indicated that he did much to establish the job during his tenure.
In 1982, Poulton left the system to serve as chancellor of North Carolina State University. While there, he obtained land and funding for the university's Centennial Campus, worked on master planning and did other significant work. He resigned in 1989, under fire before the release of his six-month investigation into North Carolina State's Athletic Department. That was a result of accusations about big money and basketball at North Carolina State.
After leaving North Carolina State, Poulton served as director of North Carolina State's Literacy Systems Center.
A series of chancellors succeeded Poulton in New Hampshire, but they came and went without much notice. One exception to that rule was William Farrell, who became chancellor in 1992. Farrell, a Wisconsin native, received his master's and Ph.D. from the University of Wisconsin and a MBA from Marquette.
Farrell taught English at the University of Chicago, was a visiting professor at the University of California at Berkley and then at Marquette, where he moved from the classroom to administration as director of foundation support. He went on to the University of Iowa, and then, in 1984, became president of Plymouth State University (then Plymouth State College).
The USNH Board of Trustees later drafted Farrell to become chancellor, a position he held for eight years, from 1992 through 2000. After he left the system, he was interim president of Rivier University, and then named president, serving until 2011.
Farrell was involved in many boards and active in New Hampshire life, including serving on the Business and Industry Association of New Hampshire board and the St. Anselm College board. He died July 8 from complications of Alzheimer's Disease.
The University System continued after Farrell to have various chancellors, notably Stephen Reno, who served with distinction and, after retiring, became the head of Leadership New Hampshire, where he continues to serve the state. Edward McKay, Reno's successor served the state well until his retirement. Todd Leach, the present chancellor, headed Granite State College before being named chancellor.
New Hampshire will note the passing of the fine educators who recently died and should thank them for their contributions.
As the University System of New Hampshire continues to evolve, leadership both of the board of trustees and in the chancellorship will be key to its progress as it provides an essential service through the University of New Hampshire, Keene State College, Plymouth State University and Granite State College. That leadership will determine how the important story of public higher education is communicated to the public and state elected officials, so its make-up is important to us all.
Brad Cook, a shareholder in the Manchester law firm of Sheehan Phinney Bass + Green, heads its government relations and estate planning groups.