Trouble on the horizon?
Employers aren't squawking, but insurers see problems brewing when it comes to workers' comp costs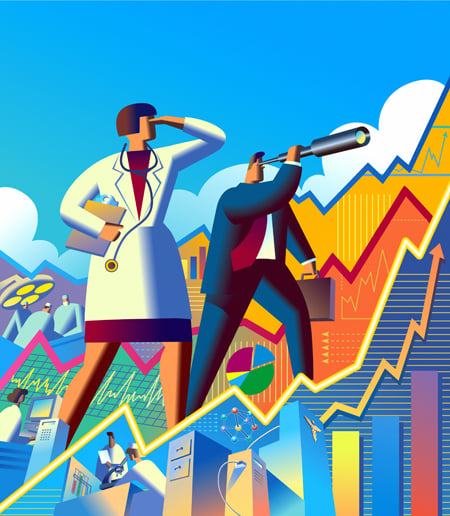 Does New Hampshire have a problem when it comes to workers' compensation insurance premiums and costs? It depends on who you ask.
First, consider the facts:
• New Hampshire ranks ninth in the nation in adjusted workers' compensation premium rates, up from number 14 just four years ago.
• For every dollar collected in premiums, insurance carriers pay out $1.30 in costs.
• Nearly three-quarters of workers' comp costs are medical, as opposed to less than half nationally — nearly the opposite picture of a few decades ago.
The statistics sound scary when recited by Deb Stone, the state Insurance Department's point person on workers' compensation, who testified last month before the House Labor Committee. And they sound just as scary when repeated by insurance lobbyists.
The insurance industry, blaming high medical costs, proposed that one way to reduce them is to mandate that employees initially in the workers' comp process go to a doctor picked by the employer's insurance carrier.
Unions and other representing labor instead urged the state to crack down on independent contractors who don't pay premiums but collect benefits when they are hurt.
There is one problem with both of those proposed solutions: There doesn't seem to be an urgent problem, at least for those who foot the bill: employers.
The total amount of workers' compensation premiums paid by New Hampshire employers has actually fallen between 2007 and 2011, through there is anecdotal evidence that they may have inched up last year. Businesses aren't really squawking, at least not yet.
"I haven't gotten many complaints about it," said Jasen Stock, president of the New Hampshire Timberland Owners Association, whose members include loggers and sawmill owners, who have among the highest workers' comp rates of any group in the state.
Ditto for the Homebuilders and Remodelers Association of New Hampshire, which also represents companies with high rates.
"We have seen some increasing concern from our members," said David Juvet, vice president of the Business and Industry Association of New Hampshire, but as of deadline he wasn't able to find one concerned enough to talk about the issue.
The BIA has yet to take a position on legislation being put forward.
The lack of urgency is reflected among lawmakers as well.
"I don't think the system is broken," said Rep. Andrew White, D-Lebanon, who chairs the House Labor Committee. "It needs to be tweaked, not overhauled."
Premiums in check
It's a far cry from the situation two decades ago, when rising compensation costs were driving insurers out of the market and rates were rising faster than any company's budget.
At the time, the problem was indemnity — what is paid out to workers to compensate for lost time due to injury. But a series of reforms enacted by the Legislature cut those costs, and now the situation is reversed, with 73 percent going to cover medical care. To insurance companies, this is a bit alarming.
"We are not heading to the level of crisis," said George Roussos, lobbyist for the New Hampshire Association of Domestic Insurance Companies. "But we are heading in the wrong direction. How fast are we going to get there? Who knows?"
Medical costs in general are going up in the Granite State, but the medical compensation costs in particular are being driven up for other reasons. New Hampshire is one of the few states that doesn't limit provider's fees, nor does the state — unlike about half of the other states — limit provider choice by workers.
Add to the mix New Hampshire's enforcement of independent contractor laws, which does appear to be pretty lax compared to Massachusetts, for example. The Bay State refuses to bid contracts to companies that violate compensation law for three years. Indeed, some 184 of those companies affected are from New Hampshire — about the same amount from all the other border states combined.
Thus far, premiums have been kept in check for several reasons:
• New Hampshire does a good job of getting people back to work quickly, which keeps indemnity costs down. Also, the number of work-related accidents has been generally down. And state law compensates workers at only 60 percent of the wages lost, as opposed to the 66.6 percent level that most states require.
• New Hampshire is so small that the medical loss figures used to compute premiums is regional, meaning the state's greater medical costs are flattened out.
• It simply takes a while for these medical costs to be reflected in premiums.
Not everybody is sure that they will.
Kathryn Barger, who directs the Workers' Compensation Division at the state Department of Labor, notes that payouts — which include medical and indemnity costs — rose by some $20 million in 2008, but have remained stable over the past four years, even falling by $5 million, to $193 million, in 2011.
And, according to the state Insurance Department, total premiums paid have gone down, from $271.6 million in 2007 to $215.8 million in 2011.
Choosing the doctor
Whether there is a problem now, or a possible problem down the road, two major initiatives have been launched to try to fix it.
The first — the Advisory Council on Workers' Compensation — offered recommendations that have been incorporated into House Bill 255, which would limit workers' choice in choosing a provider, as well as give insurers more control over prescription drugs.
However, the major cost-cutting provision – which would change provider's fees from "full amount" to "a reasonable fee" – was removed by bill sponsor Rep. Gary Daniels, R-Milford (and the former Labor Committee chair) when he introduced it, because of the hue and cry from the medical community.
Some 43 states impose some sort of restriction on provider's fees, but New Hampshire is one of a handful that doesn't, said Stone of the New Hampshire Insurance Department.
But that doesn't mean that the insurer usually pays full freight.
The majority of insurers have negotiated contracts, and about a fifth are handled by the eight managed care companies listed on the Labor Department's website. But for the rest — Stone estimates about 20 percent — insurers pay the "default rate," the same sticker price charged to the uninsured.
But the medical community was not much happier with proposed restrictions on providers.
HB 255 would require workers to see a doctor chosen by the insurer within the first 10 days following a workplace injury, if they want to get reimbursed by workers' compensation. In addition, during the first three months following the injury, workers in the state's three biggest counties — Hillsborough, Rockingham and Merrimack — would be limited to a network of providers offered by the insurer, as long as those providers were within 60 miles of the worker's home.
If a worker goes to see his or her own doctor during that time, he or she will probably pay out of pocket, since most regular health care plans don't cover workplace injuries, leaving that to the compensation system.
Thomas Callahan – chair of the advisory council and managed care veteran who now heads Orchard Medical Management LLC – compared the proposal to the type of care given to professional athletes.
"It's so they go to a specialist to get them back to the playing field," Callahan told the House Labor Committee. "If you play for the Patriots, the key is go to someone trained in sports medicine. If you are injured at work, you want to someone better able to treat you."
He said that the alternative for most injured workers is not their family doctor, but the emergency room, because "those that push and pull may not have the [health insurance] benefits."
Both Callahan and Stone said that the regular managed care networks are simply not doing a good job because they don't restrict physician choice enough.
"The number of people involved in managed care, it's almost impossible for the injured to know who are the best people to go to," Stone said.
Callahan, asked whether he could say how much money the proposal would save, answered, "No, but I am confident it will."
Others, however, were more skeptical.
"This will be a horrible bill," said Michael Reynolds, general counsel for the State Employees Association. "It's not an employee-friendly bill at all. It's all about control. These company store doctors are bought and paid for to provide opinions for the insurance companies. They will not be hired if their opinions are too favorable to injured employees."
"I might be naïve," replied Stone to such skeptics. "But I would like to think that most employers want their employees to get the care they need so they can get back to work."
But many workers simply won't trust anyone but their own doctor, said Rep. Chuck Weed, D-Keene. "I love my employer, but his goal is to cut costs, not take care of workers' health."
"They want doctors who send people back to work sooner, before they are ready, who will question how badly they got hurt or whether they got hurt at all," said Douglas Grauel, an attorney who represents injured workers.
Chairman White didn't give the bill much of a chance, calling it "lopsided" on the side of insurance companies. "It isn't a bill that tries to balance between employees and the industry."
Another initiative
After the apparently unwelcome reception at the House hearing, Callahan retreated to the section of the bill that would set up a pharmacy benefits management program, not just to manage the fast-growing health care sector, but also because of over-prescription of pain medication, he said. (Sen. Lou D'Allesandro, D-Manchester, has introduced another bill to study abuses in painkillers in workers' compensation.)
The other major workers' comp-related initiative has been the New Hampshire Misclassification Task Force, which includes the heads of various agencies who are working to figure out a way to prevent people who are really employees from calling themselves independent contractors, when it comes to workers' compensation, as well as unemployment insurance.
So far the task force has mainly been talking without much action, while the problem continues to grow, said Joseph Donahue, New England Regional Council of Carpenters' Labor Management Program.
"Misclassification has gotten totally out of hand," said Donahue. "It's been going on for a while, but the problem is exploding. That's why the rates are so high, because not everybody is paying like they should."
Donahue said the main focus shouldn't be on passing more legislation. "The laws are in place. We need enforcement now," he said.
He pointed to actions by other states, particularly Massachusetts, which has put stop work orders on more than 6,000 companies — nearly all from in-state — banning them from working on state projects for three years.
While only 158 New Hampshire companies are on the list, the number almost equals the combined number of companies listed from all other Massachusetts border states — Connecticut (80), Rhode Island (73), New York (28), Maine (21) and Vermont (4).
New Hampshire doesn't release the names of the companies it fines for workers' compensation violation. Acting Labor Commissioner David Wihby said the department only releases the total amount of fines levied. (It was $279,000 in the last fiscal year, down from $392,000 in fiscal 2011.) The department doesn't keep track of the number of employers fined.
Enforcement is "difficult," said Wihby, because independent contractors don't admit to being workers unless they are hurt.
Donahue feeds him names of companies with alleged violations, but many of these companies have changed their name, or are not working at the site, by the time the inspectors get there, he said.
The department has 15 inspectors to respond to all complaints of violation, but Wihby said he had enough staff and did not ask for more. "If someone gave me more I'd take them," he said.
Since September 2011, a federal Department of Labor program has worked with 14 states — including Massachusetts — to identify misclassified workers, though primarily over wage and hour issues. The U.S. DOL boasts that it has collected some $9.5 million in back wages for 11,400 workers. Donahue said he has urged the state Labor Department to sign on, but Wihby said he was not familiar with the program.
Several legislators are starting to push the state Labor Department to be more aggressive.
Rep. James Webb, R-Derry — frustrated by the lack of hard information from the department — is sponsoring a bill that would require the agency to keep track of companies that violate workers' compensation laws, whether they are fined or not, and another bill that would require the department to issue some fine — even if it is as low as a penny for an honest mistake — to serve as a warning.
The list of companies fined, he said, should be made public.
Donahue threw his support behind a bill, sponsored by Representative Weed, that would give contractors the private right of action to sue those who misclassify workers, arguing that those companies that obey the law are being undercut by those that don't.
The Insurance Department's Stone said it would be difficult to determine damages in such suits, but she agreed that misclassification is a big problem.
The state has a number of "loopholes" that make misclassification more of a problem — such as allowing the owner of subcontracting firm to exempt themselves, she said.
"You always will have people take advantage of the loopholes, but if you make everybody eligible, you will increase the cost," she said.
When the state tried to do exactly that in 2006, "there was such a hue and cry" from the construction industry, that the effort was dropped.
So — without higher rates or the collapse of the market — don't expect major workers' compensation reform this year. But that doesn't mean it shouldn't be attempted, Stone said.
"There isn't a crisis," Stone said. "But what I don't want to happen is to get to that point. I think if we address it a little bit of a time, and look at what works in other states, we can chip away at the problem before it becomes a crisis."