Triangle Credit Union focuses on helping people achieve their financial goals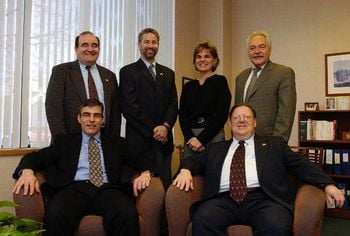 Over 65 years of service, 125 years of experience and over 20 community organizations. These may sound like just numbers, but they represent what Triangle Credit Union stands for in the Nashua, Amherst, and Manchester communities it serves.
Triangle Credit Union was incorporated on September 16, 1939, for the employees of Nashua Gummed and Coated Paper Company, now known as Nashua Corporation. The purpose of organizing a credit union was to allow both office and mill employees the opportunity to save money and obtain small loans at rates substantially lower than the banks or other savings and loan institutions. When the credit union opened for business, the office was located directly above the Traffic Department of Nashua Corporation on Franklin Street and had assets of approximately $2,150 with 180 members.
Today, Triangle Credit Union is the largest community credit union in the Nashua area, approaching $221 million in assets and supporting over 26,000 members. Membership is open to any individual residing in the five most southern counties of New Hampshire and the four most northern counties of Massachusetts. The main office of Triangle Credit Union is located at 33 Franklin Street in Nashua; with branch offices located in Manchester, Amherst, and new locations at BJ's Wholesale Club in Nashua and Elliot Hospital in Manchester. A new branch in southwest Nashua is planned for 2004-2005 as well as a satellite office across from Catholic Medical Center in Manchester. Tracey Marchand who is the Main Office Manager and oversees a staff of 20 tellers and financial services representatives, says her challenge for 2004 is "to build the membership of our retail location, while continuing to coach the employees on how to better serve our members." The retail location at BJ's Wholesale Club is open 7 days a week with extended evening and weekend hours to accommodate member needs.
Mary Febonio is the manager of the Manchester branch, the Elliott Hospital extension and will soon be taking the Catholic Medical Center location under her wing as well. Triangle Credit Union is currently serving over 10,000 members in Manchester, and in 2004 Mary aspires to "continue to coach employees on how they can readily identify the needs of our members."
Renald "Ron" Robillard manages the Amherst branch and the staff of tellers and financial services representatives. The branch serves over 2,000 members. When asked about his 2004 goal, he replied, "I want to continue to meet the needs of the membership as well as increase deposit and loan growth."
The senior management brings a combined total of 125 years of experience to Triangle Credit Union members. This seasoned team has an extraordinary amount of knowledge about the credit union and financial industry and is continually searching to offer additional channels of service to the membership. Through their leadership, all levels of the credit union have set the overall corporate focus as: "What are the members' needs and how can we fulfill their needs and exceed their expectations?" There is much competition in the financial industry from both traditional and non-traditional institutions, and most offer essentially the same features. Triangle Credit Union is different because of its service philosophy of not just meeting but exceeding expectations. In doing so, the staff is able to anticipate and solve problems, and recognize when new needs arise. These services include a Financial Services Representative platform at all locations, favorably priced products that include lower service fees, lower loan rates, higher deposit rates and involvement in a local program offering emergency loans to people in need. According to Maurice Simard Jr., president of Triangle, "Our business is not just about products and services, but about achieving member trust, confidence, and individualized attention. Our philosophy is: everyone matters, everyone counts, it's everyone's job."
This philosophy also extends outside of Triangle's walls. Although the focus on growth within the credit union is a priority, the staff and senior management are active in the local communities, donating time and financial support to such organizations as the Nashua YMCA, Greater Nashua Boys & Girls Club, Mount Zion School, Salvation Army, Nashua School System Job Shadowing Program, Summer Fun Program, city of Nashua, Great American Downtown, Academy of Finance, United Way, Greater Nashua and Souhegan Chambers of Commerce, Knights of Columbus, Nashua Pastoral Care Center, New Hampshire Credit Union League and the Make-A-Wish Foundation of New Hampshire. Triangle Credit Union management provides executive leadership by serving on the board of directors for these organizations and participating on action and project committees.
The definition of member service at Triangle Credit Union is not limited to only serving members. It includes the powerful concept of employees working together, creating a strong team that is focused on achieving the goal of outstanding service. Since member loyalty is a goal, loyalty to the employees is also important. "We have a philosophy of promoting from within," says Mr. Simard. "We provide on-going training to all employees, and continuously improving service and member loyalty is the goal of our training." Diane Dionne and Jan Conti direct the training initiatives through a full time training department.
Every branch location offers a wide variety of financial products and services: savings and checking, CDs and IRAs, auto loans, home mortgages and equity lines, on-line banking, telephone audio response, business deposits and loans. On-line services are available 24/7 and include bill payment, account history, account transfers, check copies, loan applications, e-statements, product information and the ability to download data into Quicken and Money software programs. Additionally, Triangle Member Services Group, LLC has partnered with Mass Mutual and the Shaughnessy Financial Group to offer non-traditional banking products such as insurance, investments and financial planning. The community room at the Nashua office is often the site of seminars on subjects such as buying a home, financial and business protection planning and long-term care, disability and life insurance.
The mission is clear: understand the members' needs and be their trusted resource in achieving their financial goals. People don't bank with institutions, they bank with people. Employees focus on what can be done, find alternatives in resolving problems and concentrate on building relationships with members. They do this through strong leadership, ongoing education and active involvement in the community. Triangle Credit Union is looking forward to another 65 years of serving the local communities and its members.