Trade union
Seacoast Food Swap taps into a desire for back-to-basics bartering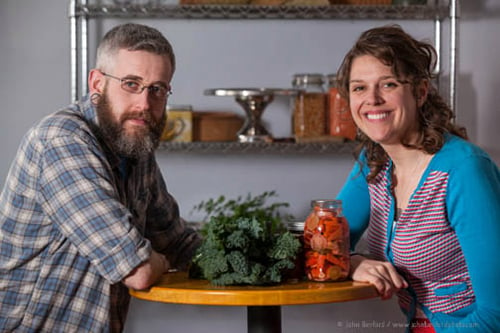 What's a jar of homemade pickles worth?
Maybe it's worth a few links of handmade chicken sausage, or a bag of locally foraged mushrooms. Or maybe it's worth a half-pint of freshly made strawberry preserves, or a bunch of homegrown carrots.
Here's what it's not worth, though, at least not at the Seacoast Food Swap: money.
The Seacoast Food Swap started last summer with two friends chatting over coffee. Erin Urquhart, who'd just moved to Portsmouth for a job as a research scientist at UNH, and Keith Wilson, a chef at Exeter's Blue Moon Evolution, were talking about how great it would be if the New Hampshire seacoast had a food swap like the popular ones in Portland, Maine, and Boston.
"I had never been to one, but I really liked the idea," Urquhart says. So she decided to start her own. When she got home that night, she created a Facebook page (facebook.com/seacoastfoodswap) for the new venture, calling it the Seacoast Food Swap.
"By the time I woke up the next morning, it had 95 likes. It was kind of like, 'Oh boy, OK. Now what do I do?'"
What she did was not only start a food swap, but also tap into a latent hunger for a back-to-basics barter economy, where goods and services are traded for each other, rather than paid for with money. Bartering and trading seems to be the natural next step in a culture that for many years has increasingly embraced everything from hyperlocal food to backyard chickens to DIY-everything.
"I think people are obviously going toward that whole homesteading idea," Wilson says. "I think it appeals to a lot of people, especially when you're taking the government out of it … you're not paying taxes on a trade."
The Seacoast Food Swap meets once a month at different locations on the Seacoast, with Portsmouth as its hub. Several weeks in advance, Urquhart posts on the group's Facebook page where the group will meet. Meeting at restaurants like Blue Moon Evolution or Joinery Restaurant in Newmarket allows participants to also grab a drink at the bar or have something to eat during or after the swap.
The Seacoast Food Swap has met at a farm and a yoga studio, too. Urquhart says businesses — especially ones that are passionate about local food — have been enthusiastic and incredibly willing to allow the swaps to meet at their venues.
'An inspiration'
Food swap participants bring foods to trade with one another, and whatever they bring must be homemade, homegrown or foraged. Using locally sourced ingredients is encouraged. People who want to come to that month's swap sign up via Facebook, to let the other participants know how many people they'll be potentially trading with, but the swaps are essentially drop-in events.
The more items participants bring, the more they can trade for. Urquhart, for instance, might bring five pint-sized jars of her homemade pickles and another five jars of homemade mustard or jelly. Wilson has brought individually frozen "take-and-bake" apple crisps. At the end of the swap, participants will have many different items to take home, and will have traded everything they brought.
Because Wilson is plugged in with the local food community, some participants have been chefs and farmers. But others are just regular people who like the idea of trading homemade goods.
"You end up getting something that you value way more than the money," says frequent participant Emily Bolton, an attorney who works in Manchester.
She'd never even heard of a food swap until her friend, Urquhart, told her about the new Seacoast Food Swap, but she was eager to join in. Although Bolton doesn't have a food background, she's an avid home cook and shops locally for her food.
"There's not actually any monetary exchange, so the food is your currency," says

Urquhart

. "I think that people are a lot more excited about that than paying $8 for some pickles."
"I didn't really have any experience canning or pickling before this," Bolton says. "I sort of saw the food swap as an inspiration to learn more about those processes and meet people who do know what they're doing, and try out some recipes."
In the months she's been participating, Bolton has brought sweet and spicy nuts, baked goods, homemade granola and pumpkin butter. She's loved not only coming home with a wide variety of items that are homemade by local people, but she also finds that her ideas about "value" have shifted slightly too. Instead of thinking about how much you'd pay for an item, the food swaps force participants to make sure the products they bring to trade are just as valuable as the other products available.
"There's not actually any monetary exchange, so the food is your currency," Urquhart agrees. "I think that people are a lot more excited about that than paying $8 for some pickles."
But at first that concept can be difficult to grasp.
"People always show up and ask, 'Can I buy something?'" Urquhart says. And the answer is always no, not only because it defeats the purpose of the swap, but because the participants wouldn't be allowed to sell their goods anyhow. Selling food comes with regulations about how and where it's prepared. Swapping food bypasses that.
"There's no laws that say you can't trade stuff," Wilson says. Swapping instead of selling, he notes, not only takes money out of the equation, but also taxes, regulations and other hurdles.
'Your stuff is your money'
Without any official oversight, though, there's a small chance that the food participants trade may not be prepared well. That's why people must sign a waiver in order to participate in the swaps, saying they understand that the organizers aren't responsible for the quality of what people bring.
Yet it seems to be a self-governing system: People trade only for what they want, and what looks and tastes good (samples are available during the swap events).
Participants come to the swap for a variety of reasons. Some love the social aspect and getting to meet new people; others are passionate local foodies and dedicated home cooks who want to widen their food experiences. And others, like Wilson, feel that it changes how participants value things, putting an emphasis on the energy it takes to create something and whether foods are made well, rather than relying on the "false value that paper money has."
"People have been trading forever, really before money, and now it's a really odd concept for people," he says. At the swap, "your stuff is your money … it all comes down to energy."
Bolton echoes that sentiment.
"If I make a really great product, then I'll get a really great product in exchange. I think it increases the quality of every product," she says. "You feel like you're going back to how things were originally done, and there's something really pure about that."