Tourism in the Lakes Region: a roundtable
NHBR's editors met recently at the Church Landing at Mill Falls at the Lake in Meredith with area businesspeople to discuss the region's economic engine: the hospitality industry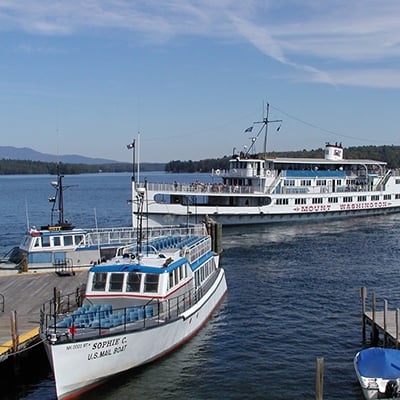 NHBR's editors met recently at the Church Landing at Mill Falls at the Lake in Meredith with area businesspeople to discuss the region's economic engine: the hospitality industry. Participants were:
• Amy Landers, executive director, Lakes Region Tourism Association
• Rusty McLear, president and CEO, Mills Falls at the Lake
• Alex Ray, owner and founder, Common Man Family of Restaurants
• Jim Morash, vice president of operations, captain and co-owner, Mount Washington Cruises
Let's start by getting a sense of how things are going this summer, both generally and from your individual perspectives.
Rusty McLear: This summer is going to be a terrific summer — this year is going to be a terrific year. The recession hit us pretty badly — like everyone else, we saw some pain. We were down in '08 and '09 a combined 13 percent from 2007, which was our high year. In 2012, we opened up a new facility, and that became a record year, and this year is going to surpass last year by a fairly good number — 6 or 7 percent.
We didn't have a great winter, but that was more related to us than the general business, because the general business climate is really good for hospitality.
I think the future right now looks really good. Interest rates are great, and we've taken advantage of that by adding on to this facility a great deal. We've purchased a building next door and started an activity center, a yoga center, and Alex has added a hundred seats at the Town Docks. And with this weather, that's working out pretty well. I'm very encouraged, both for our business, certainly for the Lakes Region and for the state and New England.
Alex Ray: I find the similar pattern, because we have a similar market. The reflection from 2008, both tourist-wise and corporate-wise, people were much more conservative with their events — either eliminating them or reducing them. From the more personal side, even weddings were smaller, more conservative. We're still feeling that. But in general, this year I find that bookings and tourism are definitely up and very strong. Across the board, there is more traffic — more optimism, more or less.
Jim Morash: I've got to mirror these two gentlemen, with only one caveat: I think we started the decline right after 9/11. I don't know if that's when people saw the way they wanted to travel or what, but we started to see a small decline each year, bottoming out in 2008.
Our business has been around for so long, and it has changed so dramatically over the last 30 years from being primarily a daytime cruise vessel to the point where our evening cruises became more dominant, and our charter work started taking over when the day cruises started to decline.
I think some of that had to do with the demographics of the baby boomers. There aren't as many kids nowadays as there were when I was growing up in the '60s and '70s. We've seen that change in our ridership. But since 2008, we're back on the upswing, and like Alex and Rusty, I'm seeing people be a little bit more free-er in their spending habits. Companies are coming back to us for charters and functions after taking some time off to tighten their belts and start making some money, so to speak.
Like Rusty, we took advantage of the downtime to make ourselves better, and we're coming out of it and people are noticing it I think.
Amy, since you represent so many different businesses, what is your perspective?
Amy Landers: We're finding that many of the businesses are up, having record years and fairly large increases in business. It has varied depending on the weather, so obviously on the rainy days, retail has been really strong, and then on nice days, the recreation businesses have been doing well. Overall, lodging occupancy has been very strong so far this year. Especially during the Fourth of July — having the Fourth on a Thursday made a huge difference for people.
Overall, I think we will be ahead of 2012, which was a strong year — the Lakes Region had an over 8 percent increase in traveler spending in 2012 versus 2011. Belknap County had an increase in rooms and meals tax of over 10 percent from 2011 into 2012. I think with the feedback that we're getting from businesses right now that we'll see an even stronger increase this summer season.
Also, we're seeing an increase in the corporate market, the group market, as well as the leisure market — groups being both meetings and conventions as well as the bus tours that are coming in. We're seeing a huge turnaround in the bus market and people really wanting to take those trips, so we've been more proactive with that market, knowing it has an impact on a lot of our businesses this year as well.
Two of the other trends that we're seeing that I think are a good sign for the area are bookings, which are coming in earlier, which means people are planning and making their vacations a priority, not a second thought. The stays also are getting a little longer. We were going down to one to two nights in the last few years, and those are getting to be three and four nights — definitely not back to the seven-day, but not like we did 20 years ago.
RM: Another thing that affects us all is business spending. When the recession hit, businesses stopped spending money and in our business — and Jim's and Alex's too — the business traveler, the group business, corporate is a big part of our business. That has really come back now as the economy gets stronger, and we're seeing a lot more activity for businesses. Our reservations for next year from our group sales office are up over this year by about 30 percent.
What markets do you target to attract visitors?
AL: Our association markets in-state, out-of-state and internationally to bring visitors here, so the majority of our budget goes all towards marketing. That's our mission.
Our strongest market is Massachusetts. Southern New Hampshire has been a lot stronger market for us than we have ever seen for both overnight visitors. Connecticut was always a really strong market, but we pulled out of that market about eight or nine years ago and just went back into that market really strong over the last two years, with television ads, websites, billboards, and we have seen a huge increase, so Connecticut is coming back as well as New York.
RM: We cover southern New Hampshire, Massachusetts and Connecticut, but we don't advertise too much there, although we do some direct advertising. We also reach out further — last year we had guests from every state in the union and 64 countries. Fall is by far our biggest season for European tourists; tourists from South America are pretty big too, but we have days in late September/October where probably 50 percent of the guests here are European. They're big spenders, and they stay for a while.
What does the marketing involve? Is it print, social media?
AL: Throughout the Northeast and nationally we do print ads, website ads, television. We do all of the social media, weekly press releases, email blasts out to potential visitors, trade shows domestically, and then we're at trade shows in Germany, France, Italy, Ireland, Canada and Japan. Some of the projects are partnered with the state, some are partnered with White Mountain Attractions, some are Discover New England and Brand USA, which is a national organization promoting all of the United States internationally.
Alex, is your business also made up of the same mix of people?
AR: I think for hospitality with accommodations and overnight stays they reach out further — people don't plan their dining as much as they do where they're going to stay. Ours is mainly cross-marketing within our restaurants, which we have tried to focus on, and social media, because it's an effective way to get to people. As far as advertising out of state, we're not into that.
We have databases of responders to social media and right in our restaurants they fill out cards for various loyalty programs and obviously it radiates from New Hampshire. Other than residents our clientele also comes from eastern Massachusetts.
JM: We've been featured in many European guidebooks that they'll put together about America. We'll get people requesting brochures from Ireland, England or Germany.
AR: By what Rusty has done here in Meredith to make it a very desirable place, facility and town, not only has it increased the traffic, but it has changed the demographic of the traffic. He has made a statement to New England and the East Coast that this is a nice place to be. It helps us all. We have a diner down the road, and we get an impact just because of Mills Falls Inn and people coming and going. For that I appreciate it.
AL: Those that are coming here now have a lot higher household income. They are going to spend the money, and they have the money to spend. So it's a different demographic of travelers than we had 10 to 20 years ago.
There are families and couples that are going to go on vacation. It's not a cost issue. They are a very high-quality visitor for spending. Then you have those that are just day-trippers and they're not going to come and spend big dollars. So it's more about the quality of visitor now versus the quantity of visitors.
RM: What I saw happening is the upper-income people, that number was growing pretty substantially. The middle income, which used to be everybody's bread and butter, was getting smaller, and the lower income was getting bigger. So if you're going to shoot for a market, the one that's growing is the one at the top with the money. That was our target market and that has definitely worked. The Lakes Region, I think, really started changing a lot in the late '80s and '90s.
JM: One of the things that the Mount is very conscious of is the pricing. Unlike maybe the inns, we try to go middle of the road. Obviously our season is much shorter than the inns, which are open year-round. We're trying to grab everybody that we possibly can in that short period of time. The charters and functions are great because you get the prices you want. On the regular day cruise, for example, or even the dinner cruise mid-week, we have to make it affordable. Things like kids free on a Wednesday night to get the families involved again. Giving a $10 discount on a Monday night to seniors to get that market out on a dinner cruise. I'm sure Alex sees the same thing in all of his restaurants, whether it be early-bird specials or whatever, but we have been very conscious on our pricing to grab the bigger piece of the whole puzzle, so to speak.
I did a study years ago when I first started with the company and I went back all the way into the '20s. I compared the price of a ticket on the Mount Washington to the price of a ticket on the Cog Railway. For about 50 years straight, we were always half the price. We were a dollar and the Cog was two. Right now I think we're at $29 and the Cog is at $72 – in that range. The Cog can get it because they're smaller capacity than we are, plus it's such a unique experience they will pay the dollar to go up the rail. I envy them in a way. I would like the Mount to be that way, that it's such a special event they'll pay the dollar. We have to be conscious of getting all the people.
What effect does Bike Week actually have on business?
RM: It doesn't affect the Lakes Region as much as it used to because everybody would stay here. Now, you go to North Conway, they do a great deal of Bike Week business. It makes money for the state — there is no question about it. It makes money for the hospitality business. I think people had to change their businesses — we did too. Sometimes I think we overreact. We did.
We didn't do weddings during Bike Week, either weekend. Now we do, we discount them a little bit, and we find it's really not much of an issue. It is a little bit different clientele for the weddings. We do very well; we're almost full. We're full Thursday, Friday, Saturday and 80 percent full the rest of the week. That's good.
JM: Obviously Bike Week affects us — they can't get four-wheel traffic down to our area. The strip is loaded with bikers. It's very good for the region, they make a lot of money, but it took us a while to realize we had to change to accommodate and make money that week. So we did.
We still do charters. We may do them off of another port, and it also happens to coincide with the schools getting out and school groups doing graduation parties or such things. And on the weekend of Bike Week we'll just be dockside and offer entertainment and a lakeside venue for them to come out and relax and enjoy something to eat and something to drink. It's worked.
AL: Especially for June, when it would be very quiet still, Bike Week has a huge economic impact on the entire state because it is still for the most part shoulder season. Schools aren't out and families aren't traveling. It definitely was based more in the Lakes Region, but people are realizing it's a great place to come to be able to take rides and not just be at the boardwalk, but take beautiful rides and see all of the scenic beauty. There are so many places that they can stop and visit. The bikers are really moving around and want to make an experience out of it and really to see all of New Hampshire. People are seeing that there is a lot more to enjoy, either staying longer or coming back for vacations beyond that as well. So it's had a large impact on the visitors.
AR: I have a couple thoughts on Bike Week. First of all, it was 90 years old this year. It has changed dramatically from a rather rambunctious sort of a gravel pit in Loudon to a statewide place to go and experience New Hampshire, and the clientele has changed. You're looking at $20,000 bikes and guys with $40,000 cars with a trailer and two bikes. You see them touring from all over, Bretton Woods to all over the place, and they're pleasant in a large sense.
JM: They spend a fair amount money.
RM: I think everyone in the hospitality business thinks it's a positive.
AR: Remembering the 60's, it was a pretty bad scene, frankly. It was rough and tough — different. But the police — you could call it over-reacting or reacting – they actually came down on this thing, and those people actually aren't here as much anymore because they couldn't do what they used to do.
RM: Also, the demographic of who rides a motorcycle changed pretty dramatically since then. In the '60s, people who rode a motorcycle were … different.
When I first started working in 1971, I worked at the Brickyard Mountain Inn, and I was a front desk clerk. I had a motorcycle drive in the lobby, drive around lobby and drive right out. And I didn't say a word.
JM: Back in the early '90s, the railroad and ourselves started shuttling people from Meredith down into the Weirs. The average people who would not even go to the Weirs during that week, started taking the shuttle to see what it was all about, so the next thing you know you have mom, pop and the kids walking in amongst all these bikers. And between that and the police having to clean things up as well, it changed and it was kind of neat to see the change.
AR: I'm thinking about where New Hampshire is going with tourism and hospitality. I love our clean and green state. The highways are clean, the roads are in good condition. It's obviously a pretty state, whether it's looking at the mountains or the seacoast. Very friendly. I think our state government is addressing it well. I think that we not only are but we would like to foster that welcoming attitude. That's really important and good, and I think any state road you drive on is better than any other state I've driven in. Better condition. I'm just fairly proud of how we address things here.
RM: I agree with Al. I think the state has a lot more potential, but it's a great state to do business in. We all bitch about too many rules and regulations and those kind of things, but compared to most other states we've got a great place to do business and live in and to attract people.
I don't think a lot of people really realize how different this state is than other places. The guests that we have coming from New Jersey or New York, especially New York, they just really love it up here — it is just so much different than what they are used to.
A lot of the hospitality industry was against gambling, and I hope that the state keeps fighting against gambling because that will just make us like a lot of the other states. Without gambling, it makes us that much more different.
AR: Our state is clean and healthy and family-oriented. I'm afraid of gambling's proliferation. I think that we have been so affected by stopping this gambling machine from coming in. It will never be over, but we've been holding them at bay.
JM: I agree. It's not broke, so I don't see what they are trying to fix. One of the things over and above the gambling aspect is that Alex and Rusty addressed is the cleanliness in the state.
I would like to add the fact that the state has taken a proactive view on how to keep their lakes and rivers clean because the Department of Environmental Services gets enough bad press for trying to meddle in certain areas.
If you take a look back into the '70s, at what was happening in these lakes and what's happening now, it's phenomenal – night and day.
In the last legislative session, it was the desire of a lot of people to increase spending roads and bridges. One source of funding was gambling, and the other was an increase in the gasoline tax.
RM: I would prefer to see the gas tax raised, and I own a gas station. We haven't raised the gas tax in 23 years.
AR: It's a user-based fee and a large percentage of it is out-of-state and our tax is below our surrounding states. We are a little too frugal sometimes, but what we do have we spend wisely.
RM: Fifty percent of the traffic on Route 93 that goes through the Hooksett tollbooths come from out-of-state. Fifty percent. So, 50 percent of the tax money coming in is going to come from out-of-state. It's user-based, and you're going to save money by driving on better roads — you'll have less problems with your car. Again, we haven't raised that tax in 23 years. What hasn't gone up in 23 years?
JM: I think it has to go further. Obviously, a lot of the money for I-93 work came from the federal government, but what this administration put into the infrastructure of the country was not quite enough. It's understandable, at the time there were still wars going on, and as we back our way out I think this country has to look at its infrastructure even more so. We're not the only ones dealing with bad bridges, bad roads — every state in the union is.
I thought raising the gas tax was a great idea, as long as it was earmarked 100 percent to the roads. I hate to see an increase of 3 or 4 cents and have 2 cents go here and 2 cents go to the roads. But the federal government has to also start.
An issue that frequently comes up is finding seasonal employees.
AL: Last year was one of the worst years that I have experienced in the 14 years up here with people finding good employees. Not necessarily the year-round employees, they have great year-round employees, very educated, very strong in their skill set and also dedicated employees. It's those that are here for the summer season that has been more of a challenge, the 18-to-26-year-olds, and the commitment level of what they are willing to do during that summer season. So last year was a big challenge for many of our employers — those that are going from a handful of employees to 125 employees for those summer months. It will be interesting to see if it has improved at all, still seeing a lot of the international employees that are coming over to help that as well.
RM: I think the work ethic is great at least in this part of the state. Frankly, to find high-quality senior staff has not really been a problem. It's a pretty nice place to live and work.
JM: We are very fortunate, never had an issue with employment. Dedicated staff, they enjoy what they do, like Alex and Rusty present them with a nice work environment so that we have quite a few people come back year after year. I've got some part-time seasonal employees that are going on 25 to 30 years with us. Which tells a story, I think. Very fortunate.
Can we talk about the role the state plays in marketing the Lakes Region in particular and the state as a whole?
RM: I think the state does a great job with very inadequate funding, especially a number of years ago. DRED (the Department of Resources and Economic Development) and (the Division of) Travel and Tourism (Development) are very active. They get out; they know everybody in the business. They care a great deal about it, from the commissioner down. I don't mean just this group of people — I mean the last group and the group before that. They have a vision of what the state needs, and I think they do a terrific job.
AR: I've always heard that we get this amazing return of 9-1 from advertising out-of-state, and I think if that's true let's keep going at it, because frankly tourism is a very positive economic engine for our state.
RM: With that $9 return on investment, it seems to me that the Legislature should be funding a great deal more money in there.
AL: We are thrilled with Governor Hassan's commitment to tourism because there is a huge return on investment.
Alex and Rusty are working together on developing the two Hooksett rest areas on Interstate 93. Could you talk a little about your plans?
RM: We will be starting construction in October, good lord willing, and we'll open fully in May 2015. The two existing liquor stores are now 8,500 square feet each; the two new ones will be 20,000 square feet each. We're also building two 3,000-square-foot visitor centers, which will be really showcasing the state — the brand of the state, not just tourism, but we'll have a section on education, a section on high tech, we'll have League of NH Craftsmen, NH Made will probably be there, Furniture Masters. You'll be able to buy your ski tickets, buy raceway tickets, hopefully be able to buy Mount tickets, make reservations for dinner, all of that will be electronic and interactive.
Then we have on each side a 16,000-square-foot food court that will have four Common Man brands. We'll have 16 gas pumps on each side, Irving-branded. It even has a bank in it – Meredith Village Savings Bank.
AR: These Hooksett rest areas are unique because there won't be any national brands. It not only will be locally built and designed by Samyn-D'Elia Architects (of Ashland), but local banks are financing it, local contractors are working on it and local owners are the owners and developers.
Rusty and I are very proud of it, and at the same time it is going to be a unique service center and rest area, as opposed to what we're all used to on interstates. It's much more homey, more personal.
RM: The traffic out there is 24,700,000 cars go by every year. That's 67,000 cars a day, on average. It gets up to 82,000 cars some days in the summer, and 50 percent of the traffic is local. We want to be your place that you're going to get your cup of coffee and donut in the morning. Hopefully, it will be the most convenient place you can find.
AR: Not to mention this is an economic engine for the state that they don't have right now other than the sale of liquor. Right now, the Department of Transportation invests in that property now to maintain it and operate it, as does DRED, whereas in the future they're going to be receiving a part of our sales for 35 years. That's a significant number. So that's a revenue stream for them.
RM: The state gets a guaranteed revenue of $24.5 million.
The hospitality businesses in Concord aren't concerned about this taking some of their business away?
AR: There will be a shift in some things because there is not really any relative easy access to any of those things. This is an easy-access place, and hopefully it will encourage more people to buy in New Hampshire instead of going home, because it is easy. Frankly, I go to Boston quite regularly, and rarely do I pull off to look for something on the way down, but if it's easier I might consider it.
JM: One of the biggest complaints over the years from tourists coming into the state were the unfortunate conditions of our rest areas. Having this is nothing but a shining star at a point where most of the way people who come into the state have to go by and what better way to showcase the state?
AR: This is a first effort of a public/private relationship that isn't funded by the state — it's funded by us. We're making money from it, and the model might just open some eyes to that. Sure, budgets are tight, but you have to open your eyes and figure out what you can do when you're serving the public.