Top Shelf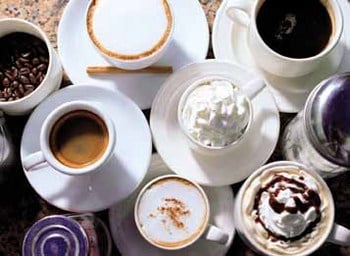 In January, those winds off the Merrimack River seem especially frosty while slogging to and fro from the Top Shelf offices. By the time we get home, we're all so frozen we can barely scan the latest Robb Report for stories to steal, er, localize.
Some of the most sublime, if not tasty, ways to defrost are with warm, spirited drinks.
Over at Cotton in Manchester, Manager Peaches O'Rourke has a Hot Apple Pie that needs no fork — hot apple cider and Tuaca Liqueur. How about a Chocolate Turtle — hot chocolate and butterscotch schnapps? Sure, you've had Bananas Foster before, but not like this — coffee, Bacardi rum and Crème de Banana.
A cuppa with a kick does the trick — at its most basic, you can just add a shot of your favorite liqueur or spirit to your coffee mug, but we have a few recipes that are oh so much more Top Shelf.
Spanish Coffee (from foodtv.com)
1 vanilla bean
2 cups sugar
Wedge of lime
1 1/2 oz. orange liqueur (Cointreau)
1/2 oz. almond liqueur (Amaretto)
1 oz. coffee liqueur
1 oz. cognac
1 1/2 c. coffee
Whipped cream
Chocolate shavings
A few days before you make the coffee, split the vanilla bean in half the long way, and place it with the sugar in a closed container. To make the coffee, warm two brandy snifters. Take the wedge of lime and run it around the edge of the glass to wet the rim. Dip it in the vanilla sugar. Pour the orange liqueur into the glasses and, one at a time, light it on fire and tilt the glass to caramelize the vanilla sugared rim. Douse the flame with a little coffee. In a copper saucepan place the almond liqueur, cognac and coffee liqueur and warm them. Divide them between the two snifters, then top them off with more coffee. Garnish with whipped cream, chocolate shavings and a straw.
Mexican Coffee (from the NHSLC)
1 oz. Jägermeister
1 oz. Kahlua
Coffee
Combine Kahlua and Jägermeister. Fill with coffee. Serve with cream.
Almond Chocolate Coffee (from the NHSLC)
3/4 oz. Amaretto
1/2 oz. Dark Creme de Cacao
8 oz. coffee
Pour in order into coffee cup. Top with whipped cream and chocolate shavings.
Irish Coffee (from foodtv.com)
1 cup freshly brewed hot coffee
1 tablespoon brown sugar
1 jigger Irish whiskey (1 1/2 oz. or 3 tablespoons)
Heavy cream, slightly whipped
Fill footed mug or a mug with hot water to preheat it, then empty. Pour piping hot coffee into warmed mug until it is about 3/4 full. Add the brown sugar and stir until completely dissolved. Blend in Irish whiskey. Top with a collar of the whipped heavy cream by pouring gently over back of spoon. Serve hot.
Godfather Coffee (from bartender.com)
1 oz. Scotch
1/2 oz. Amaretto
3 oz. coffee
Whipped Cream
Pour Scotch and Amaretto into a heated coffee mug. Top with whipped cream.
*****
Mulled wine is a great way to warm up on a cold evening, especially when you make enough to share with friends.
Traditional Mulled Wine (from the NHSLC)
2 lemons
2 oranges
(1) 750 ML bottle of medium-full bodied red wine
Nutmeg (to taste)
Cloves (to taste)
1 oz. of brandy or cognac
1 c. or granulated sugar (to taste)
Water (optional)
Herbal tea or citrus tea
4 large cinnamon sticks
Cut lemons and oranges into slices. Pour the red wine into the saucepan and gradually heat. Add fruit slices, nutmeg, cloves and brandy. Keep an eye on the mixture and wait until it becomes hot to the touch. Blend in sugar and water, if desired. Pour into glasses or mugs and add tea and garnish with cinnamon sticks.
Cranberry Hot Toddies (from foodtv.com)
4 tangerines
1/2 c. whole cloves
3 quarts pure, unsweetened cranberry juice (if unavailable, use cranberry juice cocktail and omit the sugar called for)
2 c. sugar or to taste
3 c. amber rum
Cut tangerines crosswise into 1/4-inch-thick rounds and remove seeds. Stud rind of each tangerine round with 4 or 5 cloves. In a large saucepan simmer cranberry juice, tangerine rounds and sugar, covered, 5 minutes, then stir in rum.
Serve toddies with clove-studded tangerine rounds in heatproof glasses. Makes 16 cups.
Hot Tea Toddy (from foodtv.com)
1 Irish breakfast tea bag
1 1/2 oz. Scotch or brandy
1 heaping tablespoon honey
Boiling water
1/2 cinnamon stick
1 slice lemon
Pinch ground nutmeg
In a coffee mug, place the tea bag, Scotch and honey. Add enough boiling water (about 3/4 c.) to fill the mug. Add the cinnamon and lemon, and steep for 5 minutes. Remove the tea bag and cinnamon stick. Sprinkle lightly with the nutmeg and serve.