Top Shelf: Vodka unplugged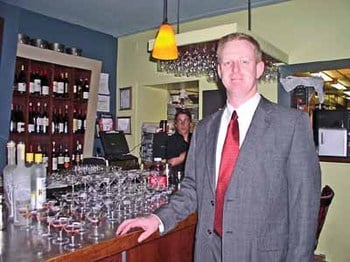 Nearly 30 people joined New Hampshire Business Review and the Top Shelf staff for our first "Top Shelf Tasting," held recently at Baldwin's on Elm in Manchester, to learn about — and more importantly, to taste — vodka.
Mike Somers, our guide from United Beverages of Concord, told us that vodka is derived from the Russian word "voda," meaning "dear little water," and has been produced there since the 14th century.
Actually, the idea that vodka has a purely Russian lineage is subject to interpretation. Poland and Sweden also claim credit and have added important contributions to vodka's pedigree.
Vodka starts out the way most other spirited beverages start: A starch or sugar is cooked a bit, then yeast is added. Yeast eat the sugar and make alcohol, aka fermentation. Vodka's sugar component can be anything from potatoes to grains, even grapes.
The quality of the ingredients is probably the most important factor in making good vodka. "This is the critical step," said Somers. "The final product will only be as good as the base ingredients."
After fermentation, the cloudy liquid is heated again and the vapor is collected and condensed by distillation, leaving behind nasty tasting impurities. Do this three or more times and you've got vodka. You do have to filter it and add some water because it's about 180 proof (90 percent alcohol) at this point. Otherwise, you're bottling something closer to gasoline than a martini.
Water also is an exceedingly important ingredient, nearly as crucial as the starch. "The water must be pure so it will not affect the taste," said Somers. Enough pure water is added to result in a final 80 proof.
As we each sat before six snifters of vodka, we wondered how we were going to taste something that, by legal definition, should "have no color, no smell and no taste." Somers said that it was more of a "mouth feel" that we were looking for, although there are very subtle scents and flavors to be detected.
Typically, vodka is served chilled in tall shot glasses, but we sipped our samples at room temperature to taste all the delicate flavors cold temperatures might mask.
Tasting vodka, like wine, involves a number of senses. You gently inhale the vapors through your nose and mouth — gently being the operative word here. Take a sip and swish it around in your mouth, covering all areas of your tongue. Make note of any flavors you taste, but also notice how it feels on your tongue. Swallow and savor the taste, then breathe out through your nose to make your final flavor impression.
Our first vodka was Absolut ($16.49), made in Sweden from winter wheat. I found the nose gently sweet at first, until it dissolved into something which my uneducated palate interpreted as "rubbing alcohol," but which Somers termed "fusil oils." The taste was similar to the nose, a perceptible sweetness followed by a strong alcohol flavor.
Our next vodka was Chopin ($24.99) from Poland. Made from potatoes, I found it a bit smoother and sweeter than Absolut. Ciroc ($25.99), from France, is made from grapes, specifically the same ones often used in making cognac. It had a beautiful floral nose. The taste was sweet and very smooth with hints of citrus. This was the hands-down favorite among the tasters. Monica Bardier and Sean Owen of wedüdesign in Manchester said it was the sweetness and the citrus notes that they found enjoyable. McLean Communications publisher Sharron McCarthy enjoyed the sweet nose and the citrus flavors as well. Jeff Feingold, editor of the Business Review, liked the warm mouth feel. "It's very sippable," he said. Chris Williams of the Manchester Chamber said, "It's smooth without an after burn. I think it would be equally good in a martini or straight up."
Another Polish vodka, Belvedere ($24.99), is made from rye. While I detected a gentle fusil oil smell at first whiff, it finished sweet and had the softest mouth feel of the bunch to me. I wasn't alone. Vicki Cimino of Calypso Communications in Portsmouth also liked the smoothness. Mike Colby of the Manchester chamber said, "It has a nice, traditional, good vodka flavor."
Ketel One ($17.99), from a distillery in the Netherlands owned by the same family for over 300 years, also is made from grain. It was sweet with a gentle, warming finish. Somers said, "This is the best vodka on the market for the price." Most of the group agreed. Wayne Kibbe of Northern Essex Community College in Haverhill, Mass., said he liked the pleasant, balanced smoothness.
The final vodka of the evening was Absolut's "grand cru" vodka, Level ($23.99). They blend their best distillates from a continuous distilling process with ones from a single-batch process, creating a very unique mouth feel. It was sweet with gentle fusil flavors mid-palate, then finished with a satisfying burn somewhere beneath my sternum. Cindy Gaffney of the Manchester chamber enjoyed its smoothness: "It's clean. It doesn't have an aftertaste."
Throughout the evening, chef Nate Baldwin worked his usual table-top magic and served some delicious nibbles. I don't know if he was specifically pairing food with vodka, but the foie gras on baby spinach leaves went perfectly with the Belvedere. Kibbe loved the oysters on the half shell with the Ketel. The crab cakes, braised oxtail on pastry rounds and the chicken satay pot stickers were also hits with the Top Shelf tasters.
To show what a great foundation vodka can be for a mixed drink, United Beverages poured three mini-cocktails for us: a classic Cosmopolitan with Absolut Citron, Triple Sec and cranberry juice; an Orange Magnolia with Absolut Mandarin, Grand Marnier and orange juice; and a Chocolate Raspberry Truffle with Vox Raspberry vodka, chocolate liqueur and half-and-half. Each was a sweet, satisfying finish to the evening.