Top Shelf: Scotch whisky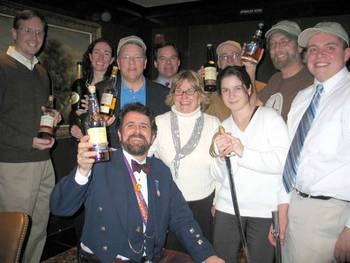 Scotland's "water of life," better known to most of us as scotch whisky, isn't nearly as difficult or complicated to enjoy as one would think, as 20 tasters found out at the most recent Top Shelf Tasting, held Dec. 20 at the Hanover Street Chophouse in Manchester.
Jeremy Bell served as our guide to tasting scotch — even donning a kilt and playing the bagpipes to provide the right atmosphere. As much a comedian as he was a whisky professional and brand ambassador for The Glenlivet, he kept the Top Shelf tasters informed and in stitches.
When many of us think of whisky (Scottish brands are spelled without the "e"), we might think of a sinus-clearing harsh grain alcohol that has little flavor and a lot of fire.
Good scotch does indeed have fire but is also mellow, sublime and full of delicate flavor evocative of the terroir from which it's made. Like Champagne, only whisky made in Scotland can be termed "scotch."
Even though all whiskies typically have the same basic ingredients (grain, primarily barley, yeast, peat smoke for drying the malt, and water), in making quality scotch, we pick up the essence of Scotland — heather and grassy scents, roasted barley and peat flavors, even honey and brown sugar notes.
Many make a much-ado about whether to add water or not to whisky. According to Bell — who is Scottish, complete with a brogue — a few teaspoons of pure spring water is not only allowed, but encouraged. Water dampens the volatile alcohol nose and flavor and chemically alters and enhances the esters and aldehydes – in other words, it makes whisky taste good. For my part, the addition of three or four teaspoons of water to the glass made a startling difference.
• The Glenlivet 15 Year Old, Single Malt, French Oak Reserve: With sweet vanilla and honey flavors, this teenager single malt whisky had a delicate softness to it that I couldn't define. Bell finally revealed the mystery — it's aged in the same type of oak barrels used for cognac. Even after all the fine whisky we were to taste during the evening, this was my personal favorite.
• The Glenlivet 18 Year Old, Single Malt: Deep amber, this whisky was smooth and smoky, with hints of ginger. The finish was long and quite warm, perfect for a cold, snowy New Hampshire night (if we ever get one this season).
• Chivas Regal 18 Year Old, Blend: This blended whisky made from grain and barley malt was rich with smoke, recalling dark, bittersweet chocolate or French roast coffee. When asked for their opinion of the evening's best, both Tony DeBlasio of AA MacPherson and Chris Christensen, a retired legislator, answered simultaneously, "The Chivas!"
• The Glenlivet 21 Year Old, Single Malt: I have to admit, this whisky was moving out of my wine-drinker-trying-scotch comfort zone. Certainly elegant, there was no doubt that this was a well-crafted whisky, but it was just too strong for me. The hedonistic burn of the first sip and initial scents reminiscent of juniper quickly melted away to reveal caramel flavors, hints of smoke and peat with a distinctive woody finish.
Matt Cookson from the University System of New Hampshire said this was his favorite. "I can't believe what a difference the addition of water makes," he remarked.
His wife Jennifer said her favorite of the evening was the Chivas and agreed water dramatically opened up a scotch's flavors.
Our dear editor, Jeff Feingold, is a man born in Brooklyn but whose heart must be of Scottish origin. A devotee of the dram, he waited three long years for a Top Shelf scotch tasting, and he wasn't disappointed.
His favorite? The Glenlivet 21.
Tricia Baker Schmitt, the Business Review's very own events manager, claimed her favorite was the Glenlivet 21. "Even though I drink scotch, participating in a formal tasting is a good way to get reacquainted with the different brands," she said.
• Ardbeg 10 Year Old: This whisky is definitely not for the faint of heart. A single malt from the wet island of Islay off Scotland's west coast (think Seattle), this whisky was extremely peaty, and well, just plain funky. Its smokiness was so pungent, it was more reminiscent of Liquid Smoke or even smoked Gouda cheese than whisky. Decidedly different, this one could actually grow on me, though I'd probably be more inclined to sweeten up a barbecue sauce or a marinade.
• Nadurra by The Glenlivet, 16 Year Old, Cask Strength — What a treat this was! Brand new to New Hampshire, The secondary dilution from the barrel to the bottle does not take place for Nadurra, leaving the pale gold whisky at cask strength. And it was. Undiluted, it was powerful with an almost medicinal nose. With a dollop of water, the flavors opened up nicely as the whisky developed a gentle haze in the glass. Full of fruit, I even detected a hint of banana and a touch of peat in this blend of dozens of select whiskies.
While most folks are familiar with pairing wine with food, nibbles and scotch are great matches as well. Our hosts at the Chophouse graciously presented us with a refreshing and mild salmon on cucumber with chive, a nice complement to a lighter scotch like The Glenlivet 15. The petite crab cakes with their crusty outside and moist interior can stand up well to a rich single malt like The Glenlivet 18. The baby lamb chops, juicy and rich, were a great partner to the bolder, older The Glenlivets, the Chivas or even the assertive Ardbeg.