Top Shelf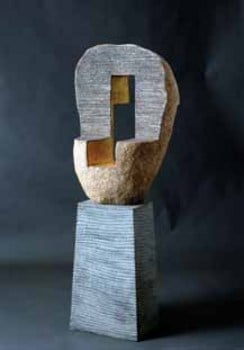 That spot above the mantel is just screaming for a Degas. Or maybe something by James Aponovich. Or perhaps you should just throw caution to the wind and splurge on that Dürer woodcut you saw in Venice last summer.
Choosing fine art for your home is not as easy it looks. Location, color, style and medium are just a few of the things to consider when selecting pieces.
Surprisingly, budget is not as big as a consideration as you might think.
"Don't say you can't afford fine art," said Sarah Chaffee, director of McGowan Fine Art in Concord. "Everybody has a certain amount of disposable income, it just depends on how we spend it."
Chaffee has some pieces for $50. She said most of her customers who are new to purchasing fine art spend about $500 to $1,000.
To say that the location comes first and the art piece comes second may not necessarily be the case. Joni Taube and Lee Forgosh, owners of Art3 Gallery in Manchester, said many times a client will love a piece and have them find the best location in their home for it.
Taube and Forgosh even allow serious clients to "try on" a piece. "Sometimes, they love a piece, but once they get it home, it just doesn't work in the room," said Forgosh.
According to Chaffee, different people collect in different ways. "Some just want to fill a spot. Will it go with the couch? Others are art patrons, fall in love with a piece and will make a place for it," she said.
Something seemingly as simple as the type of framing can make a huge difference in accentuating the piece and highlighting the space where the painting is hung. "Black on the outside of a frame draws the eye away from the piece," said Forgosh.
According to Chaffee, framing is more than just a piece of decorative trim work. "Today, we know a lot more about framing as an industry. First and foremost, framing protects the artwork," she said. Advances in archival techniques and acid-free papers help to preserve the piece.
Often, environmental factors must be mitigated to accommodate a piece. "Direct sunlight and heat can damage most artwork," said Chaffee. Special glass can protect paintings from harmful ultraviolet rays or the heat and soot of a fireplace. Cigarette smoke is another source of damage. Chaffee recommended having paintings, especially oil paintings, cleaned about once every 50 years.
Taube said conditions like the high humidity of a bathroom can make the paper of prints and watercolors buckle as paper, and to a lesser extent, canvas, absorbs and evaporates moisture.
Children, pets and areas of high traffic also are factors to consider when placing pieces, such as delicate glasswork.
And while a glass sculpture by Dale Chihuly is probably a good investment, glasswork by another lesser-known artist may or may not be.
But to Taube and Forgosh, that should not really matter when purchasing artwork.
"What is collectable art?" asked Forgosh. "You should really invest in pieces because you love them."
According to Chaffee, art has outperformed the stock market for the first time ever, but, she warned, "like fashion, styles and artists go in and out of vogue, making the market extremely volatile."
That said, Taube suggested doing a little homework to help you find pieces that you love and have a potential to increase in value.
"Do your research. Learn about the artist or style you are interested in collecting. Are they nationally known or more regional? Find out what museums and galleries are buying."
She recommended focusing on a style or period, learn all you can about that period and concentrate your collections there. "Perhaps you want to focus on paperweights or paintings from 1890 to 1950?" she said.
Say you've shopped till you dropped and you still can't find anything for that foyer. Should you commission a piece?
The answer from Taube, Forgosh and Chaffee is, "Maybe."
"It takes a very special client to be able to visualize a piece that hasn't been created yet," said Taube.
Unlike buying clothes off the rack, a commissioned piece of art can cost thousands of dollars and can't be returned for a refund.
Chaffee said she works with clients interested in commissioning a piece for a long time. "I try to prepare them. We chat for a long time and meet with artists. They've got to like the entire body of an artist's work, not just a piece or two. When I think I've got a match, then we move forward."
Typically, commissioned works are more expensive as well, she said. "To get the best product, the buyer should want what the artist wants. Once you start 'over-dictating' the work, creativity can suffer."