Top Shelf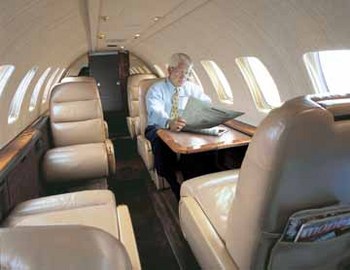 You've got a little place on the Cape, but the inconvenience of all the airport hoopla leaves you spent before you even touch down on the tarmac.
Try a timeshare. No, not as in a condo — as in a private jet.
Private aircraft travel, both part-ownership and specialized charters, are growing in popularity. We talked to two of the leading companies to get their spin on the trés Top Shelf mode of transportation.
Probably the most well-known fractional aircraft ownership company is NetJets, turned into a household name by radio host and NetJet customer Don Imus.
Kevin Russell, executive vice president at NetJets, said his customers aren't all "high net-worth individuals" (i.e. rich folks), "some customers are corporations that find it more convenient and economical to fly their executives or board members privately than commercially."
Sort of like a cross between real estate fractional ownership and a car lease, aircraft ownership at NetJets is priced around anticipated hours of flying time and type of aircraft. Shares in a specific type of aircraft are purchased in 50-hour increments of annual flying time for a five-year period. You can always trade down to an aircraft smaller than the type in which you own shares, but trading up to a larger one will subtract more hours from your account. At the end of five years, you can either sign up again or walk away. You also can sell your fraction or lease it out during the time you're not using it.
Fractional owners are buying a piece of a jet based on their typical flying patterns, distance and number of passengers, "but that doesn't mean you'll always be flying in that specific aircraft," said Russell. This isn't necessarily a bad thing, because it adds to the overall convenience of the program, which is its greatest advantage. With a fleet of some 550 aircraft, you can be on your way with as little as four hours' notice.
The planes range from the seven-passenger Cessna Citation Bravo for those quick trips to the Cape to Raytheon Hawkers and Gulfstreams for clinching that lucrative contract in New York, to the massive 18-passenger Boeing jet to fly the whole office to Bermuda to celebrate last quarter's chart-topping sales.
Having a small jet at your beck and call is only part of the convenience of fractional ownership, said Russell.
"We can fly into or out of some 5,000 smaller municipal airports across the country as opposed to just 600 commercial airports," said Russell. "This can bring you much closer to your final destination, so you'll also spend less time using ground transportation."
If convenience is the top reason NetJets clients buy a fraction, customer service rates a close second, said Russell. "We are a one-stop private aviation solution," he said, meaning that with a single phone call, clients can arrange for ground transportation, catering and even security services.
Security is another primary reason those who can do fly privately. After September 11th, the private jet and charter industries saw a surge in business. NetJets has pilot and maintenance standards that exceed FAA regulations. And you're only flying with yourself or those you know.
How much is all this going to set you back? Well, as the saying goes, if you have to ask, you can't afford it. A five-year, one-sixteenth share — the equivalent of 50 hours of annual flying time — in a Raytheon Hawker 400XP costs a mere $396,875. Maintenance costs, flight fee and extras (like champagne and fuel) are, well, extra.
If your high net-worth isn't quite so high, you can get in on a pre-paid one-year, 25-hour NetJets Marquis card program for $109,900.
If you don't want to deal with monthly maintenance fees, estimating flight hours or a long contract period but you still want the perks of private jet travel, you can try chartering a private jet.
Sentient Jet is not quite a charter airline or a fractional aircraft firm, but takes the best of both worlds, layering concierge services of premium charter companies with the convenience and safety of fractional airline ownership.
According to Kevin Vaughn, Sentient Jet's chief marketing officer, "For one price, you have access to 900 planes tailored to your purpose with just a 10-hour notice."
Vaughn said Sentient's typical clients are high net-worth individuals and corporations, but also those trying private jet travel for the first time and want to see if it's right for them.
Unlike fractional aircraft ownership, however, you don't "own" anything as a Sentient member. There are no monthly maintenance fees. There's no contract period; you can get in or out of either one of Sentient's two programs at any time, "and are fully refunded, no questions asked," said Vaughn.
Nor does Sentient own the planes it flies. It has charter partners, which, according to Vaughn, "must meet our safety requirements for pilots, operators and aircraft that are over and above FAA regulations."
The Sentient TravelCard Silver program costs $100,000. The TravelCard Gold program is $250,000.
But when the cost of owning a jet outright is in the tens of millions, a few hundred thousand doesn't look so bad — which is exactly the idea.