Top residential designs honored by New Hampshire Home
Magazine honors 10 projects at 2020 ceremony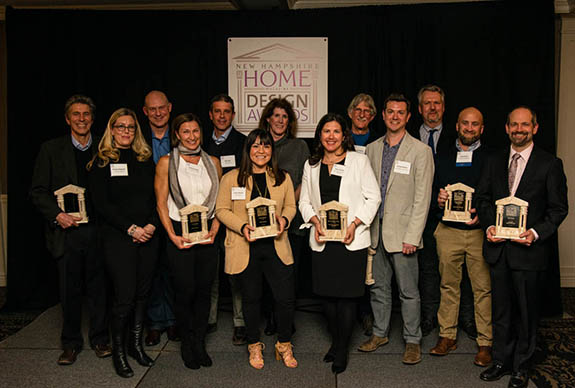 Ten home design projects were honored Jan. 22 at New Hampshire Home magazine's 2020 Design Awards.
The awards, presented in at a ceremony held at the Manchester Country Club, recognized "diverse designs created by architects and designers here in New Hampshire," said Andi Axman, editor of New Hampshire Home.
The winners were:
Architectural Design
Monadnock Retreat – Michael Hawkes and Rick Despres, Acorn Deck House Company, Acton, Mass. Project location: Cheshire County.
Bath Design
Master Bath – Herb Goedecke, Goedecke Paint Flooring and Design Center, Bedford. Project location: Candia.
Green Design
Omahens' Residence – Cristina Omahen, Cristina Omahen Architectural Designer, Greenland. Project location: Greenland.
Interior Design
Classic Seaside – Robert Carty and Cristina Johnson, TMS Architects, Portsmouth. Project location: North Hampton.
Kitchen Design: Renovation
Anthonyson – Tedd LeBlanc, Crown Point Cabinetry, Claremont. Project location: New London, NH
Kitchen Design: New Construction
Kenison Residence – Jay Lawrence Purcell, AIA, J L Purcell Architects, AIA, Peterborough. Project location: Peterborough.
Outdoor Design
Timber Hill Wedding Venue – Scott Blundo, Rustic Stone & Garden Design, Moultonborough. Project location: Gilford.
Remodeling/Renovation Design
Red Cottage – Patty Cooke, Wentworth Style, LLC, Wolfeboro. Project location: Wolfeboro.
Small Home Design
Bear Notch Camp – Bob Butcher and Peter Wobber, BEAM Construction Associates Inc., North Sandwich. Project location: Albany.
Specialty Room Design
Porte Cochere – Marcus Gleysteen and Robyn Gentile, Marcus Gleysteen Architects, Lincoln, Mass. Project location: New Boston.
2020 Home of the Year
Monadnock Retreat – Michael Hawkes and Rick Despres, Acorn Deck House Company, Acton, Mass. Project location: Cheshire County.
The winners were selected by a panel of judges from Rhode Island who included architect Michael Viveiros, principal of DBVW Architects in Providence, interior designer Sophia Shibles of Sophia Shibles Interiors in Providence, and landscape architect John C. Carter of John C. Carter & Company in Narragansett.
Award winners will be featured in the March/April issue of New Hampshire Home.
The presenting sponsors of the 2020 Design Awards were Merrimack County Savings Bank, Meredith Village Savings Bank and Savings Bank of Walpole. The Platinum sponsor was Ferguson Bath, Kitchen & Lighting. The Gold sponsors were Crown Point Cabinetry, Knob Creek, Winchendon Furniture Co. Inc. and Cambria. Frank Webb Home was the Excellence in Bath Design category sponsor and Belletetes was the Home of the Year category sponsor.
New Hampshire Home, published by McLean Communications, is a sister publication of NH Business Review.