Title, Part II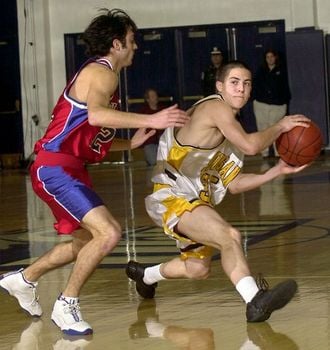 DURHAM – At about 10:15 p.m. on Tuesday, 15 minutes after his team clinched a semifinal victory over Bishop Brady and earned a spot in Saturday's Class I finals, Souhegan High School boys basketball coach Mike Facques did something that surprised many of his players.
He gave them a day off. Instead of three days of practice to prepare for the finals against John Stark of Weare, in one brief announcement to his team, Facques cut it to two.
"At first we didn't understand why,'' senior forward Greg Spaulding said after Souhegan captured its second straight Class I title by dominating Stark 55-33. "I found out our coaches spent four hours picking apart the game tape of John Stark's semifinal game.''
It wasn't the first time Spaulding was surprised by the coaching staff over the last week.
"They had us playing a 3-2 (defense) in the quarterfinals against Hollis, and we never play a zone,'' Spaulding said. "Against Brady we played a 2-3, which we never play.''
The perfect game plan is only as good as the players who implement it, but the Sabers (20-2) couldn't have asked for Saturday's title game to play itself out any better. It all centered around how to contend with Nick Drouin, John Stark's 6-foot-5 center.
Drouin, who nearly single-handedly eliminated Coe-Brown Northwood Academy with a 24-point, 17-rebound effort in the semifinals, is generally considered to be among the top two or three players in the division.
At the offensive end, Souhegan wanted to take the ball at Drouin and attempt to get him in foul trouble. It worked perfectly. Just 38 seconds into the game Souhegan's Nick Pelletier drove baseline and made contact with Drouin as he went up for a shot. Drouin was whistled for foul No. 1.
With 4:54 left in the quarter, just after Drouin had drained a pair of long 3-pointers, Souhegan sophomore center Rich Lapham grabbed an offensive rebound and took it right back to the hoop. Drouin challenged him and was whistled for his second foul and had to sit.
"Sure we wanted to try and take it to him,'' Facques said, "because he's a shot blocker and was in foul trouble early in the first game we played against them. Having him out of the game was a huge factor.''
When Drouin took a seat on the bench, his team trailed 9-8. When he returned, with 5:15 left in the half, Stark was down 25-16 and its offense was being totally swallowed up by the Sabers.
With Souhegan's John Bambrick, the defensive hero of the semifinal victory, playing outstanding deny defense on Drouin, the Generals' top player barely touched the ball the rest of the game. Without the production of its No. 1 weapon, Stark's offense hibernated.
"I thought we had some pretty good looks, but the shots weren't falling,'' John Stark coach Mike Smith said. "Souhegan deserves a lot of credit though. They played a great defensive game.''
For the final five minutes of the first half Stark managed two points, allowing Souhegan to increase its lead to 31-18 at halftime. Then the Generals went nearly the entire third quarter without a point. They didn't score until Ryan Townes hit a 3-pointer with 18 seconds left in the third quarter. By then the Sabers had already led by as many as 25 points and the large Souhegan student section had already serenaded their Stark counterparts with their first rendition of the "Goodbye'' song.
"We played our best defense of the year in the third quarter,'' Facques said. "Everyone did a great job.''
But once again it was hard not to single out Bambrick. He was the stopper on Tuesday after Bishop Brady's Adam Larkin, a 5-9 guard, had exploded for 19 points in the first half. Saturday, the 6-2 Bambrick helped hold Drouin scoreless for the final 29 minutes of the game.
"John is a phenomenal athlete,'' Facques said. "He's quick enough to guard a small kid like Larkin and has enough size and strength to play a kid like Drouin. It might not show up in the stat sheet, but he came up huge for us in the tournament.''
If the defense speaks for itself – holding Stark (18-4) to 33 points on 29 percent shooting – how about an offense which didn't take a bad shot all night? Lapham took seven shots, hit six and finished with 15 points making all three of his free throw attempts.
Pelletier took just six shots from the floor and hit four, finishing with 12 points. Senior point guard Jon Pollak, the smallest player on the floor for most of the game, led Souhegan with seven rebounds. Spaulding, as he had all season, provided the offensive explosions when the Sabers seemed to need them the most.
"Everyone on this team has a role and knows his role,'' Pelletier said. "I think we did an especially good job of staying within those roles in the tournament.''
Facques, and many of his players, praised the work of assistant coaches Rob Scully and Dave Bridgeman, who helped concoct Saturday's game plan.
"They do a great job,'' Facques said.
And with two titles in just three years, Facques has a hard act to follow. Himself.