Tim Scullin of SIG Sauer
2013 Financial Executive of the Year winner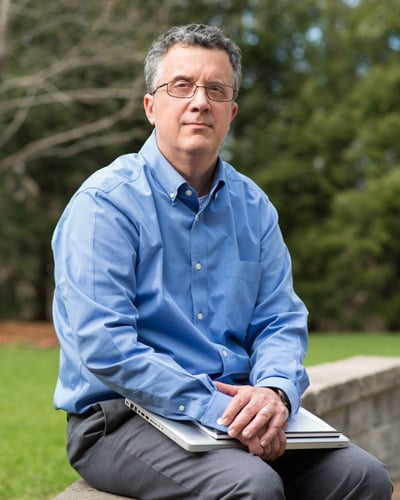 Being able to turn around a distressed company requires a certain skill set – most importantly, an ability to gain trust from both lenders and company ownership – and Tim Scullin has that in spades.
Scullin, CFO of SIG Sauer in Portsmouth, is a passionate rebuilder of businesses who, according to his nominator, "has been successful in helping firms dramatically improve their sales, profit and cash flow, while gaining the confidence and trust of lenders, boards and vendors."
Early in his career, after obtaining his CPA license, Scullin worked as CFO for businesses in the electronics and textile industries. From there, the Attleboro, Mass., native began his own CFO consulting business, where he specialized in turning around financially distressed companies, from a big electrical distributor in New Jersey to a manufacturing company in Cleveland.
In 2001, the year after SIG Sauer was bought by its current German ownership, Scullin was brought on board by the firearms manufacturer with a turnaround mandate. And turn it around he did. The company has experienced absolutely explosive growth in the more than a decade that Scullin has served as CFO.
From the year he started to 2013, SIG's annual revenues have risen by an astonishing 1,400 percent, and its employee head count has risen from 100 to about 750. The company experienced revenue growth of more 70 percent in 2012 and is on track to see similar gains in 2013.
Some of this growth can be attributed to the general surge of the firearms industry, but SIG's growth has outpaced industry growth "two or three times faster than the market," said Scullin.
That's in part because SIG's cachet is as massive as its revenues. It is a highly regarded brand of firearm used by some of the most elite forces in the world, including the U.S. Navy Seals, the Secret Service and the British Special Air Service.
During its growth surge, the company invested tens of millions of dollars in new manufacturing space in New Hampshire. To accommodate this rapid growth, SIG, which has two facilities in Exeter and a training academy in Epping, is currently expanding to the Pease International Tradeport, which will host its new headquarters. His nominator writes that Scullin is a "unique" and "very intense" leader, who will "not make compromises for the short term in order to best position the company in the long term."
Scullin – who has an accounting degree from Providence College and a master's in finance from Bentley College – is a Bedford resident and father of three college-aged children. He served on the board of directors of Bedford Little League and started a charity that helped underprivileged children the chance to play baseball with the proper equipment.
Q. What has been your proudest accomplishment during your tenure at SIG Sauer?
A. My biggest accomplishment is operating the business with a focus on generating a strong balance sheet and cash flow that exceeds any of the competition, and using that as a strategic advantage to fund research and development, plants and facilities and equipment. We've invested, over the last three years, probably $60 million in new equipment.
Q. What have been some of the biggest professional challenges you've faced in your career?
A. At SIG, to grow this fast, people get really challenged. When you're growing 70 to 80 percent in a year, all the systems get stretched, and the people really get stretched. You have to be able to manage multiple tasks in a very fast environment, and in an environment that's highly regulated, so you can't mess up, otherwise you get shut down. It just creates a tremendous amount of stress on the people in the system. But we've got people that have risen to the challenge, obviously.
Q. What are your hobbies/personal interests?
A. I like sports, I follow the Red Sox, I do enjoy yard work and all the outdoors stuff.
Q. Looking to the future, what are some of the challenges and opportunities that you see on the horizon for SIG Sauer?
A. Certainly the international markets are very big, and that's an area where we've invested a lot of research and development and resources. It's kind of one of the reasons for expanding to Pease because it's a big international tradeport.
As for challenges, regulation is always a challenge, and the political environment is always a challenge. Our business has grown enough internationally that what kind of goes on in the U.S. political system is interesting to us, but it's not something that is going to necessarily change us.