Three NH entrepreneurs share their inspiration
Salem chamber forum features LaBelle, Egelston, Mendez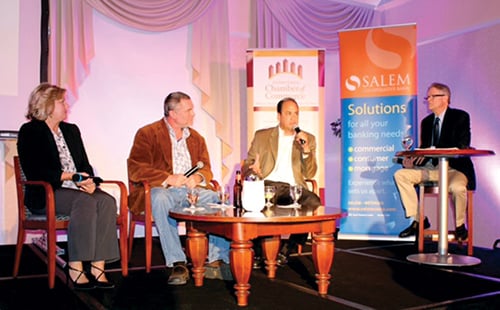 There were stories of lightning bolt moments, lots of laughter and plenty of entrepreneurial inspiration to go around at the Greater Salem Chamber of Commerce's recent Executive Exchange at Atkinson Country Club.
The event featured three of New Hampshire's most successful business owners from the food and hospitality industries: Amy LaBelle, co-owner and founder of LaBelle Winery in Amherst; Peter Egelston, founder and president of Smuttynose Brewing Company and Portsmouth Brewery; and Cort Mendez of Amherst, president and CEO of N.H. Glazed, LLC. Mendez recently sold his 10 Five Guys Burgers and Fries restaurants and is about to bring the Krispy Kreme brand to New Hampshire and Maine as its exclusive franchise.
I served as moderator of the hour-long event.
All three were brutally honest and candidly funny at times, sharing their experiences, beginning with that moment that sparked inspiration, which, in LaBelle's case, was a life-changing bolt from the blue. The former in-house legal counsel at Fidelity Investments was on vacation when she happened onto a winery in Nova Scotia.
"I went into this place and it just hit me like a ton of bricks," she said. "I just became completely obsessed with it and couldn't focus on anything else for the rest of my vacation, in my car scribbling notes on the back of cocktail napkins."
Though still over a decade away from opening the winery and event center in 2012, LaBelle stayed with Fidelity, saving money, paying off her $103,000 student loan balance and learning how to make wine. "I built the winery at night," said LaBelle.
Business planning
Egelston's first brush with beer making came in 1980, by way of a mail order beer making kit, while living with a roommate in New York City, where he was a public school teacher.
"We drank a lot of beer back in those days," Egelston recalled. "Home brewing had just been legalized, and one of the greatest achievements of the Jimmy Carter administration was legalizing home brewing. We scraped together 10 or 15 bucks and thought it was the stupidest thing we'd ever seen. We followed the directions and made predictably dreadful beer. My roommate lost interest almost immediately. I caught the bug to the extent where I kept making beer."
Encouraged by his sister Janet and her boyfriend, Egelston listened to their stories of a West Coast trend of bars and restaurants that made their own beer.
"A few hours and probably a few dozen home brews later, we were talking about how, by God, somebody should be doing that on the East Coast, and why not us?"
In 1986 they developed a business plan and sought financing. "Up until September of that year, when the stock market crashed and the bottom fell out, banks were riding high and if they put a mirror under your nose and saw a little bit of vapor form, and you had a business plan on a cocktail napkin, they'd give you a million bucks. I say that jokingly. We did have a pretty good business plan but it was very hypothetical. It actually worked out pretty well in retrospect," he said.
Their brew pub opened in Northampton, Mass., in 1987.
Part-time job
Cort Mendez didn't find his inspiration on vacation or in the back of a magazine. During his 20 years selling medical devices, he frequently found himself wanting to be involved in some sort of restaurant ownership.
His minimal experience included spending summers as a restaurant dishwasher in Alton Bay. As the dream grew stronger, he decided to return to restaurant work part-time while working his daytime sales job. He wanted to learn the restaurant business.
"This was 1998, and Friday's happened to be opening up right around the corner from where I was living. Here I had a really great [day] job, but two nights a week I would go to Friday's. I was there for a year and learned a ton about what I wanted to do and what I wanted to stay away from," said Mendez.
One thing he wanted to avoid was owning a restaurant with a large and complicated menu. "I wanted to find something that's really simple."
Five Guys Burgers and Fries was headquartered near where he lived, and he eventually decided that would be his route to ownership.
Finding financing
Mendez and LaBelle shared their stories of early failed attempts to secure bank loans.
Said LaBelle: "2010 was not the time to be asking for money, especially in the hospitality industry. I asked the first bank. I asked the second bank. We went to five banks before we found someone to finance this project. They're pretty happy today."
That was the big moment that brought the winery to fruition. Prior to that, each bottle sold was hard-earned.
"[Winemaker Cesar Arboleda] really began building the winery, one customer at a time. So, we'd add a store and have a victory celebration. These victories were huge for us at the time. We did that until we built our business to about 18,000 gallons of wine. We were busting out of this little barn we had behind our house at this point."
LaBelle's story resonated with Mendez.
"Five Guys was completely unknown up here," he said. "I had a very difficult time with the banks, but the bank I actually ended up going with was First Colebrook, which is now Granite Bank. They told me the passion that I had when I talked to them [was very] important."
An even bigger hurdle for brewer Egelston to conquer was to find a state with a friendlier business climate than existed in Massachusetts at the time. Fearing they'd lose their brew pub in Northampton, Egelston and his partner took a trip to see Portsmouth.
"We stopped there and after five minutes, my partners and I and said, 'This is the coolest town we've ever seen.' I called up the New Hampshire State Liquor Commission after that weekend trip and I spoke to a fellow there named Ivan Bass who was very pleasant. He said, 'We were wondering when somebody would come to New Hampshire. Yes, brew pubs are legal here.'"
Naysayers told Eggleston to run the other way, but he defiantly stayed and began his craft brew business. "We saw nothing but potential," Egelston said.
"He made Portsmouth cool," added LaBelle.
Brand New Hampshire
After selling his Five Guys restaurants in December to a New Jersey franchisee, Mendez is starting over by bringing a coffee and doughnut business to Dunkin' Donuts country. I asked him if that was wise.
"I was asking the same question myself," he replied. "When Krispy Kreme was first brought to my attention by another Five Guys franchisee, I looked at him like, 'Are you crazy?' I remember the late '90s when Krispy Kreme was the darling of Wall Street. It was such a hot concept. They went through a very rough time."
But, Mendez told the crowd, Krispy Kreme restructured its business plan, giving franchisees a much better fighting chance to succeed.
"Krispy Kreme does what Five Guys does in terms of bringing a smile to people's faces times 10. When you talk about Krispy Kreme people just get so excited, so I just thought maybe there is something to this. With all the changes Krispy Kreme has made internally, now they're coming back. I'm going to give it my best shot and see what happens in New Hampshire and Maine."
The evening concluded with audience questions for the three panelists.
Joel Desilets of Windham asked a question that elicited some passionate responses. His question to Egelston had to do with New Hampshire brand identification and its importance to local products.
"This topic is a little bit of a pet peeve for me," Egelston said. "New Hampshire over the years has done a really crappy job of promoting its brand. Go out and do this experiment. Do a word association game with somebody and say, 'Vermont. What do you associate?' They'll rattle off all the usual stuff you'd expect. Same thing with Maine. Then when you mention New Hampshire, they usually come up cold. But I am starting to see this logjam break up with kind of a rising awareness of New Hampshire as a brand."
Winemaker LaBelle had her take on the New Hampshire identity topic.
"Wine in New Hampshire?" she asked tongue-in-cheek. "This is a really hard battle for us. C'mon now. The top-selling wine in the state of New Hampshire is Kendall Jackson chardonnay. It's really hard to compete with a $10 bottle of chardonnay."