Three N.H. bills would expand penalties on business crime
Big increases in fines, prohibitions on state contracts and stricter class action suit rules are sought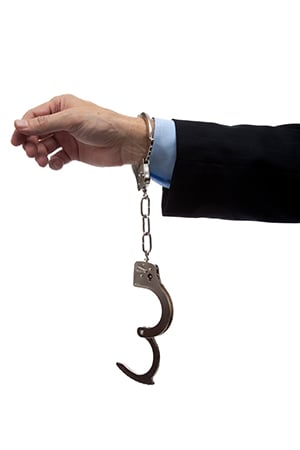 Businesses that break the law could face larger fines, costlier lawsuits and would be more likely to be barred from bidding on state contracts should a trio of bills – that together could be called Crime Shouldn't Pay Laws – pass the House this year.
The bills are all sponsored by Rep. Timothy Smith, D-Manchester, who said the measures simply invoke fairness, but they have a populist tinge that might raise a few eyebrows.
House Bill 1166 would raise tenfold the maximum fine a company would have to pay for a felony to $1 million. Fines for a misdemeanor would more than double, from $20,000 to $50,000, and the penalty for violations would go up fivefold, from $1,000 to $5,000.
The bill "gives judges the flexibility to ensure that crime is not a profitable venture in New Hampshire," Smith told NHBR.
Another of his bills, HB 1332, would set the award of a class action suit equal to the "actual monetary loss incurred by each member," though the amount could be averaged if the individual loss could not be determined.
The bill "helps ensure that victims of fraud, and similar crimes, who seek justice through a class action suit will actually get all of their money back instead of only a tiny fraction of their loss being recovered as their portion of the damages," Smith said.
Finally, HB 1175 would expand the prohibition on state contracts with businesses and individuals involved in wrongdoing. The current law is limited to two years against those who have been convicted or pleaded guilty to laws involving bidding practices or antitrust violations. The bill would change that ban to five years, and would include convictions and civil judgments for a variety of crimes, including fraud, embezzlement, theft, forgery, bribery, falsification or destruction of records, making false statements, tax evasion and receiving stolen property.
In addition, the bill would forbid contracts for two years with any company that either "has been notified" of any delinquent taxes or cited for environmental fines exceeding $1,000.
The bill, said Smith, would "make sure that the people of New Hampshire will not have their tax dollars spent giving contracts out to criminals who break the law. This will serve to protect the people of New Hampshire, as well as encourage responsible and ethical business conduct within the state."