Three Manchester Millyard buildings change hands
Binnie adds about 500,000 square feet to his Manchester real estate portfolio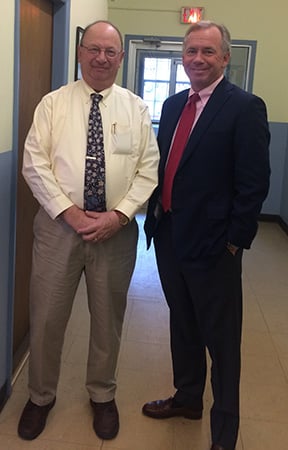 New Hampshire media mogul Bill Binnie has purchased three Manchester Millyard buildings – totaling about 500,000 square feet of space – for $11.2 million, according to the tax stamps on the deeds.
The buildings, assessed at about $15 million include the Fitlab gym (the former Gold's Gym) at 89 Dow St., 100 Dow St., which contains condos and offices, and 150 Dow St.
The latter, the largest of the buildings, is home to dozens of businesses, including Dyn, a high-tech company recently acquired by Oracle, and McLean Communications, which publishes NH Business Review.
They were owned by One Dow Court and run by its president, Ralph Sidore since 1992, but the buildings have been in his family for 61 years. Sidore said he will be retiring, spending more time with his family and traveling.
Binnie said he will continue to improve the buildings, starting with installing more elevators.
"I'm bullish on Manchester," said Binnie, a Rye businessman and former Republican U.S. Senate candidate, who has acquired other real estate in the Queen City, including the former Citizens Bank building on Elm Street. He also owns a string of radio stations and WBIN-TV, or NH1, based in an old elementary school in Concord.
Binnie, said he will be hiring a manager for the building, but that his two sons will be involved during the transition. Binnie said he has some tenants lined up, but did not disclose their names.