Thousands of N.H. homes at risk of storm surge
Analysis pegs value of residences at $2.6 billion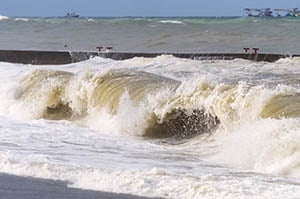 More than 10,000 single-family homes in New Hampshire, with its 13-mile coastline, are vulnerable to a hurricane-driven storm surge, according to an analysis released by CoreLogic.
In its 2014 storm surge analysis, the property information and analytics firm identifies more than 6.5 million U.S. homes along the Atlantic and Gulf coasts, with a total value of nearly $1.5 trillion, are at risk of storm surge damage in a hurricane.
According to CoreLogic, this exposure could constitute significant risk for homeowners and financial services companies, since many at-risk homes lack protection from insurance coverage.
The analysis examined homes along the coastlines of 19 states and the District of Columbia, extending as far west as Texas and as far north as Maine.
Florida ranks number one for the largest number of homes at risk of storm surge damage, with nearly 2.5 million homes at various risk levels and $490 billion in total potential exposure to damage.
New Hampshire is listed as having the second-lowest total number of properties at risk: 10,583. Their total value of $2.6 billion also is the second-lowest on the list.
Also among the states with the fewest properties at risk and lowest value are Maine (23,439 properties, $6.6 billion) and Rhode Island (26,558 properties, $7.4 billion).
At 218,913, Massachusetts has the ninth most properties at risk. Their total value of $63 billion is the eight highest.