The Web: an international development tool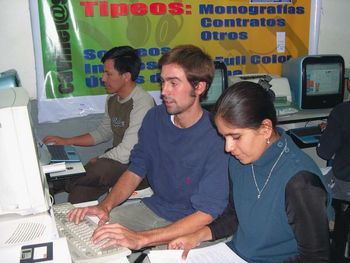 It sounds like a 1960s post-college scenario: Go to an exotic place, live on the cheap, do good. And it sounds like a 1990s post-college scenario: Use the Web in interesting ways, create a company, look for funding. Combine them, and it becomes the 2003 post-college scenario for Ian Ward of Amherst, who took a tech upbringing (his dad worked for Wang and Digital) and his interest in international development to help create DevelopmentSeed, a non-profit that uses the Web to help other non-profits in Peru.
"What interests me about technology is what it can do to help a society that's lagged behind, and advance it in an accelerated way to create services so much cheaper, more accessible, than would otherwise be possible," said Ward.
Ward, a 1998 graduate of Souhegan High School and 2002 graduate of American University in Washington, D.C., joined two university classmates last spring in the city of Ayacucho, about 150 miles southeast of Lima, Peru.
The two — Bonnie Bogle of Pennsylvania and Eric Gundersen of Burlington, Vt. — had gone to Peru to conduct a microfinance research project, and found more Web than they expected. In particular, Internet cafes, known as "cabinas," are popular even in a place where the poor come in from the countryside every Saturday to get handouts.
"In Ayacucho, they were amazed they had Internet there — it's kind of in the middle of nowhere," said Ward. "We began to talk about what we could offer … I was looking to go somewhere to learn Spanish – I had taken many years of it in school, but never became anywhere close to fluent — and I agreed to come down there."
They soon decided that their best hope of making a difference was to use the Web to help spread the word about non-profits and non-government organizations, as groups such as the Red Cross and Greenpeace are known. Hence the creation of DevelopmentSeed, a suitable metaphor for this agricultural region.
Ward (whose unofficial title is "the server guy") got a $400 grant from the International Development Program at American University to buy a computer, and got a discount rate on Web hosting from Manchester-based G4 Communications. Otherwise, he used his own money to travel to Ayacucho and set up shop, doing low-cost Web design and development.
DevelopmentSeed has a couple of clients on line — merunas.org, an evangelical non-profit, and otadecperu.org, a Catholic-oriented charity group — and have seen the sort of client excitement that isn't often encountered in our Web-blasŽ land.
"They're all very excited to get the site going," Ward said. "They keep saying, 'We're not on Google yet!'"
On the other hand, DevelopmentSeed sees client mistakes that are familiar to Web developers everywhere.
"Some people have the idea that if you have a Web site, people will be looking to give you money. We tell them a Web site is a handshake – then it's up to you," Ward said.
Looking for funding
The group is now working on documents that let organizations know how they can use the Web — another task that would bring nods of recognition from Web developers stateside.
DevelopmentSeed is hardly alone in the idea of using the Internet to help poor areas of the world leap-frog development issues. Perhaps the best known is GeekCorps.org in North Adams, Mass., which sends techies to places like Mongolia and Ghana. There's a big difference, though. GeekCorps was established with lots of money — it was formed by the guy who created Tripod and sold it to Lycos during the dot-com boom — while DevelopmentSeed's purse is thinner.
Client contracts run for a year, and DevelopmentSeed is looking to hire interns and conduct surveys to expand services, but it's also looking to get some funding, since Ward et al. can't continue to pay for it themselves.
"We're still figuring out how best to do all that," said Ward, who returned to Peru in early January after visiting his parents, Rodney and Susan, over the holidays.
"Hopefully, it won't end after a year," he said. "We think it can really make a difference."
David Brooks writes about science and technology for the Telegraph of Nashua. His column appears monthly.