The state of the Queen City: a Manchester roundtable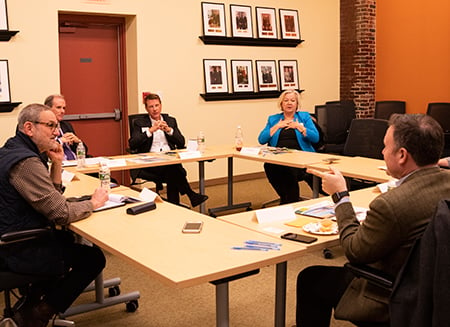 NH Business Review recently met with area community and business leaders at the offices of the Greater Manchester Chamber of Commerce to get their take on the issues facing the region and its economy.
Participants were:
Eva Castillo, director, Welcome New Hampshire and the NH Alliance for Immigrants and Refugees
Gray Chynoweth, entrepreneur and board member
Laura Gamache, Realtor, Keller Williams Realty, Bedford, and chair, Manchester Young Professionals Network
Susan Huard, president, Manchester Community College
Dan Scanlon, broker with Colliers International Realty's Manchester office
Mike Skelton, president and CEO, Greater Manchester Chamber of Commerce
Arthur Sullivan, owner, Brady Sullivan Properties
NHBR: How do you think things are going in Manchester generally right now?
Mike Skelton: I think if I had to choose one word, it would be "exciting." That's not to say that there aren't our share of challenges, but my sense over the past few years is that there is genuinely a sense of excitement in the community about the potential we have to continue to grow and thrive economically, socially and culturally and really position Manchester as an emerging hub of technology and innovation, as an amenity-rich center in our region that can attract folks of all backgrounds — young professionals, of families, folks of all different parts of their career from all different cultures.
Dan Scanlon
, broker with Colliers International Realty's Manchester office
The things that are happening in our community right now are in sync with that trend, whether it's business expansion, with really exciting projects like, most recently, BAE Systems' announcement of a major expansion, or a new store opening on Elm Street or a new interesting restaurant opening downtown, a new housing development, new entertainment options, new educational opportunities in higher education or things that are happening with our K-12 system, like Manchester Proud.
Dan Scanlon: Although I am involved with specific transactions, I tend to take a look at high-level themes of what is going on in the city. Mike alluded to some of them, but I think about infrastructure. The state is taking a look at Exits 6 and 7, we have a new SNHU parking garage going up. I look at housing. I think housing has been a huge catalyst for the downtown area and for some of the businesses here.
One of the big things in our business, especially in Manchester, is adaptive reuse. We have a lot of older-stock buildings, we don't have much land. What do we do with these buildings? There are numerous examples of taking old buildings and giving them new uses. We see some mixed-use, not so much in Manchester, but in the surrounding area.
As Mike alluded to, hospitality and entertainment is a big deal right now. You have two new hotels about to break ground pretty soon, and I think Manchester maybe has taken over Portsmouth as the dining destination in the state. My wife and I were recently downtown on a Sunday night. I couldn't believe how many people were there. I see a lot of good things happening as well.
Arthur Sullivan: I think the momentum here has been fantastic. On the residential side, look at Bill Binnie's project at the old Citizens Bank building – a fantastic success. And in our properties we're seeing higher rents and a better demographic continuously coming into our city, wanting to be here.
But with all that good stuff, you have to be cognizant of other momentums that are going on too. Number one to me is education. Education is why we formed Manchester Proud, because if we don't do something, that's going to be one of the issues as we come back and say, "What did we do wrong? Why are families deciding to move out?" A lot of millennials are buying our higher-price condominiums and properties in Manchester, and at some point they are going to be of age possibly and say, "We want a family," and that challenges our school system. From what Manchester Proud has seen, it's a core pool of issues that are about to develop. We are hoping to hopefully turn that tide. It's not going to be an easy tide to turn, but we are obviously hoping for some success.
Eva Castillo,
director, Welcome New Hampshire and the NH Alliance for Immigrants and Refugees
Eva Castillo: I agree with everything you say, but I also see the other side. We have a dire lack of affordable housing. If we have all these businesses, where are people going to live? We can build beautiful, gorgeous properties, but we are just gentrifying our city. I love this city. I am married to a Manchester native and his father and mother are Manchester natives too.
But I think we lack the appetite to entice diversity because Manchester is a good old boys network. If you do not know everybody, and do not belong to that clique, doors are closed. And that's important for Manchester Proud, because to get into the school system you have to have an in. And if you don't, forget about it. This is my experience and the immigrants' experience.
This is a wonderful place. I have never thought about going anywhere else, because I love it here. You can have a voice you don't have elsewhere, but at the same time where are all the immigrants here? We have plenty of business owners. I'm just an activist.
Gray Chynoweth: Ten years ago, I think I would have agreed with you more than I do today. But I feel as though there are more people who have come to this town than ever before, and as we accelerate Manchester as a destination as opposed to a starting point for people in their lives and their careers, that old boys network has less and less influence.
Does that mean we don't need to do much more work with inclusion in the city? I think we absolutely do. We need to be welcoming, especially for the type of populations that are going to make this city the type of culturally diverse place that people want to live in. But I think there is plenty of space in Manchester to make an impact and change the way the city works.
Susan Huard: I think we are in an interesting place. There have been pieces that have been moving around, like the relationship between the Manchester School District, the community college, the higher education community in the state and employers in general, and I feel like we have taken a couple of steps. We obviously have quite a ways to go. But there are more partnerships that exist now,
And to Eva's point, when I first came it took six years for an immigrant to come to the community college as an adult. It's now three years, but that's still not good enough because we really need everyone to be a part of the workforce. But things are changing, probably not as fast as you would like.
Susan Huard,
president, Manchester Community College
Castillo: They are changing for the best.
Huard: Yes. A good example of that is last year MCC's population of color was about 15 percent of the student body. It's nearly 20 percent right now. When I came, it was 7 percent. A community college really should reflect the community, and so I didn't see us as serving our community at the time because we didn't look like our community. We're moving in that direction now.
Laura Gamache: I agree, Manchester was very cliquey, but I think it's now more of a welcoming place and we have a lot more work to do. I think the attraction for millennials coming here is we're heading in the right direction. We have the downtown, the lakes, the beach, Boston — everything that you are all obviously aware of. So they want it all right there in their hub.
I think our downfall, which everyone has alluded to, is housing. I deal with that on the forefront, dealing with a lot of buyers, and the reason they are not buying in Manchester, not to beat a dead horse, but it is the schooling. But hopefully we are headed in the right direction and that will change.
Skelton: We are actually in the process of launching a project where we are going to be rebranding our organization and launching a marketing campaign out of that rebrand to help better position the community with everything that is happening here.
I am very much a proponent that Manchester needs to be loud and proud about our importance to our state in terms of driving the economy, in terms of driving innovation, of creating jobs, the value that the Manchester economy brings to the overall prosperity of our state. We need to celebrate that more and market that more so folks understand that the more prosperous Manchester is, the more prosperous every corner of New Hampshire is going to be.
Sullivan: To that point, a good example is Goffs Falls Road. Anthem moves downtown and we are now able to turn that building into something phenomenal for the city of Manchester with BAE Systems moving in. It's going to start out at 400 jobs, to 800 jobs, to 1,000 jobs. It's one of my properties, but that dynamic alone is a tremendous opportunity. That's a game-changer, even for that part of Manchester that hasn't always kept up with the rest of Manchester. So down by the airport, Brown Avenue, I think we might see a lot more changes in values increasing in that area as well.
Arthur Sullivan
, owner,
Brady Sullivan Properties
Huard: If Manchester thrives, then all those small and medium businesses that run through this entire state will thrive. But we never talk about that. People will complain about the size of the Manchester delegation compared to everyone else, but we are not saying back to them, "Yes, and if we do well so will you."
Scanlon: Manchester is a hub, as are most major cities around the country. I think that if the surrounding communities are thriving, that helps Manchester thrive. Most of the airport is in Londonderry. Most of the new, large, logistics facilities have been built in Londonderry. It's great for Londonderry, but I would argue it's also great for Manchester.
People come to visit those facilities. They travel through the airport. They might stay downtown or the other Manchester hotels. They come downtown to eat. We have the arena, we've got the ballpark to draw people in from the surrounding area. So I think there's a synergistic relationship between the city and the surrounding areas.
Skelton: Communities often fall into the trap of just thinking about themselves rather than they are part of a large ecosystem or larger regional economy.
When I am talking to a business owner or investor or someone potentially looking to expand or relocate here, it's always pretty amazing to describe to them that if they would like to live in a luxury downtown apartment you can do that, or if you would like to buy a farmhouse 15 minutes from here in a rural community you could do that too. And you can have your choice of options anywhere in-between. There's not a lot of places that can offer you that spectrum of high quality options in such closeness to each other.
NHBR: Let's talk about Manchester Proud. Why is it so important for the business community to be involved in the education system in Manchester?
Sullivan: The eye-opening moment for me was when I went to Riverstone Resources for a renewal that I thought was going to be easy and they ended up saying, "We are really contemplating on renewing but in much smaller space and going either to Massachusetts or Connecticut." It turns out they had a very tough time recruiting, and when they do recruit they come up from out of town, they get their acceptance letter and when they do they look at the school system because they have children and say, "Thanks but no thanks."
We want people to come north, but we need a good school system. So something we may need to do is spend more on our schools and be proactive to make them better than where they are. A big part of it is diversity, and we've got it and it's great and wonderful and we need to embrace that and reach out and make it right.
Skelton: As a chamber, we've advocated many times in the past as part of our legislative work that when it comes to education funding, we need a system at the state level that recognizes unique challenges for every school district. The cost of educating one student in one community may not be the same in another community. These are unique differentiating factors. Ideally, you should have a system that recognizes that and provides value and efficiency where it's needed.
I think you can certainly make the case that Manchester has different challenges than other school districts. We also have enormous opportunity, and I think one of the exciting things for Manchester's future when it comes to our public education system is that we can provide an educational experience that is totally unique to any other community in the state. If properly done and presented, I see a future where families will seek out an opportunity to send their children to Manchester schools so they can get an experience that is really unlike anything else available in any other community in New Hampshire. It will be real-world experience. There will be opportunities for career-to-business partnerships, opportunities to meet other students from other cultures and nationalities that they will not experience in other communities. That is something that I really think Manchester can capitalize with when it comes to public education.
Gray Chynoweth
, entrepreneur and board member
Chynoweth: As recently as 20 years ago, lots of people were buying our educational product. A lot of towns still buy their water from Manchester because that organization has evolved and, importantly, had a consistent environment of investment for future use that has not been true of the management and long-term investment behind the school system. We are paying the price today for the management over the last 20 years, and we've seen the customers for that educational product go somewhere else.
Huard: I think the thing that strikes me is that whatever happened caused all 22 schools to become independent fiefdoms and every school is fighting for resources, whether they are people or time or funding. For us to go forward we need a larger vision that people are going to embrace. I'm really excited and very hopeful about the efforts of Manchester Proud because it's coming from some place else, but it's beginning to pull teachers in as well as families.
Gamache: At MYPN, we have a lot of people that are coming fresh out of college, where schooling and family might not be top of mind, but we still have people on the other side of the spectrum that are working for a few years and are starting to think of where they are going to settle down and buy a house and the next step after that is kids.
So when they are deciding that factor the thinking is, "Where do I get my best bang for my buck?" Unfortunately, you hear all the buzz of negativity, so that just coincides with it, but I'd say schooling is huge. So you see it here in terms of why they aren't moving here or why they aren't staying here and going elsewhere in the state.
NHBR: Eva, you are the head of Welcoming New Hampshire. How welcoming is Manchester?
Castillo: People feel segregated, and part of it is self-segregation. I'll always have American friends because I am married to an American for 34 years, but still my parents-in-law tell me, "You're not one of us, but we love you." So it's a lack of cultural awareness, and that is not on purpose. It's too much of an effort to include people, and people just stay on their own sides of things.
I'm bringing my mother-in-law to see Robert Azzi at the library to see if she can just see a Manchester-born and -raised Muslim speak about their own experience. To just broaden the horizons. But it is something we have to do deliberately, and we have to appreciate encounters for people to talk in peace and just share. Mutual contact builds respect and understanding.
Chynoweth: It was both big news and exciting news for me to see a wonderful young man, I don't know if you guys saw the soccer star (Siad Haji) that just got picked up in the last (Major League Soccer) draft, but I think that's a very powerful story for New Hampshire, for Manchester, to see someone on the immigrant path come through here, be part of our community, and then achieve tremendous success and not just on the athletic field. But for me the most exciting part of it is telling those stories, which is so important. When you tell this story to the next generation of immigrants to Manchester, now that story includes someone that has now become a national star.
Castillo: We do have a lot of talent and that's one of my pet peeves, that it's really hard to validate your credentials here, even if you are an engineer, and math has no language — you can do numbers here. But that is a stereotype.
I have volunteered as an interpreter at the Department of Labor for over 20 years. The other day they asked this man, this Dominican guy that was injured selling auto parts, "How far have you gone in school?" And he says, "I have a Ph.D. in botanical whatever — I am a forest engineer." "So what were you doing in the Dominican Republic?" I ran the Department of Environmental Services and I went to Germany and worked there for three years too. Everyone had been talking to this guy like he could hardly read or write, and it was beautiful to see the faces of the people. We have a lot of talent that's unused.
Skelton: I think Eva's point is spot on. We have two communities, and it's a little bit of a chicken-or-the-egg type of problem in that we need to figure out a strategy to be more welcoming, and we need to figure out how to also get through to those communities that are self-segregating. If we put out those welcoming strategies, we can pierce self-segregation and bring those two together.
Mike Skelton
, president and CEO, Greater Manchester Chamber of Commerce
I think it is really to Manchester's benefit that we have such great diversity and so many cultures in this community. It separates us from so many other parts of our state and of our country, and the more that we can find ways to celebrate that, integrate that, it's going to allow for some really cool, interesting opportunities.
NHBR: Commuter rail is something that's always mentioned whenever we talk to businesspeople from Nashua all the way up to Concord. What are the real prospects for that?
Skelton: The greater Manchester region is the most populous people in the country that's not served by a rail service. When you factor that with an airport that can clearly benefit with another transportation connection, there's just too many things on the table where this doesn't make sense to consider.
To the point about the importance of regionalism and thinking about this not just as a Manchester project: Rail to Manchester, Nashua and maybe someday to Concord is not about benefiting those individual cities. It will benefit the entire state. If we're generating more business taxes, more property taxes in those regions, as I believe it would, that value is going to flow to all corners of New Hampshire and make us more economically competitive.
Sullivan: We have a loft mill conversion in Lawrence, Mass. We're right on the rail. So we have people who work in Boston and live in our property in Lawrence. It's that rail. They make their money in Boston and spend it in Lawrence. It's a great opportunity for us.
Chynoweth: The anecdotal evidence that I have continues to be more and more compelling, with some of the biotech companies I work with. They decided to make their relocation up here. One of the very first things I got was from an employee shooting me a link to a news article about the fact that people were looking into rail, and he said, "Is there anything I can do to help make this happen?" Especially if we want to be connected to the IT community, the biotech community in Cambridge and Boston, more is better in terms of connection points. People want that as an option.
Scanlon: I have two thoughts.
First, Southern New Hampshire is a suburb of Boston, and for us not to be connected in as many ways as we can to Boston is really short-sighted.
Second, people talk about the rail not paying for itself. I don't think highways pay for themselves. It's another form of infrastructure, a way to move people.
Gamache: In terms of millennials, you hear a lot of comments that they have to have a car to live here, that it's really hard for them to get around. I think the train will not only help that in terms of having another form of transportation, but it will help alleviate the parking in Manchester too. Where else are we going to put all these businesses that want to come here and grow unless we start piling cars on top of each other?
Laura Gamache,
Realtor, Keller Williams Realty, Bedford, and chair, Manchester Young Professionals Network
NHBR: How do you view the issue of housing affordability in the area?
Gamache: It's a huge issue. A majority of my career is dealing with buyers that can't afford a home, getting outbid by boomers coming in and buying houses and paying cash. It's a struggle for my poor little first-time homebuyer with a government assistance loan program trying to compete with a cash buyer. It's been a huge topic. I've sat on many panels discussing it. Unfortunately, the cost of building is crazy and builders have to charge $350,000-plus for a house, and a first-time homebuyer can't afford that. They need it in the $250,000 range and those homes are getting scooped up left and right, so there's just a shortage.
Sullivan: When I think about the mills and the reason that the mills are getting renovated across the country, but especially in New England, are historic tax credits. There has to be some type of hopefully federal incentives for low-income housing and affordable housing.
Chynoweth: The same thing is true on local zoning. For my friends that are working on projects, I hear how challenging it is to redevelop a property in Manchester and make it more useful, maybe not meeting the codes that we have on the books but maybe it's still more useful and economically more productive.
And you look at the choices that communities have around reducing costs for 55-plus housing because they don't want families with kids. We should think about whether that's the right long-term solution for our state, to make it more expensive for people to live here than people without kids?
Castillo: The people I am surrounded by, they can't afford to buy a home, so they have to rent. The conditions of the housing of some of those people are absolutely disgusting.. Some people live with two families in one apartment. I visited one apartment recently where there were 17 people living in a two-bedroom apartment — 12 adults and five children. The children were just sleeping on the floor wherever they could find a place to lay down, not even with a mattress. And all the adults work.
Chynoweth: And you wonder how well-prepared a child is to learn when they're in that environment coming to school. All of these issues are connected. I go back to this psychology of investment or opportunity or psychology of fear or want. You can think of those two things as where we're going to go as a community. I think the exciting part has been that there's been a lot of people who have made the decision to invest and saw opportunity, and if we can continue to that momentum then the city will continue on the trajectory that it's been on.