The snow's the thing at Tenney Mountain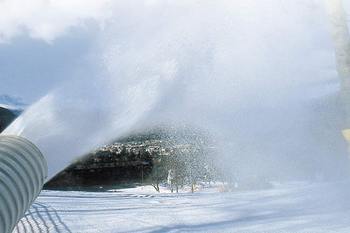 The winter of 2003-04 has not been an ideal one for New Hampshire ski resorts.
First, there was a major snowfall in December, long before most skiers were ready to take to the slopes. January was bitterly cold. The February vacation weeks were strong, but a recent warm spell had a negative impact. And arrival of an early spring could mean a big drop-off from last season, one of the industry's best.
But at Tenney Mountain in Plymouth business is booming, according to the operators, thanks to an innovative new snowmaking machine – the only one in North America.
"We've extended our regular season by 10 weeks," said Dan Egan, the famous extreme skier who is Tenney's general manager. "And we've sold the most season passes the resort has ever sold. We're up about 15 percent." Egan is looking forward to a strong spring before the area's official closing on April 4 – a date that will be met no matter what the temperature is outdoors.
It wasn't too long ago when Tenney was in trouble. Previous owners closed operations down for a year due to financial difficulties. Local investors tried to buy the facility but were unable to come up with the capital.
Then two years ago, SnowMagic Inc., a New Jersey-based company, bought Tenney. The company is using the small Granite State resort to showcase its new snowmaking machine, which is called Infinite Crystal Snowmaking, or ICS.
Company president Albert Bronander says ICS could have the same kind of major impact on the international ski industry that it's had at Tenney – lengthening the ski season, adding new feeder facilities and expanding the audience for winter sports.
And, before this summer is over, ICS could create a whole new arm of the amusement industry.
'Guaranteed' snow
Bronander said a Japanese company partly owned by world-class skier Yoshio Hirokane invented ICS several years ago. Whereas the popular current systems blow out tiny droplets of water that turn into snow when they hit in the cold air, the ICS operates more like a refrigerator, creating snow internally through condensation, and then blowing it out. That means it makes snow independent of outside temperatures.
Egan said that one of the most obvious uses of the new system for New England resorts would be to give them something they have long craved: a guaranteed opening on Thanksgiving Day.
"With this, you got it," Bronander says. "It's guaranteed. You ski every day in December."
The ICS system also can keep high-traffic areas covered with snow – even in unseasonably warm temperatures – and make sure there's snow at the bottom of the mountain and in front of those condos that advertise, "Ski out your front door."
In Europe and Japan, ICS is being used to create snow resorts where none have existed before. For instance, Diggerland in Great Britain will be the first snowmaking facility ever opened in that country.
Indoor winter resorts, which have found some success in Europe and Japan, also could be part of the future for ICS in North America. The Mills Corporation of New Jersey is planning to build a huge indoor facility in the Meadowlands, and SnowMagic is bidding to be part of the project, Bronander said.
The company's not stopping there, either. "We're getting a lot of interest over in the Mideast, in Saudi Arabia," said Bronander.
Not everyone's a fan
Of more immediate significance could be the use of ICS at summer amusement parks, which are now closed during the winter. The parks could have been transformed into "winter wonderlands" with tubing, skiing and snowboarding areas, a snow playground, igloos, maybe even a snowball fight section.
"That's where we've seen a tremendous amount of success (in Europe and Japan)," Bronander said. "It's in cooperation with family entertainment complexes where there's a restaurant, a ski shop, maybe some bowling. It turns them into year-round venues. They close for the summer and a month later the winter entertainment starts. All the infrastructure is there."
The winter amusement parks could even become feeder areas for small ski areas like Tenney, he added.
Bronander said he's talking to park operators along the coasts of New Hampshire, Massachusetts and Alabama about the idea, and could make an announcement in the next few weeks.
Of course, not everyone is as excited as the people at SnowMagic about the new system.
"I'm curious, but it doesn't go beyond that," said Doug Peel, marketing director at Pats Peak in Henniker, adding that he can't imagine a summer tubing area at his place. "I don't know how successful it was for them, but we would have no interest in something like that."
"It would be a novelty to go tubing in July," said Kathy Bennett, marketing director for Loon Mountain, Waterville Valley and Cranmore Mountain. "But it would take an awful lot of electricity (to run the machinery.) Whether you would draw enough people to make it worth it would be a business decision."
(Bronander said ICS uses more electricity, but a lot less water, than traditional snowmaking systems.)
What about extending the ski season?
"In southern New Hampshire, we find that we have had snow – plenty of snow – at the beginning of the winter, and we still don't get a whole lot of bodies until December 26," Peel said. "And we don't get a whole lot of bodies after March 20, 21, so we don't see much profitability there."
Some resort operators may be reluctant to consider ICS because of the costs. While it's not pricey compared to other systems – the 50-ton unit used at Tenney costs about a half-million dollars, larger and smaller units are available – Bronander admits that ICS will not replace current snowmaking equipment.
"We're not trying to supplant other systems," he said. "This would be supplemental."
That means the costs would be additional for regional ski resorts, many of which have made significant capital improvements in recent years. But Egan said operators could be missing out on a great opportunity.
"The ski industry is slow to move on these kinds of things," he said. "But as I travel around the country, I see that ski areas on the East Coast are heavily invested in snowmaking capacity because there's a directly correlation between snowmaking and business. That doesn't mean they're not going to invest in it further, particularly if they want more skier visits. And I don't know many places that say they have enough skier visits."
So for now, he's glad Tenney is using ICS.
"The revolution is always going to happen at small ski areas," said Egan. "That's where snowboarding got started, that's where freestyle got started. We're getting very, very strong interest from ski areas that are not your top-of-the-line places, but they're aggressive and they're thinking outside the box."