The public's business: The NH Legislature's agenda for the coming week
Among the legislation: minimum wage, prescriptions drugs, carbon tax, gambling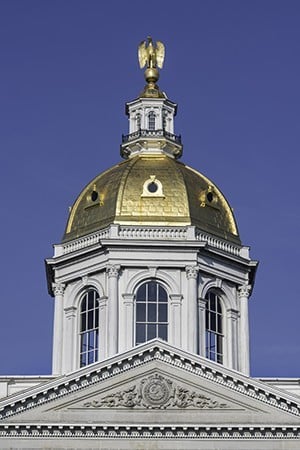 New Hampshire state lawmakers this week will be dealing with bills that could push up the wages of employees, increase the cost of energy and try to control the price of prescription drugs and allow for associated health plans,
But it will start off with the governor's budget presentation Tuesday morning, followed by those of various department heads, including the Department of Business and Economic Affairs at 11:30.
Tuesday, Feb. 19
At 10 a.m., the Senate Energy and Natural Resources, will hear SB 122-FN, which would end the Regional Green House Initiative rebate to residential customers, putting that money instead into energy-efficiency programs. It won't change the rebate on commercial users, but none of the money would be used for energy-efficiency programs aimed at them.
On Tuesday morning, the House Commerce and Consumer Affairs Committee will hear six bills dealing with prescription drugs:
• 10:15 a.m.: HB 657, which requires health plans offering prescription drug benefits under the managed care law to include on the formulary the drug with the lowest cost option for the insure.
• 10:30 a.m.: HB 658-FN, which limits prescription drug increases to no more than double within a 90 day period under managed care law.
• 10:45 a.m.: HB 659, which requires the insurance commissioner to request data from health carriers regarding prescription drug benefits which are outsourced to a pharmacy benefit manager.
• 1:30 p.m.: HB 670-FN, which requires carriers maintain a record of any amounts due to the pharmacy from the covered member in the form of cost sharing, such as copayments, deductibles, or coinsurance. .
• 1:45 p.m.: HB 671-FN, which regulates pharmacy benefit manager business practices, licensure, and transparency.
• 2 p.m.: HB 703-FN, which requires prescription drug manufacturers to provide certain notice to the office of the attorney general if they are introducing new high-cost prescription drugs.
The House Commerce Committee plans to vote on some these bills on Thursday afternoon.
The House Commerce Committee plans to vote on some these bills on Thursday afternoon.
At 1 p.m., the Senate Finance Committee will hear SB 310, Sen. Lou D'Alessandro's perennial casino gambling bill, which would allow sports betting at those casinos. It's an alternative to a House bill that would allow sports betting in bars.
The Senate Commerce Committee will hear two bills allowing the establishment of association health plans, which the federal government is now promoting by loosening regulations, and another bill simply allowing companies to purchase out of state plans:
• 1:30 p.m., SB 228-FN, would allow them Association Health Plans but with strict and explicitly states that a the new alternative can't force rates up in the individual market.
• 1:45 p.m. SB 227-FN, which would allow for more flexible AHPs.
• 2 p.m.: SB 150, which would authorize individuals and certain businesses to purchase health insurance from out-of-state companies with few consumer protections.
At 2 p.m., The House Science, Energy and Technology Committee is scheduled to vote on another of renewable energy bills, including HB 157 and HB 209 concerning rates for biomass plants. But the big vote will be on HB 735-FN-A, which will tax vendors of carbon-based fuel at $20 a ton for emissions caused by that fuel in 2020, and an addition of $10 a ton plus inflation for each year after. By the time 2023 rolls around, the tax would go up to $53 a ton, raising nearly $800 million in revenue. Seventy percent of that money would be rebated back to residents, and 5 percent to large commercial and industrial energy uses, but the rest would go to program that reduce greenhouse gas emission.
Wednesday, Feb. 20
At 9:15 a.m., The Senate Ways and Means Committee will hold a hearing on SB 270-FN, which would give out about $500,000 against the business profits tax for businesses donating to career and technical education centers.
At 10 a.m., the Public Works and Highway Committee plans to vote on HB 478-FN-A, which would increase the registration fee on low-mileage vehicles as much as $111 to replace the money they are not paying into the gas tax. It's not clear how much money this would raise.
HB 538-FN-A-LOCAL would increase the gas tax from the current rate of 22.2 cents per gallon of motor fuel by 6 cents and would dedicate the increased revenue to state road and bridge projects. That would raise about $52.4 million.
The Labor, Industrial And Rehabilitative Services Committee will be starting hearings on a couple of bills aimed at employees in the morning and three bills on the minimum wage in the afternoon. Currently, the state has no minimum wage, defaulting to the federal of $7.15 an hour. In all surrounding states, the wage is at least $10 an hour and going up. Here is the schedule:
• At 10 a.m. HB 406, would require the reporting to the state Department of Labor so that it can investigation of serious injuries and death in the workplace.
• At 11 a.m., HB 293, which would prohibit employers from using credit history in employment decisions.
• At 1 p.m., HB 178, which would establish a minimum wage and raise it to $10 an hour 60 days after the bill becomes law
• At 1:05 p.m., HB 186, which would establish a state minimum wage and raise it $9.50 starting next year, and $12 an hour starting in January 2021, with a cost of living adjustments thereafter. It also hikes up the rate of tipped employees from 45 to 60 percent of the minimum and establishes a training wage for youth workers for $8.50 under the minimum for three months.
• At 1:10 p.m., HB 731-FN, which would start the minimum wage at $12 next year, and increase it to $15 an hour in 2024. It also allows municipalities to hike it up even more. It also establishes an $8.50 training wage.
Thursday, Feb. 21
The full House won't be in Session, but the Senate will. It will is scheduled to vote on:
• SB 197, which would outlaw noncompete agreement for workers that make less than twice the minimum wage
• SB 76, which would prohibit offshore oil and natural gas exploration off the shores of New Hampshire
• SB 241, which would put the Capital Corridor rail project in the state 10-year transportation plan, giving it access to state highway fund dollars
• SB 242, which would require those collecting the internet sales tax to register with the state and would prevent sellers from gathering information on sellers unless it has a written notice from the federal Department of Justice.