The public's business: On the NH Legislature's agenda for the coming week
Family and medical leave, business tax cuts coming up for votes in House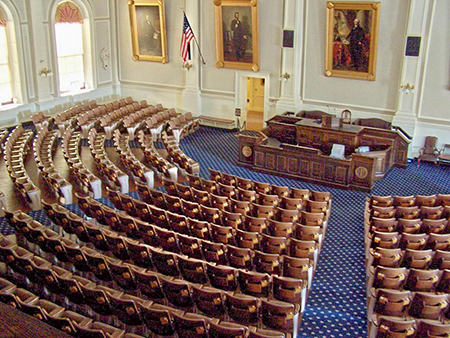 The New Hampshire House will be voting this week on establishing a state paid family and medical leave insurance, stopping business tax cuts, taxing capital gains and legalizing the marijuana business. The Senate is off this week.
Tuesday, Feb. 26
With the full House meeting Wednesday and Thursday this week, House committees will meet only on Tuesday.
The House Labor Committee, which has already recommended House Bill 712, its own version of a family and medical leave insurance plan, will hold a hearing at 10:30 a.m. on the Senate's version, Senate Bill 1  The two bills are similar. Bothe include a payroll deduction of half a percent to cover those needing to care for a family member of themselves with 60 percent of their wages for 12 weeks. The House version sticks to job protection provisions of the unpaid federal Family and Medical Act by exempting businesses under 50 employees. The Senate version's threshold is 20 employees. There are also some minor difference on how state workers and municipal workers would be included.
Also on Tuesday, House Consumer Affairs will hold three hearings on bills dealing with the state Consumer Protection Act, a tool that allows the state and consumers to sue business for treble damages. Currently, a number of industries that are regulated separately by the state are exempt from the act. The hearing schedule:
• 10 a.m.: HB 590 would repeal the Consumer Protection Act exemption for federally charted banks. The NH Banking Department regulates state-chartered banks and federal banks are regulated by federal agencies, but the argument is that there is no state resources for consumers.
• 10:30 a.m.: HB 619 would put many transactions regulated by state agencies under the CPA umbrella.
• 11 a.m.: HB 536 would include biometric information under the CPA, so the state could sue companies that give out things like consumers DNA without permission
At 10:15, the Science, Technology and Energy Committee will be voting on:
• HB 166, which would require that the system benefits charge on utility bills be used for energy-efficiency programs as well as for "other public benefits related to electricity, including programs for low-income customers such as free LED light bulbs and programmable thermostats.
• HB 477 would rebate all proceeds under the New Hampshire Regional Greenhouse Gas Initiative program to ratepayers. Currently under RGGI, the first dollar of the selling price of a ton a carbon is used for energy-efficiency programs. That money would go back to customers under this bill.
• HB 614 doubles most air pollution control penalties. It also adds a clause that would count each violation as a separate offense, which would greatly enhance penalties.
At 11:15 a.m., the Environment and Agriculture Committee will hold a hearing on HB 459, which would allow industrial hemp if it can be showed to have a low limit of THC, the active ingredient in cannabis.
At 2:30 p.m., the Judiciary Committee will vote on HB 608 adding discrimination based on gender identity to other areas of the law prohibiting discrimination.
Wednesday, Feb. 27 and Thursday Feb. 28
On the Consent Calendar, meaning the bills will automatically pass unless a representative asks that a measure be pulled from the calendar:
• HB 335 would allow all four therapeutic cannabis distribution centers to add satellite dispensaries. Currently only two do.
• HB 250 which would allow physician assistants to prescribe therapeutic cannabis, if the PA has the express consent of the supervising physician.
On the regular calendar:
• HB 438, which would remove the tax exemption for premium cigars. The House Ways and Means recommended killing the bill, 16-3.
• HB 680, which would add vaping to the definition of tobacco for the purpose of tobacco tax and liquor laws. The Consumer Affairs Committee voted 12-8 to recommend passage.
• HB 481, which would legalize and commercialize recreational marijuana. The Criminal Justice and Public Safety committee recommended passing it 10-9.
• HB 184, which would repeal tying full-day kindergarten funding to keno by including kindergarten in adequacy funding. The Education Committee recommended that the bill pass, 12-6.
• HB 673, the governor's scholarship program, which would cover the costs of college-level examinations programs. The Education Committee recommended killing the measure, 11-8
• HB 689, which would donate as much as $500 into college savings accounts of a student who successfully completes a financial literacy program. The Education Committee recommended passage, 14-4.
• HB 712 which would establish a paid family and medical leave insurance program. The House Labor Committee recommended passage. 12-6.
• HB 641, which would allow municipalities to charge an extra $2 per room night to the local Rooms and Meals Tax. The House Municipal and County Government Committee recommended passage, 12-6.
• HB 623, which would freeze the business profits and business enterprise taxes at last year's rate, wiping out the tax cut that just went into effect as well as future decreases currently in law. The Ways and Means recommended passage, 12-7.
• HB 686, which would extend the interest and dividends tax to capital gains, triple the personal exemption for seniors and double it for all others. The money would be used to raise adequacy educational grant. The Ways and Means Committee recommended passage, 12-7.