The public's business: On the legislative agenda this week
NH Senate panel to consider payroll deduction on wealthy to fund education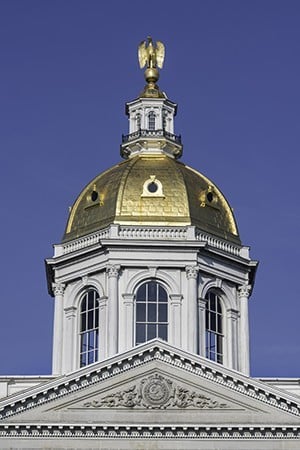 As the legislative session nears it ends, it's always good to look out for surprises. The Senate Finance Committee could be springing one this week with a hearing on an amendment that would impose a payroll deduction on the well-to-do to fund education. That will be held right before the committee again takes up the budget, which might contain other curveballs that could hit the wealthy or businesses. Also this week, there will be votes on increasing the minimum wage and a bill that would "ban the box" on applications asking prospective employees if they have a criminal record. There's also a chance that there will be an override vote on Governor Sununu's veto of the death penalty repeal.
Tuesday, May 21
The Senate Judiciary Committee will hold hearings:
At 9:40 a.m. on House Bill 552, which would have required the Charitable Trusts Division of the Department of Justice, in evaluating mergers of healthcare nonprofits, to consider whether the merger would increase access to quality affordable health care.
At 10:40 a.m. on HB 608, which would add discrimination based on gender identity to other areas of the law prohibiting discrimination.
At 11 a.m., the House Commerce and Consumer Affairs Committee will begin voting on:
SB 63, which would require insurers to certify on an annual basis to the NH Insurance Department that they are making a percentage of rebates available to their enrollees.
SB 225, which would give physician assistants the same authority as doctors in certain mental health practices.
SB 226, which would require registration of pharmacy benefit managers.
SB 228, which would allow association health plans but with strict restrictions ensuring that the new alternative can't force rates up in the individual market.
SB 251, which would make it an unfair insurance practice to refuse to insure an applicant who has filled a prescription for certain medications.
SB 272, which would require the state insurance commissioner to check whether insurers are following federal mental health and addiction parity guidelines.
SB 279, which would require insures cover fertility treatment.
At 11:15 p.m., the House Public Works and Highways Committee will hold a hearing on SB 285, which would allow municipalities to form special tax districts in areas affected by climate change for infrastructure needs.
Beginning at 1 p.m., the Senate Finance Committee will hold a hearing on a proposed amendment to HB 198 (related to the use of cell phones while driving), which would deduct money for wages in excess of the Social Security ($132,900 in 2019) to pay for education funding.
Beginning at 1:15 p.m., the committee will hold an executive session on the budget, which could include votes on particular items. The committee will be engaged in budget deliberations the rest of the week.
Wednesday, May 22
At 10 a.m., the House Finance Committee plans to vote on SB 2, which would cut unemployment compensation taxes and increases the amount that can be spend for job training.
Thursday, May 23
The full House and Senate will meet starting at 10 a.m. The House plans to vote on:
SB 100, which would ban the box asking a potential employee whether they have been convicted of a crime on an application. They can ask at the interview.
SB 154, which would enable municipalities to adopt a credit against property taxes assessed on workforce housing
SB 123, which would prohibit electric distribution companies from acquisition of natural gas capacity or supply or interests in natural gas infrastructure at ratepayers' expense.
SB 165, known as the Low-Income Community Solar Act of 2019, which would require two low-income net metering solar projects in each utility service area, with more favorable metering terms.
The Senate plans to vote on:
HB 657, which would expanding the formulary exception process to include any drug that has been removed from a patient's formulary in the last 12 months even if it is not for a medically necessary reason.
HB 717, which would prohibit prescription drug manufacturers from offering coupons or discounts to cover insurance co-payments or deductibles.
HB 186, which would increase the minimum wage to $12 (and increases the percentage in determining the tipped wage).
HB 272, which would require written notices to temporary workers about their rights.
HB 664, which would require automobile insurance companies to pay for the cost of accident repairs that follow the manufacturer's recommendations for repair processes.
SB 166, which would require competitive electricity suppliers to credit electricity generation from net energy metering at the same rate as retail electricity bought from the competitive electricity supplier.
HB 464, which update the definitions of solar energy and wind-powered energy systems to include related hardware, such as inverters and storage. It also creates a local option for a property tax exemption for electric energy storage systems.
HB 261, which would cut arsenic limits in drinking water by half.
HB 459, which would allow the growing of industrial hemp if it can be shown to have a low limit of THC, the active ingredient in cannabis, but amended to include provisions on animal cruelty.
HB 628, which would require that all newly constructed large public buildings include one universal changing station in a family restroom facility for those who have a physical disability.
HB 359, which would require providers and pharmacies toy label any opiate with an orange sticker on the cap or dispenser and a warning label regarding the risks of the drug.
HB 481, which would legalize and commercialize recreational marijuana.