The public's business: On the legislative agenda this week
Senate hearings focus on energy, environment and Obamacare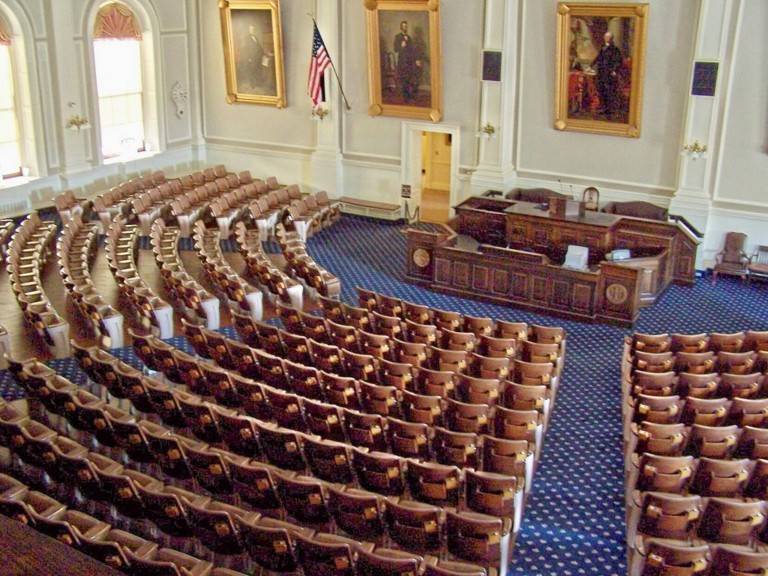 Energy bills will be much of the focus of Senate hearings and House votes this week. The Senate will also be holding hearings on banning plastic bags and straws, and whether to put much of Obamacare into state law.
The Senate committees will be voting too, but won't disclose in advance what those votes are about.   The House committee – which is pretty much done with hearings – will also be voting on expanding workers comp coverage, a "ban the box" bill forbidding asking if a job applicant has been convicted of a crime before he or she is interviewed, and a bill that will give divert $5 million a year from the real estate transfer tax for the affordable housing fund.
The full House and Senate will meet but they won't be voting on many business bills. The House will be voting on expanded Medicaid and banning offshore gas and oil drilling, and a driverless car program.  The Senate will vote on a bill to provide dental benefits to Medicaid patients.
Tuesday, April 30
 
The Senate Energy and Natural Resources Committee will hold hearings:
At 9 a.m., HB 466, which would increase the apportionment for net energy metering provisions from electrical facilities with total generating capacity of 100 kilowatts to 500 kilowatts. This allows more small to mid-sized businesses to take advantage of the law
At 9:30 a.m.,  HB 464 updates the definitions of solar energy and wind powered energy systems to include related hardware such as inverters and storage.
At 9:45 a.m., HB 715, which initially set a goal to reduce peak demand via energy storage by 2 percent, would charge the Public Utilities Commission to look into reducing peak demand by as much as 15 percent, adopting rules to implement it by tariffs or other mechanisms, as long as it results in a net benefit to ratepayers.
At 10:30 a.m., HB 358 reverses last session's bill which would have allowed construction and degree incineration that would particularly affect Wheelabrator's solid waste facility.
The Senate Commerce Committee will hold hearings:
At 1 p.m., HB 233 would will put most of the Affordable Care Act in state law, in case it is repealed by Congress or overturned by the U.S. Supreme Court, including Essential Health Benefits; guaranteed issue, pre-existing condition; geographic rating premium differential protections for age and no lifetime caps
At 1:15 p.m., HB 536 would include biometric information under the CPA, so the state could sue companies that give out things like consumers DNA without permission act. organizations.
At 1:45 p.m., HB558 would prohibit food service businesses from providing a single-use plastic straw to a customer unless specifically requested
At 2:15 p.m., HB560, which would ban single-use plastic bags after using up inventory (exempting those on food stamps). And the charge for a reusable one couldn't be more than 10 cents.
At 2:45 p.m., HB695, which would require nonprofit organizations that advocate on behalf of patients to disclose any payments, donations or subsidies from pharmaceutical manufacturers, insurance carriers or pharmaceutical benefit managers.
At 3 p.m., HB 657, which would require health plans offering prescription drug benefits under the managed care law to include on the formulary the drug with the lowest cost option.
The House Science, Technology and Energy Committee will vote:
At 10 a.m., SB 122, which would end the rebate for all ratepayers and put all of the funding into energy efficiency programs — NHSaves — run by all utilities.
SB 123, which would prohibit electric distribution companies from acquisition of natural gas capacity or supply or interests in natural gas infrastructure at ratepayers' expense.
SB 124, which would increase renewable portfolio standards each year after 2025 (when it is to reach 25 percent) so that it will end up at 60 percent by 2040.
SB 159, which would increase net metering from 1 to 5 megawatts for renewable generation and storage.
SB167, which would set up a commission to investigate the cost-effective procurement of renewable energy generation resources.
SB 204, which would include energy storage among the distribution costs ratepayers pay on their electric bill.
SB284, which would establish a statewide online energy data platform regulated by the Public Utilities Commission and operated by the state's electric and natural gas utilities.
The House Executive Departments and Administration will vote on:
SB49, which would update the state fire code from 2009 to 2015.
The House Municipal and County Government Committee will vote:
At 1 p.m., SB 285, which would allow municipalities to form special tax districts in areas affected by climate change for infrastructure needs.
SB 286, which would enable energy efficiency and clean energy districts to bond for across municipal and county lines on projects.
The House Commerce and Consumer Affairs Committee will vote:
At 1:30 p.m., SB 193 ,which would prohibit the sale of certain furniture and carpeting with flame-retardant chemicals.
The House Ways and Means Committee will vote on:
SB310, which would authorize two casinos that also allow sports betting.
Wednesday, May 1
The Senate Election Law and Municipal Affairs Committee will hold hearings:
At 11:30 a.m., HB 641, which would allow municipalities to charge a local rooms and meals tax of no more than an extra $2 per room night.
The House Labor Industrial and Rehabilitative Services Committee votes:
At 10:30  a.m, SB 59, which would add post-traumatic stress disorder and acute stress disorder to the definition of "injury" for purposes of workers' compensation.
SB 100, which would ban the box asking a potential employee whether they have been convicted of a crime.
SB 146, which would eliminate the waiting period before eligibility to receive unemployment benefits.
SB 197, which would outlaw noncompete agreements for workers who make less than twice the minimum wage.
The House Finance Committee votes:
At 1 p.m., SB 15, which would appropriate $10 million from the NH Housing Finance Authority to the affordable housing fund, and then add another $5 million a year from the general fund.
Thursday, May 2
The House and Senate will be voting on the following committee recommendations. (The committee vote margins will be recommending passage, unless otherwise noted.)
At 10 a.m., full Senate votes on:
Commerce
HB 268, which would allow a real estate broker to share a commission with an unlicensed entity. 4-0.
Finance
HB 692, which would require the Medicaid managed care program to provide dental benefits. 4-0.
Health and Human Services
HB 364, which would permit qualifying patients and designated caregivers to cultivate cannabis for therapeutic use or to donate to other patients. 3-2.
At 1 p.m., full House votes on: 
Health, Human Services and Elderly Affairs
SB 290, which would loosen the work requirements needed to get expanded Medicaid coverage, and would eliminate them if too many people are losing coverage. 16-5.
Labor, Industrial and Rehabilitative Services
SB99, which originally would have removed the caps on how long a worker can collect on a partial disability, but as amended only slightly changes the definition of gainfully employed. 12-8 (for the amended version).
SB151, which would establish an administrative hearing procedure and penalty for an employer who fails to make payment of wages or who fails to secure workers' compensation coverage.
Resources, Recreation and Development 
SB 76, which would prohibit offshore oil and natural gas exploration off the shores of New Hampshire. 20-0.
SB 74, which would increase the register of deeds fees from $25 to $35 to increase used to support the Land and Community Heritage Investment Program (LCHIP). 13-7.
Transportation
SB 216, which would establish an automated vehicle testing pilot program. 19-0.