The public's business: On the legislative agenda this week
Marijuana legalization, minimum wage sports betting hearings set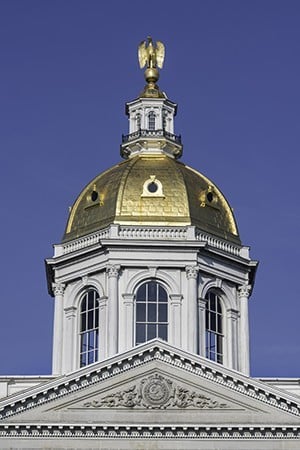 Legislators will be holding hearings this week on legalizing and commercializing marijuana, increasing the minimum wage, instituting association health plans and sports betting and increasing the cap on net metering projects fivefold. There also will be committee votes on requiring prevailing wages on state projects, cutting the unemployment insurance tax and using more money for job training and instituting a college retention program with the cooperation of businesses.
Tuesday, April 23
At 9:35 a.m., the Senate Judiciary Committee will hold a hearing on House Bill 481, which would legalize and commercialize recreational marijuana. The amended bill levies a tax at two levels: a 5% tax on the wholesale/cultivator sales price and a 9% tax on the retail cannabis store sale price. The proceeds would roughly be split a third for substance abuse treatment and enforcement, a third to aid municipalities and a third for the general fund.
At 9:45 a.m., the Senate Energy and Natural Resources Committee will hear HB 326, which would include sections of less than 50 feet wide in the definition of a prime wetland if a municipality deemed it important to the integrity of the wetland, possibly allowing two smaller wetlands to become a prime wetland.
At 10:30 a.m., the committee will hear HB 459, which would allow industrial hemp if it can be showed to have a low limit of THC, the active ingredient in cannabis.
At 10 a.m., the House Finance Committee will hold a hearing on Senate Bill 15, which would appropriate $10 million from the NH Housing Finance Authority to the affordable housing fund, and then add another $5 million a year from the general fund.
The House Commerce and Consumer Affairs Committee will hold hearings:
At 2 p.m., the House Municipal and County Government Committee will hear SB 285, which would allow municipalities to form special tax districts in areas affected by climate change for infrastructure needs.
The Senate Commerce Committee will hold hearings:
Wednesday, April 24
At 10 a.m., the Senate Ways and Means Committee will hear HB 480, which would have the Lottery Commission set up and run sports betting operations.
The House Commerce and Consumer Affairs Committee will hold hearings:
The House Science, Technology and Energy Committee will hold hearings:
The House Labor, Industrial and Rehabilitative Services Committee will hold hearings:
Thursday, April 25
Beginning at 10 a.m., the full Senate will vote on committee recommendations to pass the following bills:
After the session, the Senate Commerce Committee will hold hearings: