The public's business: NH Senate budget vote anticipated
On the NH Legislature's agenda for the coming week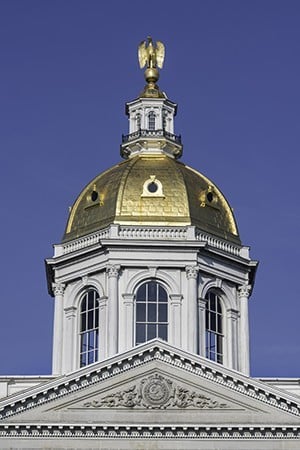 The Senate Finance Committee should release and vote on its version of the state budget sometime this week, probably on Friday. And the full Senate will vote on the capital budget as well as measures that would allow municipalities to impose a local sales tax forbid employers from asking about a job applicant's credit and salary history. House committees plan to vote on the internet sales tax, using highway money for rail planning and loosening Medicaid work requirements.
Tuesday, May 28
At 10 a.m., the House Ways and Means Committee plans to vote on:
Senate Bill 41, which allow and regulate historical racing
SB 74, which would increase register of deeds fees from $25 to $35 to increase support for the Land and Community Heritage Investment Program (LCHIP)
SB 242, which would require those collecting the internet sales tax to register with the state and would prevent sellers from gathering information on sellers unless it has a written notice from the federal Department of Justice
SB 246, which would toughen the criminal records check requirements for licensing child care providers
SB 270, which would provide $500,000 worth of annual credits against the business profits tax for businesses donating to career and technical education centers
At 10 a.m., the House Municipal and County Government Committee plans to vote on SB 204, which would allow the Public Utilities Commission set up two energy storage pilot programs with each utility, and if cost-effective use storage to cut the state's peak production by as much as 15%.
At 10:30 a.m., the House Public Works and Highways Committee plans to vote on:
SB 241, which would put the Capital Corridor rail project in the state 10-year transportation plan, giving it access to state highway fund dollars
SB 285, which would allow municipalities to form special tax districts in areas affected by climate change for infrastructure needs
At 10:30 a.m. the House Executive Departments and Administration Committee plans to vote on SB 163, which would require the Department of Environmental Services to act on a permit application no later than 180 days after the application is deemed complete.
At 11 a.m., the House Transportation Committee plans to vote on SB 218, which would authorize the state commissioner of transportation to regulate drones.
At 1:30 p.m. the Criminal Justice and Public Safety Committee plans to vote on SB 173, which would make it easier to make a criminal records check for employment and occupational licensing.
Wednesday, May 29
Beginning at 10 a.m., the House Finance Committee plans to vote on:
SB 290, which would loosen the work requirements needed to get expanded Medicaid coverage
SB 293, which would reimburse healthcare centers for services provided to persons whose Medicaid eligibility has been suspended for failure to comply with the work and community engagement requirement
Thursday, May 30
 The Senate plans to vote on the following bills:
House Bill 271, which would establish a limit for of one apprentice per journeyman electrician in the first year of licensure
HB 335 would allow all four therapeutic cannabis distribution centers to add satellite dispensaries. Currently only two do.
HB 25, the capital budget, which would appropriate approximately $125 million in general fund bonding. 5-0
HB 186, which would increase the minimum wage to $12 (and increases the percentage in determining the tipped wage)
HB 211, which would prevent potential employers from asking about salary history before an interview
HB 270, which would require that lenders wishing to foreclose on a mortgage go to court. Currently a lender only goes to court if challenged by the borrower.
HB 272, which would require written notices to temporary workers about their rights.
HB 293, which would prohibit employers from using credit history in employment decisions
HB 664, which would require insurance companies to pay for the cost of accident repairs that follow the manufacturer's recommendations for repair processes
HB 635, which would authorize municipalities to enter into a voluntary agreement with a combined heat and power agricultural facility to make a payment in lieu of taxes
HB 641, which would allow municipalities to charge a local rooms and meals tax of no more than an extra $2 per room night
HB 480, which would empower the Lottery Commission to set up and run sports betting operations at 10 retail locations and on the internet
HB 710, which would require the State Building Code Review Board to maintain a publicly accessible list of applicable building codes and amendments and provide for an appeal to the State Building Code