The people's business: On the legislative agenda this week
Senate starts on budget, House panels to vote on workers' comp, Medicaid work requirements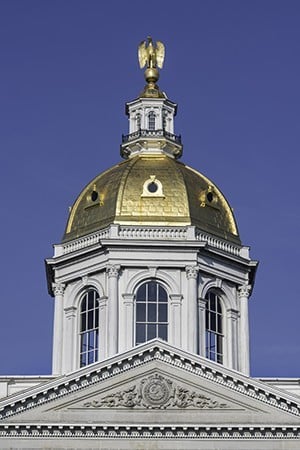 While the New Hampshire Senate starts reviewing the House budget, crossover – when each chamber considers the bills the other passed – begins in earnest. This week, expect the Senate to vote on bills restricting young people from working at night, a ban on asking job applicants their about criminal records before an interview and an increase the net-metering cap fivefold so large businesses and institutions can take advantage of renewable energy.
House committee votes are scheduled on expanding workers' compensation coverage and loosening the work requirements of expanded Medicaid. And there will be hearings on increasing pollution fines, cutting the allowable arsenic standard in half, banning offshore drilling, increasing foreclosure protections, mandating prevailing wages on state projects, updating the building code and increasing renewable energy standard from 25% in 2025 to 60% in 2040.
Tuesday, April 16
The Senate Energy and Natural Resources Committee will  hold hearings:
At 9:10 a.m. on House Bill 614, which would double most air pollution control penalties. It also would add a clause that would count each violation as a separate offense, which would greatly enhance penalties.
At 9:45 a.m. on HB 261, which would cut arsenic limits in drinking water by half.
At 10:30 a.m. on HB 494, which would declare the Coakley Landfill in North Hampton an imminent hazard and direct the Department of Environmental Services to contain it or clean it up.
At 10 a.m., the House Children and Family Law Committee will hold a hearings on SB 246, which would toughens the criminal records check requirements for licensing child care providers.
At 1 p.m., the Senate Commerce Committee will hold a hearing on HB 309, which would require that a mortgage foreclosure must be served by the sheriff of the county where the property resides, rather than by mail. It also allows a mortgagor to stop a foreclosure via a court complaint rather than petition.
At 1 p.m., the House Election Law Committee will hold a hearing on SB 156, which would requires that a political contribution by a limited liability company be allocated to members for purposes of determining whether a member has exceeded the contribution limits.
The House Ways and Means Committee will hold hearings:
At 1:30 p.m., on SB 41, which allow and regulate historical racing.
At 2:30 p.m. on SB 270, which would provide $500,000 worth of credits against the business profits tax for businesses donating to career and technical education centers.
At 2 p.m., the House Municipal and County Government Committee will hold a hearing on SB 154, which would enable municipalities to adopt a credit against property taxes assessed on workforce housing.
At 11 a.m., the House Resources, Recreation and Development Committee plans to vote on:
Wednesday, April 17
The Senate Executive Departments and Administration Committee will hold hearings:
At 9:20 a.m. on HB 121, which would create a license for massage, reflexology, structural integrator and Asian bodywork therapy establishments with two or more employees, to combat human trafficking. These businesses will also no longer be subject to various town or city bylaws
At 9:40 a.m. on HB 710, which would give the Building Code Review Board limited power to rule on local building code amendments and to maintain a publicly accessible list of such amendments.
At 10 a.m. on HB 562, which would updates the definition of the state building code from 2009 to 2015, including some but not all of the energy code.
At 10:15 a.m. on HB 259, which would require violation notices issued by a code enforcement authority to reference the relevant section of the state or local building or fire code.
At 10 a.m, the Senate Ways and Means Committee will hold a hearing on HB 700, which would establish a methodology, phased in over a five year period, for the property tax valuation of electric, gas, and water utility company distribution assets.
The House Science, Technology and Energy Committee will hold hearings:
At 10 a.m., on SB 24, which would update New Hampshire's regional greenhouse gas initiative program, so it conforms to the regional programs increased goals to reduce emissions.
At 11:30 a.m. on SB 72, which would repeal the requirement that the public utilities commission estimate and give credit for the total yearly production for customer-sited sources that are net-metered.
At 1 p.m. on SB 124, which would increase renewable portfolio standards each year after 2025 (when it is to reach 25 percent) so that it will end up at 60 percent by 2040.
At 2 p.m. on SB 168, which would increase the solar renewable portfolio standard from .07 to 1.9 percent in 2020 to 5.4 percent in 2025.
The House Labor, Industrial and Rehabilitative Services Committee will hold hearings:
At 10 a.m. on SB 271, which would require prevailing wages and benefits on state-funded public works projects.
At 11 a.m. on SB 20, which would slightly increase Department of Labor ability to enforce notification requirements for employees and the youth
employment law.
At 1 p.m. on SB 2, which would cut unemployment compensation taxes and increases the amount that can be spend for job training.
At 2 p.m. on SB 12, which would establish the New Hampshire college graduate retention incentive partnership (NH GRIP), providing financial incentives to college graduates who are hired by participating employers. It offers only $1 in funding.
Beginning at 2:30 p.m. the Labor Committee is expected to vote on:
Thursday, April 18
The House Health, Human Services and Elderly Affairs Committee will vote on:
The House Criminal Justice and Public Safety Committee will vote on SB 173, which would make it easier to make a criminal records check for employment and occupational licensing.
The full Senate plans to vote on the following: